Fast food's awesome, as evidenced by how much of it we all like to eat. Less awesome: actually working in a fast food restaurant. What follows are eight movies that show the good, bad, and ugly sides of working in fast food restaurants, all while paying people far more money to pretend to work in one than they could ever make by working in one.
Recommended Video
The International Trailer for 'The Last Jedi' May Have Revealed Something Huge
Coming to America was basically the zenith of movies involving fast food, with Eddie Murphy and Arsenio Hall (and a still-only-300lbs Louie Anderson!) working for the guy who played the baddie in Die Hard 2 in a fast food resto that was so awesome, Samuel L. Jackson couldn't help but knock it off while Eriq La Salle hid in the corner.
Not only was UHF the single greatest movie ever made by someone who spent the rest of his career writing and singing parodies of other popular songs, it was also Weird Al Yankovic's way of showing that anyone can make it to the top if you just get a little help from a rich uncle who gets you a better job than carrying grease at Big Edna's.
Ok, so Kenan Thompson wasn't the guy who said "Welcome to Goodburger, home of the Goodburger, can I take your order?", but who cares? He was brilliant in it, and the movie makes just about anyone want to go out and get a Goodburger. Or, rather, get fast food from anywhere but Goodburger, which thankfully never existed. What up, Kel?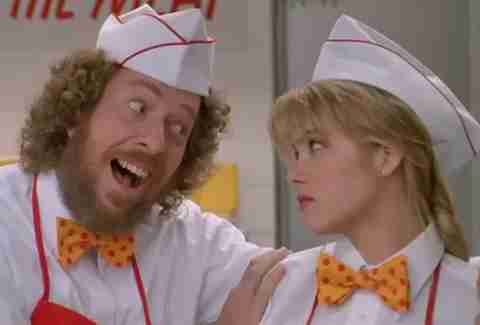 Amidst all the confusion of her babysitter dying, a Liza Minnelli drag queen stealing her car, and being flat broke, it's easy to forget that Christina Applegate worked at the Clown Dog for a brief spell in Don't Tell Mom the Babysitter's Dead before getting a sweet fashion gig in a manner similar to what nearly 80% of women admit to doing: faking it.
Setting aside the fact that Dante was killed off in the original ending of Clerks, Clerks II saw both Brian O'Halloran and Jeff Anderson reprise their roles, only as employees at Moobies, where O'Halloran only wished he were dead.
Before he was busting people in Beverly Hills, Judge Reinhold held a bunch of mediocre jobs in Fast Times at Ridgemont High, including at All-American Burger, where Nicolas Cage watches, doing nothing, as Reinhold's job goes from bad, to gone in 60 seconds.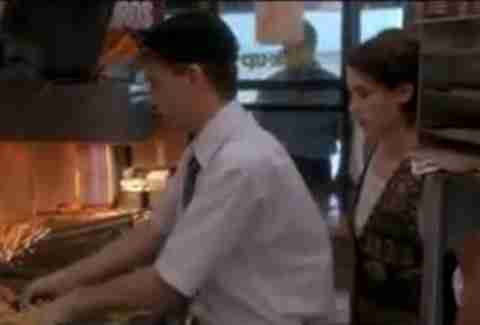 It's kinda ironic/funny that Reality Bites, wherein Winona Ryder struggled with the difficult times of a career and wound up working alongside David Spade at a Wienerschnitzel, actually led to Winona Ryder struggling with the difficult times of her career-career.
Rachel Leigh Cook goes from Falafel Queen to, well, not quite making it to prom queen in She's All That after Freddie Prinze Jr. is tasked with making her hot. And guess what happens??!?!?!?! They toooooootally kiss!