21 Hairstyles That Defined the '90s
NBC/NBCU Photo Bank/Getty Images
As Ryan Murphy's American Crime Story has reacquainted modern audiences with the 1995 O.J. Simpson trial, we've also been introduced to another indelible aspect of the era: bad '90s hair. The national fascination with prosecutor Marcia Clark's atrocious perm was one of the biggest hair-related stories in a decade defined by we-can't-believe-that-actually-happened hair moments.
Let's take a look back at the perms, the layers, the fades, and the bobs, plus Hillary Clinton's prep-school headbands, Gwen Stefani's mini buns, and every Nickelodeon star's obsession with butterfly clips while we're at it.
The Don't Give a Fuh Prince Valiant
Johnny Depp, Keanu Reeves, and River Phoenix all sported this 'do in the early '90s, hoping to one day star in their own version of Tom Cruise's Legend.
The Middle Part From Hell
Jonathan Taylor Thomas and Rider Strong made it OK for kids on their respective sitcoms. Jon Stewart bridged the gap for adults while sporting it on Short Attention Span Theater. David Beckham passed it on to the jocks. But, no, that ear lobe-length middle part thing never worked. Jon Hamm is our living proof.
The Jack Dawson
When Titanic became the highest-grossing movie of all time, Leonardo DiCaprio's Bop-approved haircut became its own bit of '90s ephemera. This was every other cool surfer dude look gone right -- too down on his luck to get a haircut, too packed into the golden ratio to ever look anything less than perfect. God, it even looked good frozen in the Atlantic Ocean! Pure dark magic.
The Caesar
Two thousand years after it was all the rage, George Clooney revived this clean cut while on the popular drama ER. One thing all doctors know: you don't want hair to fall across your dreamy eyes while performing CPR.
The Sinead O'Connor Bald
The Irish singer's shaved skull was genuine rebellion, amplifying the fragility of her hit single "Nothing Compares 2 U," and welcoming ridicule (the best of it: "The Sinatra Group," where Phil Hartman refers to O'Connor impersonator Jan Hooks as "Uncle Fester"). We'd all remember who did it first when Demi Moore adopted the look in G.I. Jane.
The Hillary Clinton Headband
It isn't easy to be a woman in the public eye, something that Hillary Clinton has known for decades. Back in the '90s, the first lady's hair was almost as much a source of national fascination as her husband's bedfellows (well -- close, but no cigar). The media constantly criticized the first lady's ever-evolving 'do, reserving particular vitriol for her beloved, so-preppy-it-hurts headbands.
The "Hit Me Baby One More Time" Pigtails
There have been almost as many incarnations of Britney Spears as there have been of Madonna, but we'll always have a soft spot for "...Baby One More Time" Britney, and the way she looked when she first bounded onto the scene and into our hearts back in 1998. Her debut single made Brit-Brit an international superstar and launched a decade of iconic looks, beginning with the demure, elevated schoolgirl pigtails that were a perfect match for her fresh-faced, innocent girl-next-door persona (although neither would last for long).
The Hi-Top Fade
Some of the most iconic 'dos of the '90s were really carry-overs from the late '80s, and that's definitely the case with the fade rocked by Kid 'n Play in the 1990 hit House Party. There's no better look to help you win a dance-off.
The Rachel
If Friends is the quintessential '90s show, and Jennifer Aniston the quintessential '90s golden girl, then "The Rachel" is the essence of the decade distilled into haircut form. The iconic look, which debuted on the show's 20th episode, became an international sensation and turned Aniston into an unimpeachable style icon, as women across the world flocked to their stylists clutching magazine clippings of Rachel Green's buoyant, multi-hued layered lob (even if Aniston herself couldn't stand the thing).
The Marcia Clark Perm
Throughout the 1995 O.J. Simpson murder trial, prosecutor Marcia Clark's perm became a source of fascination and derision for the press, who devoted almost as many words to her dreadful 'do as they did to the victims themselves (if you guessed sexism was a factor, you would be right). When Clark eventually ditched the corkscrew curls mid-trial, it was front-page news, evidencing the inane and out-of-control media circus into which the "trial of the century" had devolved.
The Fluffy Mullet
The go-to look for whiny sitcom kids, roided-out pro wrestlers, and Miley Cyrus' dad, the fluffy mullet had some body to it. Get out of here with your Joe Dirt mullet.
The Elaine
While not the most fashion-forward show of the decade, few shows remain as associated with '90s style as Seinfeld, whose gang of lazy narcisssists embodied the normcore look way before normcore was a thing. Leading the pack is Julia Louis Dreyfus' Elaine Benes, whose singular disheveled look -- crowned by a mane of bodacious frizz swept up into a front pouffe -- is an integral part of her IDGAF heroine status. Along with Keri Russell and Sarah Jessica Parker, Elaine was a beacon for the girls with "a big wall o' hair" in a sea of silky manes.
The Ramen Noodle Hair
In a bid for respectability, Justin Timberlake later turned his back on the look that made him a '90s heartthrob. It's OK, Justin: we've got the trading cards.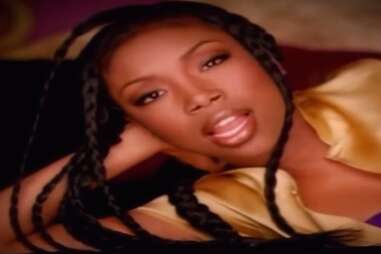 The Brandy Braids
From her essential UPN sitcom Moesha to the iconic "The Boy Is Mine" video, Brandy's braid game was always strong. Just looking at her takes us back to those simpler times when Ray J was just a goofy kid and not, uh, this guy.
The Cool Guy's Pompadour
Popularized by Beverly Hills 90210's Jason Priestley, this was the hairstyle that said, "You can trust me, girl. Let's go hang out at the Peach Pit." But beneath all that product, there was usually a heart of gold.
The Hanson
The Brothers Hanson took tweens by storm with "MMMBop," reviving shoulder-grazing hairstyles in the process. Too bad most pubescent boys forgot the vital trick to making this look appealing: shampoo.
Angela Chase's Red Dye Job
There are few actions more dramatic than a dye job for asserting your independence as a teen, and My So Called Life star Angela Chase's red hair struck a chord with like-minded viewers trying to shock their parents and fit in with edgier new friends. "When Rayanne Graff told me my hair was holding me back, I had to listen," Angela told us in her trademark emotive voice-over. "'Cause she wasn't just talking about my hair, she was talking about my life." Feelings!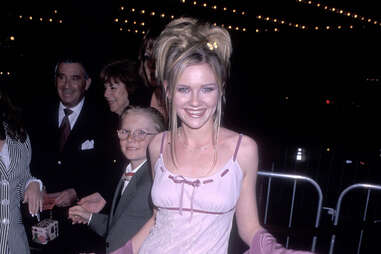 The Head Full of Butterfly Clips
The '90s were plagued by a butterfly infestation, as the cute critters derived most of their strength in numbers. The clips' ubiquity forced strangely architectural styles into fashion.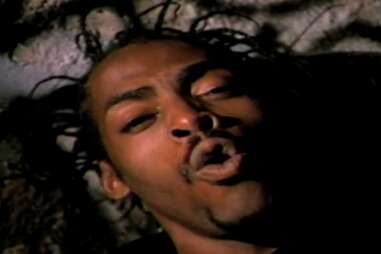 The Coolio
Apologies to Weird Al, but only Coolio could pull this one off.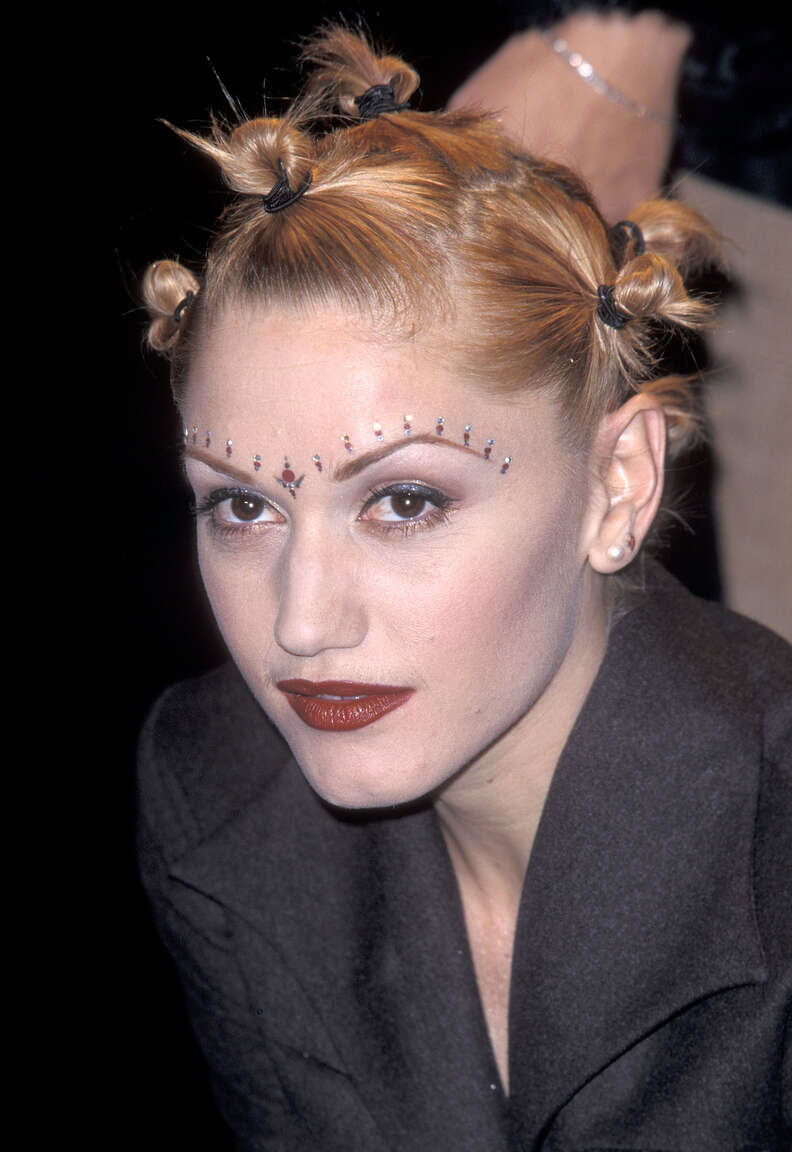 The Baker's Dozen
Gwen changed up her hair constantly, but there's no doubt (sorry) that these baby buns were her most memorable style.
The Felicity Curls
Keri Russell set herself (and ​Felicity​) apart from the herd of '90s WB starlets with her unruly curls. So Felicity's empowering barbershop trip in season two was the snip heard 'round the world -- even though many blamed the change-up for the series' ratings decline -- and Keri carried the effortless pixie into the new millennium.
Sign up here for our daily Thrillist email, and get your fix of the best in food/drink/fun.
Follow the Thrillist Entertainment editors on Twitter: @ThrillistEnt.