The Trailer for 'A Christmas Prince 2' Is a Great Teaser for a Terrible Movie
After the surprise runaway success of last year's A Christmas Prince, Netflix's syrupy rom-com with a plot spat out by a neural network that only watches Hallmark holiday specials, it was inevitable that we'd get a sequel. Also timed to the holiday season, the follow-up sees our royal couple back in action and ready for their nuptials. Or… are they?
If you haven't seen the first -- and it would be a surprise if you haven't, as this movie is, again, inexplicably popular -- it follows young Amber (Rose McIver), a magazine journalist at the start of her career who gets shunted off to the fictional kingdom of Aldovia to cover a press conference around the holiday season. Hungry for a scoop, she pretends to be the young princess's governess and finagles her way into the family festivities, falling in love with the playboy crown prince Richard (Ben Lamb) for good measure.
Spoiler alert: after some plot happens and problems arise that are swiftly dealt with, Amber and Prince Richard find themselves engaged, Amber more than ready to start her new life as a part of the royal family. Which is where A Christmas Prince: The Royal Wedding picks up, nearly a year later, with Amber swiftly realizing she's bitten off a little more than she can chew, given how complicated being a royal family member can be. Will she survive all the dress fittings? Will she charm the rest of the family as much as she's charmed her betrothed? Will she ever stop blogging?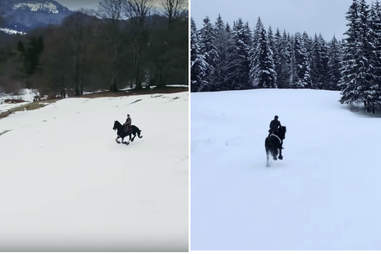 Two shots from both movies' trailers, Prince Richard symbolically riding toward his love in the first one, and away from her in the second. Uh-oh.

| Netflix
A Christmas Prince also got a big assist last year from the impending nuptials of the real-life Prince Harry and Meghan Markle (herself an American commoner not unlike young Amber) and swiftly rocketed to popularity after it dropped on Netflix. The first movie was by no means good, and this one doesn't look any better (Why is everyone talking so softly? Why is every joke delivered in practically a whisper?), but the one thing every single person needs around the holiday season is mindless happy-making content that allows you to forget, even for 90 minutes or so, that tiny feudal nations crawling with eligible royal bachelors don't actually exist.
Sign up here for our daily Thrillist email and subscribe here for our YouTube channel to get your fix of the best in food/drink/fun.
Emma Stefansky is a staff entertainment writer at Thrillist. Follow her on Twitter @stefabsky.