Paid Content For
Holiday Hideaway
How A Christmas Story Can Cure Holiday Blues -- Without You Even Watching It
Paid Content For
Holiday Hideaway
Alamy
Alamy
It's no coincidence that moods can turn blue during the holidays. The increase in familial stress, the decrease in direct sunlight, the knowledge that you've devoured a farm's worth of seasonally appropriate animals, and the fact that you're still single can all conspire to leave you with that not-so-cheerful feeling. If you're feeling unappreciated, unnoticed, or unfairly maligned -- like nobody thinks you're worth loving even though deep down you have so much to offer -- take heart, there's a movie that's guaranteed to lift your spirits.
Not because of the movie itself, though it's plenty uplifting in its own quirky way. No, it's because of the story behind the movie, a story of failure, redemption, and eventual domination over all things Yuletide. We're talking about A Christmas Story, and when it came out, it wasn't just ignored; critics reviled it. If that movie can overcome the darkness to become universally beloved, so can you.
No, seriously, critics hated A Christmas Story
The common wisdom is that A Christmas Story, the offbeat, nostalgic tale of a boy and his quest for an official Red Ryder carbine action, two-hundred shot range model air rifle(!), was ignored upon its theatrical release. That's not exactly accurate. Filmgoers did ignore it -- in all but a handful of theaters its initial run didn't even last until the holiday it's named for -- and many critics did the same. But those who saw it, for the most part savaged it.
Here's Vincent Canby, of the New York Times:
"There are a number of small, unexpectedly funny moments in A Christmas Story, but you have to possess the stamina of a pearl diver to find them."
Pearl divers descend to depths of up to 100 feet, a perilous, endlessly repeated journey that has been described as "a piece of hell." Canby probably didn't intend this as a compliment. The Washington Post's Gary Arnold was more scathing, writing that the film wed "the worst of 'The Little Rascals' to the worst of contemporary TV situation comedy… [Director Bob] Clark doesn't seem to trust the audience to respond to any humorous provocation short of assault and battery."
Stephen Godfrey, of Canada's Globe and Mail, called the film bland and tore apart the adult performances, though he was a fan of the children, saying that Peter Billingsley could "make Gary Coleman look gauche" (please comment if you understand what this means). Both the right and left New York tabloid press agreed that the film was a loser. The Post's Rex Reed panned the "lame direction," "corny script," and "ludicrous, pretentious narration." The Daily News' Ernest Leogrande called it "bizarre and boring" and "as real as wax fruit." He wasn't a huge fan of the surreal tone, either:
"Billingsley, his father and mother...and his younger brother...are presented as a house of loonies. Their personality traits aren't traits. They're manias."
Not an auspicious beginning! But we all know what eventually happened next.
Critics hated it, but cable loved it
TNT first launched its 24-hour marathon in 1997, but Director Bob Clark started to realize A Christmas Story was gaining cult momentum a few years before that, while at a restaurant with his family. As he told the LA Times, "We thought we were hearing 'A Christmas Story' on TV. We leaned over and, in the booth across from us, a family was acting out the movie -- the entire movie. They sat at dinner and they played all the roles. We couldn't believe it. It really astounded me."
The movie first aired on cable in 1985, with HBO doing the honors, but it was the various Turner networks -- then still newcomers, but already drawing critical raves for programming built upon their unprecedented archive of classic films -- that entrenched it in the national consciousness. Here's a shorthand summation of the film's Turner rise, per A Christmas Story: Behind the Scenes of a Holiday Classic:
Following its HBO debut, TNT showcased it in a holiday movie block in 1990, to great ratings success.
A simultaneous boom in VHS rentals surreptitiously amplified cult status.
In 1995, the film aired 6 times across Turner networks. In 1996, that was upped to 8.
In 1997, the boom was lowered: 24 Hours of A Christmas Story debuted on TNT.
In 2014 and '15, Turner doubled down on its double down, airing the movie 24 hours straight on TNT and TBS, with staggered start times. This isn't just filler programming: over 4 million people could watch any given airing; over 50,000,000 will tune in at some point during the marathon. Not even PCU in its cable heyday could touch that.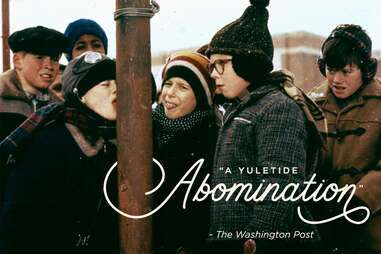 It goes way beyond TV now
The preposterous volumes of airings and viewership still can't do full justice to the touchstone A Christmas Story has become. Consider these attributes of legend:
It's inspired the theatre: The eponymous, Tony-nominated musical has enjoyed a solid Broadway run, touring performances, and regional productions from Seattle to Millburn, NJ.
"It's not a rosy, sparkly depiction of Christmas. It feels like what most people's Christmases feel like: difficult and messy and hairy and complicated. That's what makes it real, American, and contemporary." Justin Paul, co-creator, A Christmas Story: The Musical
It spawned a tourist attraction: The Cleveland house where it was filmed is now a memorabilia-packed sensation drawing fans by the tens of thousands, including a particularly ardent subset known as "Ralphies."
It entered politics: The film's bully, Scut Farkas, was the first character featured in a Hillary Clinton ad comparing Donald Trump to classic cinematic meanies. (Prior to that, syndicated opinion columnist Bill Knight also drew the Trump/Farkas comparison: "It's unclear whether Trump has yellow eyes, but there's an abundance of bile spewing forth, mixing fear, anger and hate in a nasty fruitcake of emotions.")
It inspired a good samaritan: In 2014, in North Tonawanda, NY, Joe Lavey heard that a fellow Christmas Story buff, Gary Brennan, had a replica Leg Lamp stolen from his liquor store's display window. Lavey and an anonymous donor flew in Ian Petrella, who played little Randy Parker, to present a replacement as the entire town council looked on.
It has a line of action figures:By NECA. You can't consider yourself a pop culture phenomenon if you don't have action figures.
It had a 25th anniversary box set: Who doesn't need a 48-page recipe book, themed cookie cutters, a Red Ryder history pamphlet, and a "making of" documentary along with their DVD copy of something they've already seen on TV 27,000 times?
It was selected for preservation by the National Film Registry: Films afforded this honor are selected based on a more important factor than mere quality -- they reflect "who we are as a people and as a nation." A movie doesn't need to hold together as long as it holds us all together.
So again, if you're feeling like a flop right now, take heart, you're in good company. And not only with A Christmas Story, either: other slow-building holiday classics include It's a Wonderful Life (tanked upon release, turned into a classic by TV) and even The Nutcracker (the biggest balletic bomb of 1892).
Maybe the most uplifting example is 1974's Black Christmas, shot by Bob Clark, the same guy who directed A Christmas Story. Critics hated it when it came out too, but it actually made a little money, and was eventually credited for inspiring other slasher flicks like Halloween. If a Canadian horror movie about sorority girls being stalked by a Christmas-hating killer who's actually up in their attic can become something approaching a classic, you're gonna be just fine.