Inside 'A Discovery of Witches,' the Hot Show That's Like 'Twilight' Meets 'Outlander'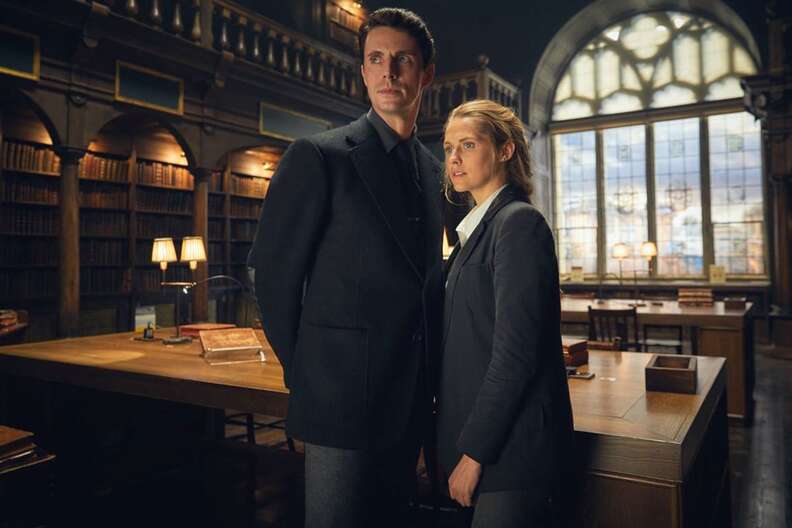 Deborah Harkness' best-selling fantasy series All Souls trilogy has been adapted as a slow-burn TV series named after the first book, A Discovery of Witches. It stars Teresa Palmer as a headstrong witch named Diana and Matthew Goode as a smoldering vampire named Matthew, and features a stellar supporting cast (including Alex Kingston as Diana's protective aunt and Owen Teale as a witchy nemesis). But for those who haven't already been enchanted by Harkness' compulsively readable page-turners, you might well wonder if this is a series worth trying. Does it have enough elements to keep you bewitched? Does the romance (and sex) sizzle? Will it measure up to current reigning champ of genre-benders? (Cough, Outlander.) We asked the author to give us a primer to the books and the show — which aired on Sky TV in the U.K. last fall, and is now available to stream on Sundance Now and Shudder, with second and third seasons already announced.
A new kind of vampire
Like Outlander, this is a fantasy story with science-fiction elements. There's time travel (it takes place in the present day but also Elizabethan England), supernatural creatures (mostly witches and vampires, but some demons, too), and magic. "Bringing humanity to these creatures -- the good, the bad, the silly -- was a lot of fun," Harkness said. "It seemed to me that humans invent monsters, and that creatures had their own experiences that didn't always live up to human stereotypes."
Although Harkness became interested in writing the series after seeing a wall full of supernatural-fantasy titles at an airport bookstore, she admits that she hadn't read any of them. ("I haven't even read Dracula.") She created her own lore, which is neatly summed up at one point by Matthew: "Before you ask, I can go outside during the day and my hair won't catch fire in the sunlight. I'm Catholic and have a crucifix. When I sleep, which is not often, I prefer a bed to a coffin. If you try to stake me, the wood will likely splinter before it enters my skin. No fangs, either. And one last thing: I do not, nor have I ever, sparkled."
When not traveling through time, Harkness' creatures live and work in the modern world. Matthew is a professor at Oxford; Diana, a witch, is a visiting professor from Yale. Harkness' vampires tend to study and teach subjects like biochemistry and neuroscience -- long years of research in chilly labs suit them. Science "answers important questions we have about who we are and why we are here," Harkness said, which is key to the story, because her lead characters are on a quest to locate a mystical book that can answer these questions and more. "A novel about a historian going to the library and discovering something nifty would appeal to almost no one," Harkness said. "But here, it's magical."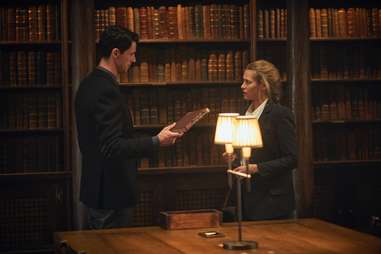 A forbidden love
In some ways, A Discovery of Witches shares the Outlander recipe for love: Despite all the supernatural and political obstacles in their way, an extremely old-fashioned man and a very modern woman fall hard for each other and commit for life. It's also a forbidden love. A vampire-witch-daemon governing body called the Congregation has a rule -- no fraternization between the species -- which has resulted in a lot of interspecies prejudice. Witches think of vampires as animals, vampires think of witches as untrustworthy, and both of them think daemons are loonies.
A true Renaissance vampire
In Outlander, Jamie Fraser is an 18th-century man, but he's educated and has an open mind -- so he's able to adapt to Claire's modern sensibilities. A Discovery of Witches' Matthew Clairmont has Jamie beat by a couple of centuries: He was born around 500 A.D., got turned into a vampire 37 years later, and has roamed the earth ever since. But rather than remain stuck in his original era, he has turned into a true Renaissance man, continuing to adapt to each century. Over the years, he's been a poet, a healer, a warrior, an assassin, a spy, and a scientist, all of which makes him the ideal suitor for Diana. He knows how to use modern tech (so sexting is an option), but he's also romantic, devoted, and protective. Maybe too protective, actually -- he can be a bit of a control freak. "It was very important to me that the romance felt authentic and plausible," Harkness said. "I don't imagine most 1,500-year-old beings to be modern in their outlook. That strains my credulity." And no, Matthew doesn't just drink blood -- he also eats meat (rare) and nuts; and he has exquisite taste in wine.
Kick-ass women...
No woman in "All Souls" is to be trifled with. Diana has remarkable powers, which she doesn't quite recognize or know how to control (at first). The aunt who raised her, Sarah Bishop, is an expert in magical craft, with an encyclopedic knowledge of the healing arts. Sarah's life partner Emily Mather has the gift of premonition. And Matthew's "mother," Ysabeau, is one of the oldest (and most ruthless) vampires in existence.
...and scary villains
There are vampires who have gone mad with "blood rage," and who cannot control themselves. There are witches who torture and kill other witches, using magic spells to "open" them up from the inside. There are also territorial witches and vampires who don't take kindly to other creatures intruding in their spaces.
A very different take on servitude
Vampires are able to amass a great wealth over their long lifetimes -- maintaining huge estates, shopping at Sotheby's, and traveling the world in style. Needless to say, some sort of assistance can be a big help in doing such things. "I have a pre-modern take on servants," Harkness said. "In antiquity, the medieval period, and the early modern period, servants were considered to be part of the family. We don't necessarily think that way, but vampires do." One of the most lovable characters in the books is the vampire servant Marthe, who cares for her vampire family in a very maternal way -- apparently not depressed about the prospect of eternal servitude.
A rabid fan base
The "All Souls" fans are terrifically dedicated, as A Discovery of Witches star Teresa Palmer discovered. After she got cast as Diana, her Instagram jumped up by more than 100,000 new followers. Fans can also be found posting to the Daemon's Domain, podcasting on All Souls Witchy Women, and meeting up in person at the All Souls Con. "They are dedicated to learning, to the pursuit of equality, to striving for greater diversity and inclusion," Harkness said. "The intensity of their feelings can surprise me. It's an extraordinary thing."