A Meme Is Born: Why Bradley Cooper & Lady Gaga in 'A Star Is Born' Make Great Memes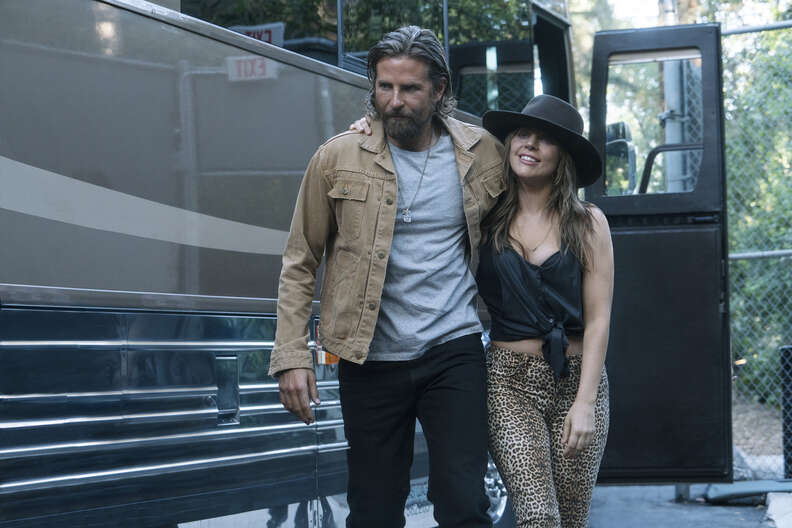 Warner Bros. Pictures
Warner Bros. Pictures
In the year 2018, these facts are true: A Star Is Born is a great movie. A Star Is Born is also a great meme.
For the uninitiated: A Star Is Born is a film directed by Bradley Cooper. It's a remake of not one, but three classic Hollywood films about an alcoholic entertainer who is not what he used to be and a talented woman, bound to eclipse him, who fall in love. With his success comes her tragedy. In this new version, Cooper is a rock star, Jackson Maine, while Lady Gaga herself is his pop protégé, Ally. Cooper's adaptation received the effusive praise of critics (including, uh, me) when it hit the festival circuit earlier this year. But even before anyone had actually seen the movie, it was capturing imaginations, thanks to an extremely well-cut trailer released back in June. Nearly every beat in that first two-minute-and-24-second ad for the film seemed ripe to be chopped up and refashioned into gags.
There's a reason why A Star Is Born makes for such good internet content -- and I'd posit it's the same reason that it's a story that's been told a whopping four times in the American cinema. It's an elemental tale of love and loss with a hefty dose of show biz razzle dazzle. If memes were around in 1976, people would have definitely made memes of the Star Is Born that came out that year starring Barbra Streisand and Kris Kristofferson. In this case, we're also dealing with two enormous stars, recasting their images: Cooper, as a first-time director, has a scraggly new accent, and Gaga's impressive pipes are making their major motion picture debut.
We've broken down the categories of these fine memes.
"Just wanted to take another look at you"
Cooper's Jackson Maine rolls down the window of his luxury SUV to call out to Gaga's Ally. "Hey," he says. She turns around. "Just wanted to take another look at you." She smiles. (In the movie there's an extra beat here that, I have to say, really makes the scene.) Still, the moment -- so easily reduced to a series of screenshots -- is a perfect format for a meme. Crucial to note: This set-up is not unique to the Gaga/Cooper A Star Is Born. It appears in every iteration of the film, going all the way back to the 1937 Janet Gaynor version, which boasted a screenplay from, among others, Dorothy Parker.
The element of surprise is key. So instead of Gaga's face, Cooper might be greeted by, say, Watto from The Phantom Menace…
The format is also malleable. What if, for instance, Jackson said something else to Ally? That's what our Thrillist Entertainment staffer Emma Stefansky posited when she scripted what the exchange would sound like if they were British singer-songwriters.
A Trailer Is Born
Editing whizzes have found it unnecessary to cut down the audio of the trailer; all they need are new pictures. The best example of this is comedian Kevin T. Porter's masterpiece: A Star Is Boar, which recasts the lead roles with Kermit and Miss Piggy. Honestly, I'd watch this movie and I don't know who wouldn't.
Katharine McPhee -- actress and former American Idol contestant -- also tried her hand at this. McPhee, you see, was the star of the cancelled NBC series Smash, which was also, in its way, about a star being born. (Except, in that case, on Broadway.) And lo...
AHHHH AHHHH AHHH AHHHH AHHHH
While Porter and McPhee took on the entire trailer, some intrepid memers boiled it down to it's most essential element: the swelling bridge of the signature song "Shallow" wherein Gaga belts her heart out in a wordless riff before segueing into the chorus.
Here's what happens when Jigglypuff gets into it:
It can also be a helpful pronunciation guide.
The miscellaneous
The best thing about A Star Is Born memes is that they are malleable to the whims of the creator. And indeed, people have gotten extraordinarily creative. What happens if you replace Ellen Degeneres' head on the cover of Time with the visage of Gaga? Well, here you go.
And what about what is sure to be one of the great cultural battles of our time? Two movies released on the same day will determine where you stand in this world.
Why Did You Do That?
One of the best memes to emerge in the days since A Star Is Born's release centers around one of the most intense debates surrounding the movie. Is Ally's pop song "Why Did You Do That?" -- which she performs on SNL -- an intentionally good song? Jackson hates its lyrics about butts, but it's hard to deny it's got a great hook. If Ally's happy with it, why shouldn't we be content to listen without shame? Co-writer Diane Warren told the New York Times that obviously she did not set out to write a crappy tune. "I would never purposefully sit down to write a bad song, although I guess I've done some without trying that turned out that way," she said. "This was a fun song, and I love fun pop songs." And do you know what fun pop songs result in? Memes of Pokémon dancing.
A Gritty Is Born
Leave it to our pal Gritty -- mentioned above -- to reinvent A Star Is Born in his orange image.
Sign up here for our daily Thrillist email and subscribe here for our YouTube channel to get your fix of the best in food/drink/fun.