Bill Murray's Netflix Christmas Special Is the Epitome of Bill Murray
<strong>A Very Murray Christmas&nbsp;|</strong> Netflix
'Tis the season for giving and A Very Murray Christmas gives us it all: there's singing, there's dancing, there's drinking, and there's hugging by the fire -- the yuletide essentials.
And then it keeps giving. On the show's down beats, there's dreaming and confessing and longing and listening. A Very Murray Christmas is like if Bing Crosby booked an hour of TV to drown seasonal affective disorder in the back of a dim saloon. This shouldn't be a total surprise; Netflix's first Christmas special arrives courtesy of Bill Murray and his Lost in Translation director Sofia Coppola. Together they swing Murray Christmas back-and-forth between show-stopping carols and half-drunk revelations. It's like a real Christmas Eve more than the perfect one.
What looked like an excuse for Murray to round up his famous buddies for a sing-along turns out to be the actor's most personal project since The Sweet Spot (you know, everyone's favorite Murray brother's 2002 Comedy Central golf special). In A Very Murray Christmas, Murray watches as New York City's largest snowstorm to date ruins plans for his holiday special, set to broadcast live from a fancy hotel. With plans out the window, Murray kicks back to celebrate with whoever's around. The experience is like floating through Murray's psyche. A Very Murray Christmas is a career in a chestnut shell roasting by an open fire. Here's how we know:
Bill Murray loves Christmas
As a kid, the 65-year-old actor regarded Christmas as the time of year when the playing field was even -- ideal conditions for his brand of whimsical comedy. "Christmas was just waking up and feeling that feeling of 'Oh my God, life is good,'" Murray recalled in a recent Vanity Fair profile. "People have been thinking about me. And my brothers that have hit me in the head have bought me a present. It was a free zone. Everybody's in a good mood. There was no fighting. And whatever wrongs you've committed during the course of the year are all forgotten on that day. Which is its own little miracle."
Murray never grew out of Christmas, and regularly slipped the love into his work. In 1974, the actor performed "Kung Fu Christmas" on the National Lampoon Radio Hour. He co-starred in several Xmas-themed sketches during his time on Saturday Night Live, and recruited Santa Claus to join him for the opening monologue of his 1981 guest-host episode. 1988's Scrooged was Murray's only straight-up Christmas movie, while Ghostbusters II not-so-coincidentally takes place during the holiday season. Murray's Christmas output as been lighter since the '80s, relegated to infamous Christmas parties and half-naked greeting Christmas cards sent to his friends (including the late Rowdy Roddy Piper), but A Very Murray Christmas gives him the chance to wrap up in all the warm and fuzzy cheer once again.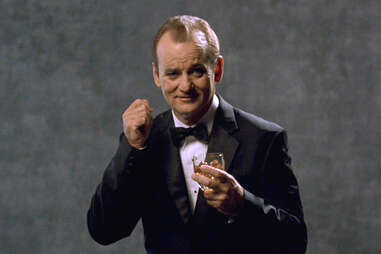 Bill Murray enjoys booze
There may be one or two scenes in A Very Murray Christmas where a character isn't imbibing a cocktail or bit of bubbly. Subdued bacchanalia keeps proceedings rolling with constant, hazy enthusiasm. That's how Murray rolls in real life, too. By his own admission, when he parties, he goes all night. The secret: diluted Champagne. "I like to drink it in a big pint glass with ice," he told Dazed last year. "Champagne can never be too cold. And the problem people have with Champagne is they drink it and they crash with it, because the sugar content is so high and you get really dehydrated. But if you can get the ice in it, you can drink it supremely cold and at the same time you're getting the melting ice, so it's like a hydration level, and you can stay at this great level for a whole weekend. You don't want to crash. You want to keep that buzz, that bling, that smile."
The aforementioned Murray Christmas parties are also known for their rowdiness. Murray recently revealed that, after complaints his wine choices put people to sleep, he amped up his annual shindig with Slovenia vodka. And ice luges. The only way to drink. "It looks like an Olympic ski jump. It's more for visual effect. You can put your head underneath it, like you're guzzling gasoline, but we just fill shot glasses. Hundreds of little shot glasses. So, we drank this stuff, and it took the party to a completely other level. The party lasted much longer. No one left. The year before, people would leave at, like, 2 or 3 in the morning. With the vodka luge, they didn't leave until 5. The last two years I've had this luge. That's how I like to drink. Out of a large ice structure."
There are no ice luges in A Very Murray Christmas. But there is a tipsy rendition of "Baby, It's Cold Outside" that'll make you jealous. If only drinking too much whiskey put a song like that in your heart.
Bill Murray is a master charmer
A name-drop: I once attended a party with Murray and entered his feel-good aura. Accounts of the star's charm are true; he works crowds without effort and drops wisdom like a Magic 8 Ball. He also ebbs and flows out of conversation, a casual chameleon who can become Just Another Partygoer. We see him in action in A Very Murray Christmas. Murray has moments in the spotlight, warring with his producer (Amy Poehler), conjuring up a musical number with his imagination, or just becoming the life of the party. But Murray slides out of focus, too. He keeps mum and listens whenever Jenny Lewis, Maya Rudolph, or Phoenix belts out carols. Hotel residents even reject his celebrity. "You look like you'd like to have your photography taken with me," he tells a disheartened bride-to-be. "I notice that really cheers people up when they do that." She declines.
Dimitri Dimitrov, the maître d' of the Sunset Tower Hotel bar in Los Angeles and Murray's friend, once said of the man: "He is so rare, like an anti-celebrity. He just sits in his T-shirt like an ordinary man, and girls surround him for his autograph. He's very flirty. Just magic! You definitely don't hide him in a corner." Nor does he hide himself.
Bill Murray has opinions on hotels
Like Lost in Translation and Groundhog Day, A Very Murray Christmas captures the claustrophobic despair of being stuck in a shelter you can't call home. And like the latter, it's snow standing in the way of on-screen Murray's dreams. This is a genuine frustration for Murray. As he mentioned last year, even the nicest accommodations leave him restless. "It's nice to have a date in a hotel but being alone in a hotel is kind of a sad kind of thing, isn't it? You feel like a travelling salesman or something like that. It's kind of sad to be in a hotel by yourself."
It's helpful that Sofia Coppola understands. Along with Lost in Translation, she also wrote and directed the under-seen, hotel-centric Somewhere.
Bill Murray knows lounge singing
Murray introduced his Nick the Lounge Singer character on the stages of the Second City theater. On Saturday Night Live, he imbued John Williams' Star Wars with lyrics. And in A Very Murray Christmas, he becomes one with his lounge-lizard persona. Murray croons "The Christmas Blues," squeezing out a passable duet of "Do You Hear What I Hear?" with Chris Rock, and leading a chorus in the Pogues' "Fairytale in New York." If it sounds like his dream come true, wait until you see the actual dream sequence featuring George Clooney and Miley Cyrus.
Bill Murray has existential thoughts
A Very Murray Christmas will divide those who appreciate Murray as a lovable goofball and those who detect a perpetual sadness in his wry comedy. For those in the former, consider the guy's IMDb page: Ghostbusters' Peter Venkman is a soft egomaniac. He plays assholes in need of repair in Groundhog Day and Rushmore. Carl Spackler from Caddyshack is barely cognizant. Even Garfield the Cat pines for escape from his tortured, Monday-filled existence. In A Very Murray Christmas, the actor becomes one of his own characters. But the holiday saves his life, like Dickens' A Christmas Carol with celebrities in place of ghosts. Towards the end, Murray wakes from a stupor, greeted by pancakes and beer, looks out his window at snow-covered New York, and wishes, "A merry Christmas to all." Bill Murray officially owns the holiday.
Sign up here for our daily Thrillist email, and get your fix of the best in food/drink/fun.
Matt Patches is Thrillist's entertainment editor. He previously wrote for Grantland, Esquire.com, Vulture, The Hollywood Reporter, and The Guardian. He is not bullshitting about the Bill Murray party story. Find him on Twitter: @misterpatches.