How 'A Wrinkle in Time' Does Justice to the Classic Novel in the End
This post contains major spoilers and ending details for A Wrinkle in Time.
As both an adaptation of a beloved science-fiction tale and the latest big-budget, live-action blockbuster cranked from the Disney machine, A Wrinkle in Time wants nothing more than to transport you. The enduring appeal of Madeleine L'Engle's 1962 novel is rooted in its ability to whisk the reader away to strange, fantastical worlds that tantalize the senses, tickle the brain, and stretch the limits of the imagination. Director Ava Duvernay's new film version of the story, which arrives in theaters this weekend on a wave of pre-release anticipation, weaponizes the book's terminology to keep the gears of the plot moving all the way to its teary finale.
How exactly do the characters zip from planet to planet? They "tesser."
The mysterious sounding verb derives its meaning from the word "tesseract," which refers to a geometric four-dimensional cube shape that's become a favorite of science-fiction writers. (It's a concept that you might remember from Christopher Nolan's Interstellar or from its head-scratching appearances in Marvel's super hero movies.) "Tessering" is deployed early and often in A Wrinkle in Time as we meet Meg Murry, played with subtly and wit by young actress Storm Reid, and her excitable father Dr. Alex Murry, played by an affable and bearded Chris Pine. In the movie's rushed, awkwardly expositional opening, we learn that Dr. Murry has cracked a difficult scientific procedure that allows him to circumvent the rules of space and time. Basically, he's discovered an intergalactic FastPass with his brain.

And then -- much to the chagrin of Meg, her younger brother Charles Wallace (Deric McCabe), and her scientist mother (an underused Gugu Mbatha-Raw) -- he disappears through one of these interplanetary wormholes. He shows up in a handful of info-dump-ey flashbacks -- at one point we watch him give a PowerPoint presentation about his research that gets him laughed at by his colleagues -- but Pine is mostly serving the same role as Luke Skywalker in Star Wars: The Force Awakens. Meg must find him. Why? The story demands it.
To help her accomplish this task, Meg meets three celestial beings who must have secret hair-and-makeup teams and costume designers following them at all moments: There's Mrs. Whatsit (Reese Witherspoon), Mrs. Who (Mindy Kaling) and Mrs. Which (Oprah Winfrey). Mrs. Whatsit, who has been spending time with the boy genius Charles Wallace, is introduced first in a scene where she shows up in the Murry's living room like a Cutco salesperson hawking metaphysical nonsense. It's one of the many Earth-bound scenes in the movie that just feels off -- like the whimsy meters malfunctioned.
Duvernay, whose last narrative feature was the grounded, tactically-minded Martin Luther King Jr. biopic Selma, struggles to make these scenes come alive. The film grows more confident as it becomes more cosmic. Once Meg, Charles Wallace, and their bland teen boy companion (Levi Miller) "tesser" their across the universe, the colors become brighter, the action speeds up, and the jokes start to land. There's also giant Oprah: The image of a skyscraper-sized Oprah Winfrey, decked out in sparkles and fairy dust, towering over an oddly smooth CGI landscape is not one you'll forget.
Once its liberated from our reality, A Wrinkle in Time bounces from set-piece to set-piece, switching eye-popping vistas and shadowy interiors the way a teenager might surf channels -- or swipe through options on an iPad. Zach Galifianakis makes a cameo as the wry "Happy Medium" and Michael Peña stops by to twirl his mustache as the menacing "Man with Red Eyes," but the film's main objective isn't to mock or terrify. It's looking to inspire. "Be a warrior," intones Winfrey's Mrs. Which, who comes to resemble a mystical life-coach. Hopefully, on one of the infinite planets in the galaxy, she holds seminars.
What exactly are Meg and her friends fighting against? That becomes clearer towards the ending. As it stops and starts on the way to a conclusion, the script, which was written by Jennifer Lee (Frozen) and Jeff Stockwell (Bridge to Terabithia), relies on fantasy mumbo-jumbo to paper over fairly rote screenwriting conventions. Where the filmmaking finds joy and exuberance in the wonky premises of the material, the writing only finds problems to solve. Weighed down with the obligation to replicate familiar hero's journey tropes, the tension stalls. It sucks the zany spark out of everything.
For example, when the the Mrs.'s inevitably fall away from the story, giving our young heroes the chance to travel, flirt, and get into trouble without adult supervision, the story beat is delivered with a contrivance. After Meg's desire to find her father prevents them from "tessering" back to Earth for reinforcements, Winfrey and her sidekicks claim that all the "tessering" has drained them of their energy and now they must head back without the kids. Instead of feeling like a surprising plot twist or a natural turn in the story, it scans as a set-up.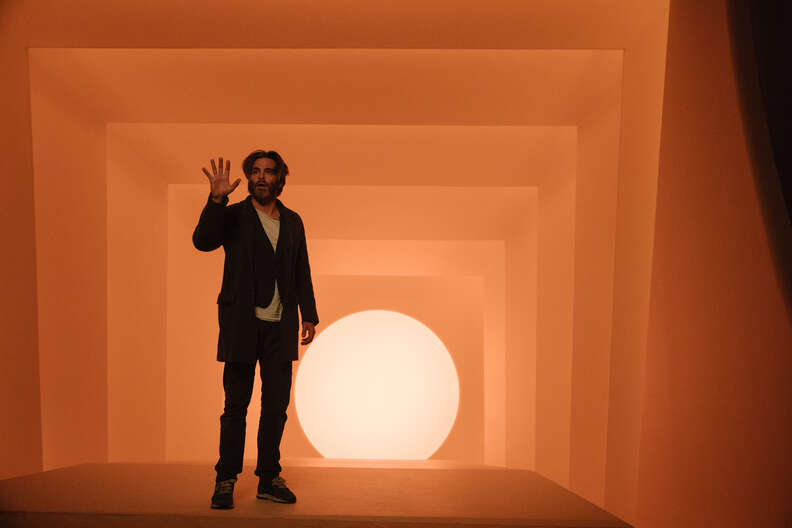 That's because it is. The final section, where Charles Wallace gets possessed by the nebulously evil IT on the planet of Camazotz, is quite creepy when it wants to be. Trapped in an all-white zone that looks like a set from 2001: A Space Odyssey, Meg must do battle with her now demonic little brother to free her father. When Duvernay turns up the emotional stakes, you're more inclined to forgive the clunky plotting. Chris Pine's relief upon reuniting with his daughter and the despair he feels at learning he's been missing for four years of her life is heartbreaking. The extreme close-ups on Pine's face capture his emotional pain with startling clarity. (Anyone who watched the Oscars in 2015 knows Pine can shed tears like no other Hollywood Chris.)
Having conquered the IT (no relation to this guy), rescued her father, and, most importantly, learned to love herself, Meg is ready to "tesser" home to her mother and the harsh realities of adolescence. Refreshingly, the movie displays admirable restraint by not planting too many obvious seeds for sequels in the future. (L'Engle wrote five books in her Time series, concluding with 1989's An Acceptable Time.) The final images focus on the family reuniting, Meg's growing confidence, and friendships discovered during the adventure. Expect to blow your nose on the way out of the theater if you get weepy at Disney movies.
The film is at its best when it's making you sob or chasing the kid-friendly surreal: A mid-film flight on the back of Witherspoon's chatty Mrs. Whatsit, who transforms into an enormous dragon-like leaf, is genuinely thrilling. It's not like last year's unnerving Beauty and the Beast; instead, it's more like something out of similarly daffy sci-fi blockbusters like Jupiter Ascending, Gods of Egypt, or Valerian and the City of a Thousand Planets. Even if the effects have a stilted quality, the whooping delight of Meg is infectious. She makes you want to "tesser" into a movie that's having as much fun as she is.
Sign up here for our daily Thrillist email and subscribe here for our YouTube channel to get your fix of the best in food/drink/fun.