NJ.com Posts Unironic Weather Penis for East Coast Storm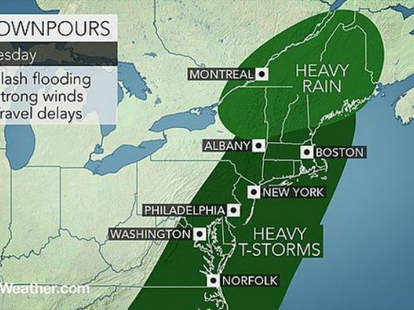 Weather forecasts have a long and proud history of creating (presumably) unintentional penises with their storm tracker graphics, and the public has a long and childish history of giggling at them.
Unfortnately, when NJ.com posted this story featuring an obvious storm-wang, they somehow decided the correct move would be to play it straight and not address the elephant-sized stiffy in the room, despite including "2 inches" in the headline.
This was, of course, completely wrong.
Sourced early this morning from Accuweather.com, the graphic is about as knob-tastic as it gets, and Accuweather clearly made the peen connection based on the revised, lessphallic versions it posted later on.
NJ.com, on the other hand, decided to go all in with the turgid, thickly veined image originally posted -- which is totally commendable, except they forgot the first rule of journalism: when there's a dick in the mix, make all the dick jokes.
Seriously, just look at that thing. If ever there was a time to crack juvenile wisecracks about how Maine's located squarely in the mushroom tip of the storm, or even how the entire East Coast is in for a good soaking, this was it.
For shame, NJ.com. For shame.

Gianni Jaccoma is a staff writer for Thrillist, and he never misses a chance to make an off-color joke. Follow his tasteless tweets @gjaccoma, and send your news tips to news@thrillist.com