So, It Looks Like a Bunch of Actors Are in Love With Their Movie Horses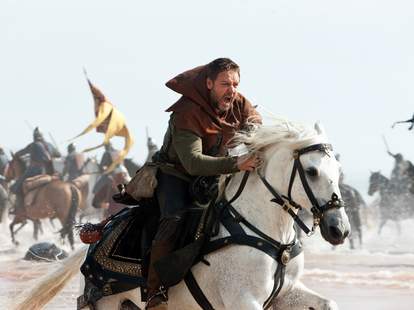 When you ride a horse, you develop a bond that's unlike any other. Horses are too tall for my liking, so it's other people who have told me this, but I believe them! Many actors have said this as well, and actors are the kind of people who often make enough money to buy stuff from the sets of their own movies -- like, for example, the horse they rode on.
Liam Neeson made headlines this week by claiming that the horse he worked with on the Coen brothers' new Western, The Ballad of Buster Scruggs, recognized him from a project they'd both worked on years before.
"You won't believe it. I'm saying this horse knew me," Neeson told Page Six. "He actually remembered me from another Western we made a while back. I love animals. When we worked together before I took special care of him. I fed him treats. Gave him apples…. He whinnied when he saw me. And pawed the ground."
horse: is ur name liam

liam neeson: yea?

horse: lol i know u we worked together on a different movie

liam neeson: does anybody else hear this horse talking to me

— #1 samir (@samir) October 9, 2018
Neeson's not the only actor to have bonded with his equine companion. Russell Crowe responded to his love story with a few of his own -- it seems Crowe has made friends with not one, but three of his long-faced co-stars over the years, from Gladiator to Les Mis. We get it, Russ, you have friends.
This is absolutely true . There's a horse George who I gave the speech in the forest in Gladiator on. Years later he was on the set of Robin Hood and we would have a chat everyday.
Same with the white horse Rusty in Robin Hood we chatted again on Les Mis. Lifelong friends. https://t.co/LqUxyfAymK

— Russell Crowe (@russellcrowe) October 9, 2018
Crowe and Neeson join a growing herd of actors who have fallen so deeply in love with their onscreen horses that they've gone to great lengths not only to hang out with them, but, sometimes, to straight-up buy them. Hollywood actors taking home their onscreen mounts is as old as cinema itself, with everyone from Roy Rogers to Robert Redford to Elizabeth Taylor unable to part with their hairy buddies after spending weeks and months of their lives making art together.
Viggo Mortensen bought three of his Lord of the Rings horses -- one of them, notably, the one who played Brego, Aragorn's loyal steed. In his revealing GQ profile, Brendan Fraser tells the story of the horse he rescued from the set of Texas Rising, who was bullied and bitten by the other horses on set but has found a home with Fraser and his autistic son, Griffon.
Horse affection comes in all different shades for these adult men. At this year's Emmy Awards, Jeff Daniels thanked Apollo, the horse that bucked him three times and broke his left wrist, in his acceptance speech for Outstanding Supporting Actor for his outlaw role in the Western Godless. "Little tip for you young actors: When they call and ask if you can ride a horse, don't lie," Daniels told the audience. Apparently, though, Apollo is a one-Jeff kind of horse: He was also Jeff Bridges' steed in True Grit and was well-behaved then, Bridges -- who also starred in the horse racing epic Seabiscuit -- said on The Late Late Show.
To be fair, being a horse in Hollywood sounds like a really rough gig, so we at Thrillist are very happy for these dudes and their big hairy friends. 
Sign up here for our daily Thrillist email and subscribe here for our YouTube channel to get your fix of the best in food/drink/fun.
Emma Stefansky is a staff entertainment writer at Thrillist. Follow her on Twitter @stefabsky.