How 8 Actors Got Fat for Their Movies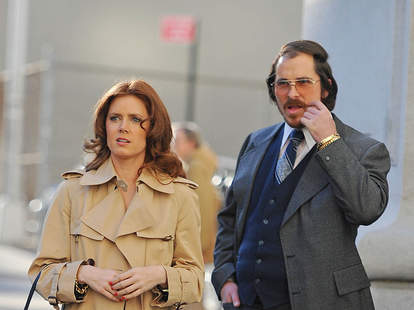 NCP/Star Max / Contributor / FilmMagic / Getty Images
Method actors do all sorts of weird stuff for their job, like keep character diaries or be Daniel Day-Lewis. But more often than not, they're putting their bodies through the ringer by dropping or gaining a significant chunk of weight. Since those Dallas Buyers Club photos still shake us to our core, this list focuses on the latter class of actors. They bravely ate donuts and sat on their couches to earn those bellies, and you won't believe the results.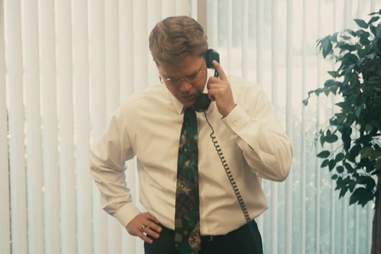 Warner Bros.
Matt Damon
The movie: The Informant!
Weight gained: 30lbs
Corporate whistleblowers aren't often noted for their six-packs, so when it came time to play Mark Whitacre, a real-life Archer Daniels Midland exec who tipped the FBI off to the company's shady dealings, Damon hit the In-N-Out drive-thru. He also credits pizza, dark beer, and eating "like when I was in college" with his eventual paunch.
The quote: "It was very, very easy to gain the weight. I just basically ate everything I could see for a few months." -- Damon toAccess Hollywood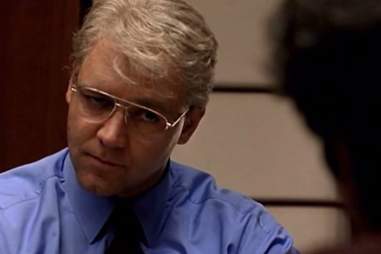 Spyglass Entertainment
Russell Crowe
The movie: The Insider
Weight gained: 50(ish)lbs
No one can seem to agree on how many pounds Crowe acquired for this 1999 Michael Mann thriller. The Washington Post says it was just 30, while Empire claims an insane 80. By Crowe's estimation, it sounds more like 50, and he hit that tally by going on a "medically controlled" diet of bourbon and cheeseburgers and basically not moving a ton. This honed technique came in handy nine years later, when he gained another gut for Body of Lies.
The quote: "Having Gladiator coming up was the best thing I could do, because I probably forced the issue, didn't I? I probably could have waddled around in the alleyway for years, going, 'Excuse me, do you want to hire a fat guy?'" -- Crowe toE! Online
Peace Arch Entertainment Group
Jared Leto
The movie: Chapter 27
Weight gained: 67lbs
To play John Lennon assassin Mark David Chapman in a movie no one saw, Jared Leto packed on a serious amount of pudge. But unlike so many of his colleagues, Leto doesn't reminisce fondly on his months of junk food binging -- he gained so much weight so quickly, he got gout and his doctor recommended Lipitor.
The quote: "I'm not sure it was the wisest choice. A friend of mine was recently going to gain weight for a film, and I did my best to talk him out of it. Just because you can lose the weight doesn't mean the impact it had on you isn't there anymore." -- Leto to theLos Angeles Times
United Artists
Robert De Niro
The movie: Raging Bull
Weight gained: 60lbs
Bobby is the classic example of schlubbing it up for your craft. Not only did he gain an astonishing 60lbs for Martin Scorsese's boxing epic, he did it right after he'd spent months getting buff to play Jake LaMotta in his prime. After they wrapped his "young Jake" scenes, De Niro embarked on a grand four-month tour of Europe's best restaurants. His (unrestricted) fine dining was so effective, Scorsese was worried about his health when he returned for his "washed-up Jake" filming.
The quote: "His breathing was like mine when I have an asthma attack." -- Scorsese to ESPN
Newmarket Films
Charlize Theron
The movie: Monster
Weight gained: 30lbs
A lot of frantic ink was spilled over Charlize Theron's dramatic make-under for Monster. She shaved her eyebrows! She wore gross fake teeth! And she gained weight!! Theron says she filled out her jeans by gorging on Krispy Kreme, potato chips, and "creamy, cheesy stuff," but she didn't dwell too much on the subject, since she thought her character's serial-killing tendencies were more interesting.
The quote: "I had to get my body to the place of a woman who'd been living a homeless life since she was 14." -- Theron toPeople
 
Ryan Gosling
The movie: The Lovely Bones
Weight gained: 60lbs
People were a little confused when Peter Jackson picked 27-year-old Ryan Gosling to play a grieving father of a murdered teenager, so Baby Goose attempted to assuage their fears by acquiring a dad bod. After months of carefully drinking melted pints of Haagen-Dazs (seriously), Gosling showed up on set with a significant gut. And his director was not pleased. In case you were wondering why he didn't get his own photo here, it's because he got replaced with Mark Wahlberg in the 11th hour, leaving him, in his own words, "fat and unemployed."
The quote: "I really believed in it. I was excited about it. I showed up, and they said, 'You look terrible.' And I said, 'I know! Isn't it great?' 'No, it's not. Go hit the treadmill.'" -- Gosling to The Hollywood Reporter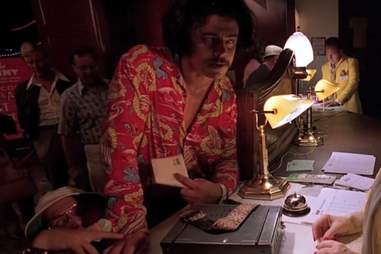 Universal Pictures
Benicio del Toro
The movie: Fear and Loathing in Las Vegas
Weight gained: 45lbs
Jared Leto and Benicio del Toro should probably start a support group, because Benny's also pretty bitter about the pounds he packed on for this trippy Hunter S. Thompson adaptation. When asked, he didn't want to tell reporters what he ate so much as how long it took him to lose his love handles (three months) and how bummed he was with the movie's iffy reviews. In fact, he supposedly turned down the male lead in Frida because it required another weight gain.
The quote: "I wouldn't do the weight [gain] again for anything. It's not healthy." -- del Toro to TV Guide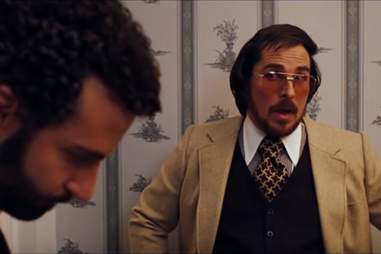 Columbia Pictures
Christian Bale
The movie: American Hustle
Weight gained: 60lbs
A fascinating case study and concern for nutritionists the world over, Christian Bale has been playing yo-yo with his waistline for years. The most dramatic example was when he went from starving himself for The Machinist to bulking up for Batman, but if we're talking about the time he just let himself go, it was in 2013 for American Hustle. After eating many donuts and sitting around 24/7, Bale had an impressive belly to match his truly unfortunate hair.
The quote: "I hope that the makeup maybe get an Oscar or something for this because people think it's a prosthetic belly. I'll lie about that if it means they get an award because the makeup people were fantastic." -- Bale to ABC7
Bonus TV star: Rob McElhenney
The show: It's Always Sunny in Philadelphia
Weight gained: 52lbs
After noting how much hotter sitcom stars get as their shows run on, Rob McElhenney decided to do the opposite by transforming into Fat Mac. For months, he ate 5,000 calories a day. Most of it was relatively healthy stuff like chicken, rice, veggies, and protein shakes, but he definitely mixed in Big Macs and donut trios to push him over the edge. Fat Mac was gone by the next season, but he will be forever remembered in the GIFs taken from this pageant dance.
The quote: "I was jolly as fuck. And I was just full of energy, because I was eating so much. It was just constant fuel... You know what the most fun was, getting rid of any shred of vanity." -- McElhenney to TheWrap
Sign up here for our daily Thrillist email, and get your fix of the best in food/drink/fun.
Kristin Hunt is a staff writer for Thrillist. She thinks The Lovely Bones was a shit movie but still has nightmares about Stanley Tucci in it. Follow her to melted pints of Haagen-Dazs at @kristin_hunt.