Netflix Users Have Spent Over 500,000,000 Hours Watching Adam Sandler Movies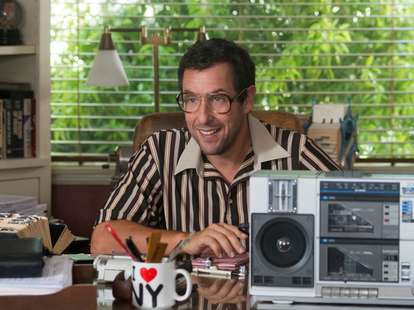 Adam Sandler's new Netflix movie, Sandy Wexler, is like the lab-grown beef of feature-length comedy. For Netflix, that's a gold mine.
Sandler plays the title character, a talent manager with a whacka-doo voice and mental patient laugh who can't catch a break in Hollywood circa 1992. Between pushing his lovable D-list talent and making a fool of himself in public, Sandy stumbles upon the client of a lifetime: Courtney Clarke (Jennifer Hudson), pop-star-in-the-making. The movie's equal parts goofball shtick, underdog romance, and actor Nick Swardson crashing into shit, sprinkled with sitcomy screaming, and served with a '90s-nostalgia jus. The A-list comedian and his roster of collaborators truly have chortle-worthy entertainment down to an inoffensive, ready-to-watch-on-a-plane science.
Many, many people will watch Sandy Wexler -- though we only know that because Netflix can't quit Sandler. While the streaming service doesn't disclose viewership numbers or even vague popularity trends concerning individual titles, its business model speaks volumes about which movies in the back catalog perform.
Consider the reason Sandler now cranks out movies for Netflix rather than traditional Hollywood studios. In October 2014, Netflix signed a deal to release four original Adam Sandler movies on the platform -- just a few months after his last movie, Blended, underperformed in theaters. At first glance, Sandler appeared to be on the decline. Netflix knew something the general public didn't.
But Netflix's gamble seems to have paid off. In January 2016, Netflix CEO Reid Hastings announced that The Ridiculous 6, Sandler's spoof Western and the first of the deal's four movies, was the most viewed movie in Netflix history in the first 30 days of launching on the platform. Earlier this year, Netflix announced that another deal was struck with Sandler and his Happy Madison Productions for an additional four original movies. The company followed that with some shocking numbers: "Since the launch of The Ridiculous 6," goes a 2017 shareholders report, "Netflix members have spent more than half a billion hours enjoying the films of Adam Sandler."
Half a billion! In the same report, Netflix trumpeted their current subscriber base, now up to 5 million global members, and current profits: in the first quarter of the year alone the company's made $2.5 billion off streaming subscriptions. At least according to Netflix suits, the movie strategy, including Sandler's output and smaller offerings like the war movie The Siege of Jadotville, are wrangling the eyeballs. (The company also admits some misfires; the Crouching Tiger Hidden Dragon sequel Sword of Destiny didn't play.)
Later this year, Netflix will premiere The Meyerowitz Stories, the latest from acclaimed filmmaker Noah Baumbach, starring Ben Stiller, Emma Thompson, Dustin Hoffman and... Adam Sandler. It's expected to be a departure for the actor, a dramedy designed outside the mold of The Ridiculous Six and Sandy Wexler. Will it perform?
Netflix probably doesn't care. With one more untitled, original movie in the pipeline, and four more secured, the amount of joke-filled, heart-on-sleeve, occasionally problematic, cameo-literred Sandler content should crawl up to over a billion views in the next two years. Or audiences can just loop the scene in Sandy Wexler where Sandler has a heart attack and Kevin James's character works his limp body like a ventriloquist doll. That's the beauty (and the horror) of Netflix.
Sign up here for our daily Thrillist email, and get your fix of the best in food/drink/fun.
Matt Patches is Thrillist's Executive Entertainment Editor. His previous work appeared on Grantland, Esquire.com, and Vulture. Find him on Twitter @misterpatches.