Adele Calls Possible Super Bowl Show a 'F*cking Stupid' Rumor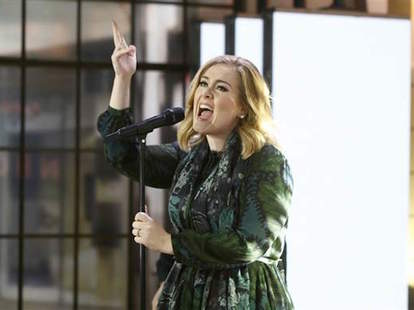 Adele would be a perfect Super Bowl halftime show performer: she's charming, she's got an incredible voice, and she could shower the stadium with F-bombs at any given moment. But according to the 28-year-old singer, we won't see her make an audience of football fans tear up to "Someone Like You" anytime soon. Over the weekend, she denied halftime show rumors, and did so in the most Adele-like way possible.
During a show at the Staples Center in L.A., the singer addressed recent speculation that she would follow up this year's Coldplay and Beyoncé combo with her own Pepsi-sponsored spectacle. She also put to rest any pregnancy rumors. "Of course I'm not pregnant," she told the crowd. "They thought I was going to announce it at the Super Bowl!"
"First of all, I'd like to tell you I'm not doing the Super Bowl. I mean, come on. That show is not about music, and I don't dance or anything like that. They were very kind, they did ask me, but I did say no."
That doesn't mean she's not open to the possibility of doing it at some point in the future. "Maybe next time, in my next album," she said. "I'm going to do a dance album next time. So, maybe I'd do it then."
If all that wasn't charming enough, she put the speculation to rest with three simple words: "Fucking stupid rumors." You can watch the pretty funny footage below:

Then, like some sort of spurned lover in an Adele song, the NFL and Pepsi quickly released a joint statement denying any Adele halftime show offer. Like, come on, big, amorphous corporations: it's OK to admit you wanted Adele to be in the Super Bowl! Don't feel embarrassed. The full statement is below:
"The NFL and Pepsi are big fans of Adele. We have had conversations with several artists about the Pepsi Super Bowl Halftime Show. However, we have not at this point extended a formal offer to Adele or anyone else. We are focused on putting together a fantastic show for Houston and we look forward to revealing that in good time."
So, where does this leave us now? Without an Adele Super Bowl halftime show, sobbing softly to ourselves as "Hello" plays on a constant loop. As Adele sings, "They say that time's supposed to heal you/ But I ain't done much healing." Hopefully there's still time for Adele and the NFL (and Pepsi) to heal.
Sign up here for our daily Thrillist email, and get your fix of the best in food/drink/fun.