7 Gadgets That Will Make the Beach Even More Fun This Summer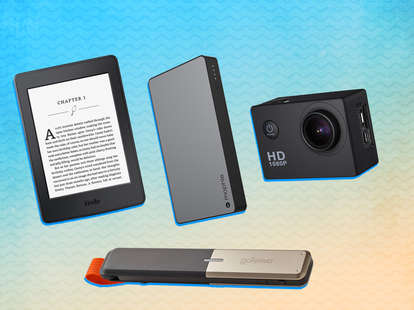 As nice as it might be to binge Netflix at the beach, no one wants to be "that guy" schlepping a laptop and full-on home-theater setup onto a crowded strip of sun-soaked sand. There are, however, plenty of ultra-portable gadgets and gear that deserve a place in your beach bag, and more importantly, won't get you laughed off the boardwalk. Here are seven worth bringing with you this summer.
UE Roll 2 Speaker -- $100
You can only be serenaded by the sound of crashing waves, screaming children, and squawking seagulls for so long, which is why a portable Bluetooth speaker is an absolute necessity for the beach. This saucer-shaped device is the ideal companion. Not only does it get loud as hell without losing audio quality, but it boasts a more-than-respectable battery life and is fully waterproof, so you can even bring it into the ocean with you.
Mophie Powerstation XL Backup Battery -- $70
Spare yourself the panic of a dead phone with this standalone backup battery stashed in your bag. When fully charged, one of these guys can recharge your device three times over. That means you can stream your tunes, snap your stories, and tell your friends to pick up more booze with abandon, without the looming threat of running out of juice by mid-afternoon.
Laughing Lion Dry Bag -- $35
On the exceptionally lo-fi end of things, this handy accessory is an insurance policy for any gadgets or valuables that don't play well with salt water or sand. It's fashioned from extremely durable laminated nylon, is totally waterproof, and floats, so whatever's stashed inside will be safe from practically anything that might endanger it (except for, well, thieves).
It may not be the sexiest choice, but the classic E-ink Reader from Amazon is a no-brainer for the beach. Unlike tablets with LCD displays, you won't have to worry about glare from the sun. Plus, it's ultra-lightweight, holds thousands of books, and last for weeks on a single charge.
Cymas Full HD 1080p Action Camera -- $50
Even if you don't plan to capture some totally sick POV footage of yourself hitting an epic surf break, brah, having one of these on hand is still worth it. While it's $100 cheaper than an entry-level GoPro, it'll get you the same sort of crisp, wide-angle coverage you're looking for. And like a GoPro, it's also ultra-durable and waterproof, so you can safely strap it to your snorkel to get a look at what's going on beneath the waves, keep it perched atop your umbrella for an all-day time-lapse, or get creative and attach it to whatever football/frisbee/paddleball you bring with you.
Much like music festivals and sporting events, overcrowded beaches can cause a serious cell-service issue, which is a royal pain if you're depending on text messages to coordinate with friends. This innovative tool enables you to continue to exchange texts and share GPS locations when you're without service by sending communication via its powerful built-in antennas. To work, each person needs their own GoTenna tethered to a device via its proprietary (they're sold in pairs), but once up and running they can communicate with one another from up to 50 miles away.
While this isn't necessarily a gadget, it is a game changer. Available in sizes large enough to fit six people, these mats are fashioned from the same material used by the military to prevent helicopter brownouts (the term to describe excessive amounts of dirt or dust kicked up by chopper blades), acting as a one-way filter to keep sand from seeping through. It's also designed to essentially repel dirt, dust, and water, which'll keep you from rolling around all day on a scratchy surface and tracking a bunch of sand back to your car.
Sign up here for our daily Thrillist email and subscribe here for our YouTube channel to get your fix of the best in food/drink/fun.