Netflix's 'Aggretsuko' Is the Anime Series for Anyone Who's Worked a Shitty Office Job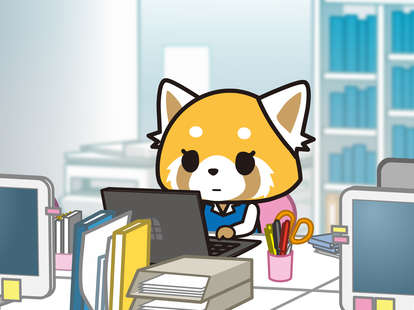 Courtesy of Netflix
Courtesy of Netflix
The more cynical-minded among us might be tempted to call Aggretsuko a cash grab. After all, Netflix's latest original anime series is based on a character by Sanrio, a Japanese company specializing in cute merch centered around personality-driven animal cartoon characters. In other words, it's branded content, and who wants that?
As it turns out, I do. And, more than likely, so will you. Sanrio, which is responsible for Hello Kitty as well as the misanthropic penguin, Badtz-Maru, and the malaise-filled egg yolk, Gudetama, are masters of creating merchandisable art that is absolutely irresistible, though indisputably meant to generate profit by selling everything from plush toys and keychains to bathing suits and foot cooling sheets. Take Sanrio Boys, for instance: the franchise, which launched in 2015, is specifically geared towards destigmatizing male embarrassment around liking and collecting "kawaii" things (made by Sanrio, of course) through its very own merchandise line, a manga and anime series, and even a smartphone game. Given that its protagonists are all high school boys, some have also read the franchise as a queer narrative.
This focus on accessibility and appeal is exactly what makes Aggretsuko work. When Retsuko, a red panda fresh out of university, begins her office job, she's gung ho -- and immediately twists her ankle due to the slight heel of her shoe. Five years later, her corporate enthusiasm has been worn down by a grinding combination of a tiny apartment, a crowded commute, a real murderer's row of co-workers (a gossiping hippo, an appearance-obsessed deer, a sociopathic fennec fox), and a chauvinist hog of a boss. No, really -- her boss is literally a pig.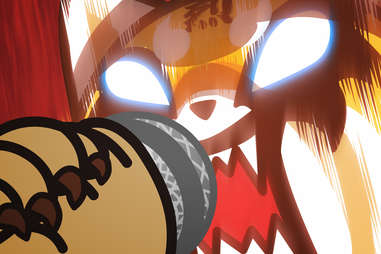 The storylines ought to be familiar to anyone who's ever held an office job they weren't in love with, particularly given the inclusion of a character who seems to be the equivalent of an influencer, who jet sets without a financial care in the world while Retsuko clings to the security provided by her lame but stable job. With only 15 minutes in each episode, the ups and downs of a career choice are poignantly addressed within two episodes, which would be an accomplishment on any show, let alone an animated one about anthropomorphic, office-working animals.
All in all, most of Aggretsuko could easily translate into a live-action series with a human cast. The key ingredient that keeps it from losing animated purpose is in how Retsuko vents all of her pent-up frustration and aggression accrued during the workday: death metal karaoke. When it all gets too much to bear, Retsuko retreats to the company bathroom or rents a karaoke room for one, pulls a microphone from her purse, and growls ("Selling my soul/a corporate slave/wage laborer!") until she's gotten it all out of her system.
Distinct visual style aside, anyone who comes across the series while browsing Netflix would be forgiven for taking it as a completely original series rather than an offshoot expanding on a series of shorts that first aired as interstitials on Tokyo Broadcasting System in 2016. (In fairness, Netflix's original anime programming has been generally impressive thus far.) But there's a level of specificity to the meta late capitalism of Aggretsuko that transcends its status as a branded product. It's cute, it's funny, it's cuttingly relatable, and it starts to become a multi-layered mind fuck if you stop and think about it for too long. It's among the best original series that Netflix has to offer, animated or otherwise.
Sign up here for our daily Thrillist email and subscribe here for our YouTube channel to get your fix of the best in food/drink/fun.
Karen Han is a staff writer at Polygon and a contributor to Thrillist. Her work appears on Vox.com, The Atlantic, SlashFilm, and New York magazine's Vulture.