Why the Hot Jock on 'American Horror Story: 1984' Could Be the Key to the Season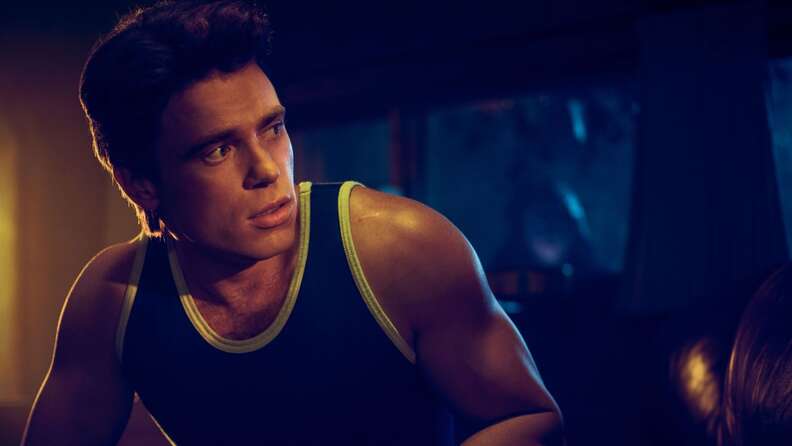 Each season of American Horror Story, it seems like showrunner Ryan Murphy likes to turn fans onto a new piece of eye candy. For a while, eight-season cast member Evan Peters won over hearts (making things confusing when he played psychopathic serial killers), then Finn Wittrock came along to turn heads, and last season Cody Fern became the Antichrist and convinced more than a few viewers that eternal damnation wouldn't be so bad.
Now that the show's ninth season, AHS: 1984, is on the air, it looks like newbie Gus Kenworthy is destined to be the latest token AHS Hot Guy. While the actor who plays stereotypical jock Chet Clancy was pretty quiet during the premiere, he could become an essential character as this slasher-inspired season starts hacking away.
Kenworthy isn't just the latest addition to the ever-evolving AHS anthology cast; he's already a star in another field. The England-born 27-year-old is best known as a freestyle skier who took home the silver medal at the 2014 Sochi Winter Olympics for the slopestyle competition and qualified for the finals in the same category in PyeongChang in 2018 (he competes for the United States, having moved to America at a young age). He's won medals at multiple X Games. Off the slopes, Kenworthy made news in 2015 as the first action-sports star to publicly come out as gay, but this is his first chance to show his chops as a leading actor.
There's a winking irony in Kenworthy's character, Chet: He's an athlete who got disqualified Olympics because of drug use, which subsequently led to a buildup of rage and a drinking problem. That doesn't sound like someone who definitely wouldn't commit murder.
It's partially because of his Olympics embarrassment that he decides to haul ass out of the city to Camp Redwood with his friends from aerobic class, Xavier (Cody Fern), Montana (Billie Lourd), and Ray (DeRon Horton). When the jazzercisers are discussing their plans to escape the City of Angels -- and the home invasions and attacks by Richard Ramirez, AKA the Night Stalker -- Chet is introduced to Emma Roberts' Brooke. He gives her a smoldering look, the two lock eyes, and he brings charm deserving of a gold medal as he rushes to her defense when Xavier badgers her into spending the summer at Camp Redwood.
It's the sort of meet-cute that indicates the start of a more serious relationship. Sure enough, when the season was first announced, Ryan Murphy billed Kenworthy as Brooke's boyfriend, which could have been a sleight-of-hand move to hide the character's true role. But it looks like these two are set to get a lot closer, and with Brooke featuring as the main focus of the ensemble, Chet will likely play a crucial role, too.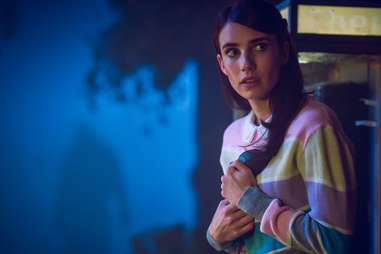 AHS: 1984 is part sendup of and part homage to the slasher films that dominated pop culture in the '80s -- 1984 was the year Wes Craven's A Nightmare on Elm Street came out and introduced the world to Freddy Krueger. As such, the characters in AHS conform to stereotypical roles you'd find in those movies. Brooke plays the traditional goody-goody hunted by a killer or two, and it seems likely she'll be one of the last characters standing; she is keeping it a secret that the Night Stalker broke into her home, and she's the only one so far this season who's seen both him and the asylum escapee Mr. Jingles at the camp.
Bad-boy athlete Chet is his own version of a classic '80s stereotype, and it's not a stretch to imagine him somehow "corrupting" Brooke's good-girl clichés. It's even possible that these two have already met and are keeping their history a secret -- that dramatic introduction and those glances in the midst of jazzercise class thrusts could've pointed to more than an immediate attraction, which would fit right into the AHS playbook. Similarly, there's the potential that Brooke's good-girl look is a facade and she's running away from someone or something, which Chet might help to reveal.
Whatever unfolds, Brooke is probably 1984's key player, which by the transitive property makes Chet an important character to keep an eye on. It's still early in the season, but the hot new guy with the cropped muscle tees is more than just AHS eye candy; he may just stick around as the rest of the cast gets offed one by one. It's not the worst career change for someone with an Olympic medal on his shelf.