Another year, another season of American Horror Story gracing us with its presence. This time around, the Ryan Murphy/Brad Falchuk-created series has dialed back the clock to the shlocky '80s for some slasher movie fun. 
American Horror Story: 1984 follows a group of camp counselors as they fight for survival at a doomed summer camp. The ninth season of FX's hit anthology genre series boasts some familiar faces -- Emma Roberts, Cody Fern, Billie Lourd, and Leslie Grossman are all here. Sarah Paulson, unfortunately, is not. Some newbies like Glee's Matthew Morrison and real-life Olympian Gus Kenworthy, have joined the fray, as well, helping to give this season a fresh feel.
Much like previous AHS installments, there will be plenty of genre homages and Easter eggs to keep die-hard horror fans happy. Sure, it may be a fool's errand to keep track of all the retro goodies that pop up, but we're going to try anyway. So, with that said, here's a running tally of the best '80s references featured in American Horror Story: 1984. 
Recommended Video
Viral Granny Rips Shots With Grandson, Gives Relationship Advice
Episode 1: "Camp Redwood"
That opening credits sequence
For the past eight seasons, AHS has had an opening credits sequence set to the show's eerie, signature score. This time around, though, it looks as if Ryan Murphy and crew were inspired to switch things up. Instead of the usual montage of creepy, gothic imagery, AHS: 1984 is sporting a retro, lo-def, VHS-style sequence backed by some John Carpenter-style synths. 
The montage features a whole slew of imagery conjuring up the decade of excess. You've got break-dancing, a Walkman, leg-warmers, some Atari video game goodness and, of course, a brief cameo of the Gipper himself, Ronald Reagan. Images of stabby violence are intercut giving the clip a slight snuff film vibe. 
Obviously, this season has taken inspiration from the Friday the 13th movies. The title font, for instance, appears in a similar scrawl to the font that is featured in the Jason Voorhees-centered franchise. We'll talk more about those Jason movies, in a bit.
Crazy for aerobics
Aerobics was huge in the '80s, with the help of Jane Fonda's highly-successful workout videos. Perfect 10 Aerobics is the studio where we meet this season's core group of survivors. Xavier (Fern) is the instructor and Montana (Lourd), Brooke (Roberts), Chet (Kenworthy), and Ray (DeRon Horton) are his students. 
The scene that introduces them all in Episode 1, titled "Camp Redwood," is a flatout nod to the 1985 aerobics-themed movie, Perfect, which starred John Travolta and Jamie Lee Curtis. The Jazzercise fashion and workout moves absolutely reek of what made the '80s so… '80s.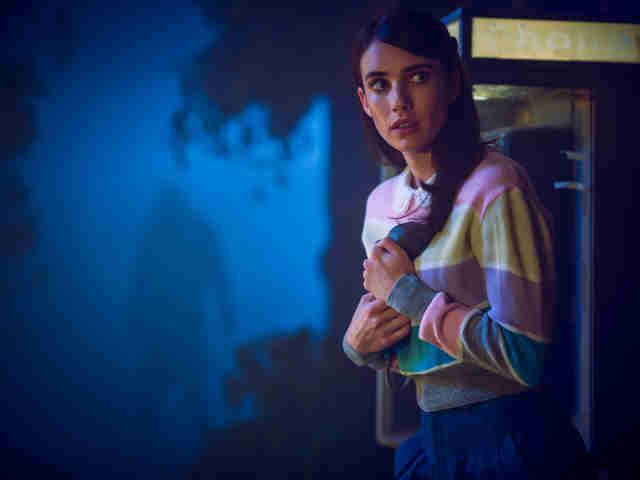 Something's up with Brooke
From being attacked by the Night Stalker, in a scene immediately following a conversation about his kills, to being attacked by campground psycho Mr. Jingles (John Carroll Lynch) to revealing the double murder and suicide her fiancé committed at the altar (instead of simply saying, "I do"), Brooke is like a magnet for this season's madness. 
Is she AHS: 1984's Final Girl? That's possible. And Roberts is definitely playing Brooke as an empathetic character worthy of a hero arc. But her bookish style and soft-spoken personality seem like a quiet homage to Sleepaway Camp's Angela (Felissa Rose). Spoiler: Angela definitely was not a good girl.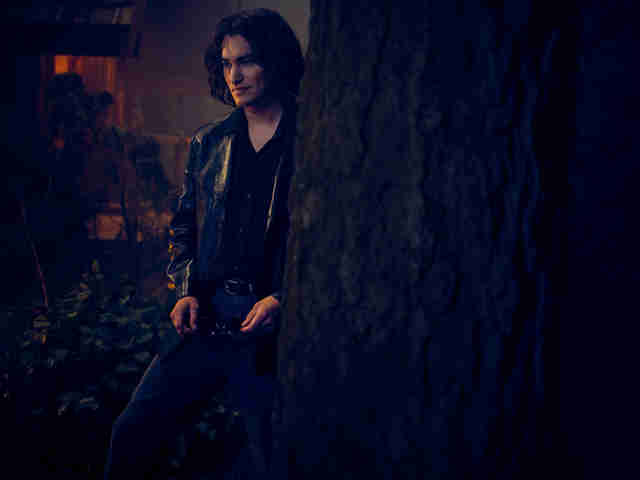 Richard Ramirez returns
For those not in the know, Richard Ramirez was a serial killer who terrorized Los Angeles from 1984 to 1985. He eventually took on the name "The Night Stalker," due to his modus operandi of climbing into open windows to brutally attack, rape, and murder unsuspecting victims. 
This isn't the first time the Night Stalker has appeared in American Horror Story. The last time we saw him was in the AHS: Hotel episode "Devil's Night" in a scene that brought the ghosts of some of America's most infamous murderers to hang out at a quirky little dinner party. The Haunting of Hill House's Anthony Ruivivar played the killer in Hotel. In AHS: 1984, a younger actor named Zach Villa has taken on the role.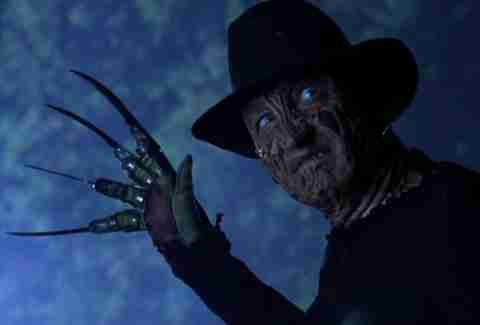 AHS gets campy
We mentioned the Friday the 13th movies above, and there is definitely a lot of that in AHS: 1984. You've got a group of attractive, stereotypically horny young people trapped at a secluded camp by a lake. All you need is a crazed, hard-to-stop killer stalking the grounds to really give the whole thing a Camp Crystal Lake vibe. 
Added to the slasher mix is a nod to Sleepaway Camp -- we mentioned this above -- and there's even a Halloween nod thrown in for good measure. You see, Mr. Jingles is the killer who rampaged Camp Redwood in 1970, murdering folks and cutting off ears. He was eventually caught and thrown behind bars in a mental hospital. 
Conveniently, he ends up breaking from captivity, much like Michael Myers did in Halloween, and heads back to the lake to finish what he started. But what do you suppose will happen when Mr. Jingles meets The Night Stalker? Is AHS: 1984 setting up a battle akin to Freddy vs. Jason? This is Ryan Murphy; anything is possible.
The 1984 Summer Olympics
Why even leave LA to become a camp counselor out in the woods? Sure, there's a serial killer breaking into women's bedrooms throughout the city. But, as Ray and Chet agree, the arrival of the Summer Olympics to the Southland is a worthy reason to hit the road, as well. 
Ray seems to just want to avoid the traffic nightmare the big sporting event will cause but Chet's reasoning for avoiding the whole thing cuts a bit deeper. Turns out that Chet -- who, let's remember, is played by a real-life Olympic athlete -- has some bad blood with the spectacle given the fact that he was disqualified from competing for illicit drug use. 
We get to see footage of the 1984 Summer Olympics in Episode 1, which means our heroes arrived at Camp Redwood on July 28. The clip sparks some pent-up roid rage in Chet, but it also leads to a contrasting scene that really sets the stage for things to come: Brooke is chased by Mr. Jingles as the athletes hand off the official torch used to kick off the games' opening ceremony.
Episode 2: "Mr. Jingles"
Where's, and we can't stress this enough, the beef? In January of 1984, a simple ad campaign for the Wendy's fast-food chain hit the airwaves and almost immediately became a pop culture craze. The first commercial in the campaign starred an elderly woman named Clara Peller who demanded more meat in her burger, asking, "Where's the beef?" 
The phrase caught on like wildfire, inspiring a whole slew of memorabilia. Peller's performance ended up spiking Wendy's annual revenue by 31 percent. Oh, and in Episode 2 of AHS: 1984, titled "Mr. Jingles," a brief snippet of the commercial appears on a television set in a Camp Redwood cabin.
Snooping, Porky's style
We might be reaching here, but we think there was a nod to Bob Clark's low brow classic, Porky's, in Episode 2 of AHS: 1984. A gay porn subplot was revealed, giving Xavier a backstory that involves a sugar daddy putting him in adult movies to help further his acting career. 
At any rate, Xavier quickly turns the man's attention to Trevor's (Morrison) John Holmes-sized penis. Per Margaret's rules at Camp Redwood, the men must shower at night. This gives Xavier's sugar daddy the perfect opportunity to spy on the dudes through a hole in the wall as they get all lathered up. It's a scene that flips the script on the famous Porky's shower scene, where a bunch of horny college dudes peep on the girls in the school's shower room. 
But this is American Horror Story. So, of course, in true slasher fashion, this shower scene ends with the sleazy dude getting a spike stabbed right through his face. 
Episode 3: "Slashdance"
"Dude, what's your damage?"
In its second episode, AHS: 1984 really begins to build out the world and mythos of this season. Are things completely making sense yet? Absolutely not. But, by the looks of things, Camp Redwood and its neighboring towns are not exactly where you'd want to be at night.
With our heroes -- again, we're actually not too sure any of these characters qualify as "heroes," but let's just go with it for now -- separated into groups and Richard Ramirez and Mr. Jingles barreling down the doors of the respective cabins, it seems like their demise is right around the corner. Everyone ends up making their escapes, though. While it seems like Jingles may have gotten the upper hand on Xavier, Montana, and Mr. Morrison, the crew is foiled by a gang of townies out to wreak havoc -- all in the name of the ear-cutting murderer. Poetic, really, are the deaths of these doofuses. Because, like clockwork, the real Jingles shows up to get all murder-y on these copy-cats. 
As he moves from his first kill to the second, his victim calls out, "Dude, what's your damage?" before getting sliced up. Yes, that's a nod to Heathers which is … interesting? The cult classic hit theaters in 1988, four years into the future. While that reference is an anachronism, it's still a worthy phrase for any pre-death soiree.
Camp Redwood, more like Camp Rambo
After Chet swooped in to help Ray escape the knife-wielding attack by Richard Ramirez, the duo ran from the cabin only to take a fall. Like, literally. Right into a spike-filled hole. Ray was lucky and didn't land on any of these Indiana Jones-style spears. Chet, on the other hand, got impaled in the shoulder. This, right here, is a punji pit. As Chet explains to Ray, the booby trapped hole was used in the Vietnam War as a method to trap an enemy. One wrong step and a soldier would fall through and land on one of the many spikes below. 
Now, we all know Chet is a failed Olympic athlete and not a Vietnam war vet. So how does he know this? Rambo: First Blood, that's how. The first installment of the Rambo movie franchise hit theaters in 1982 and ushered in the trend of ultra-violent, gun-heavy action flicks of the '80s -- and Sylvester Stallone's ragey, glistening abs. 
A little psychotic mind-hunting
There were a few twists revealed in this episode, one of which was the reveal that Nurse Rita is someone else entirely -- and she seems quite obsessed with fixing serial killers. You know, in the name of Science or something. 
One week prior to all the sinister events that are playing out at Camp Redwood, Fake Nurse Rita took a trip to the mental hospital that kept Jingles locked up. During her conversation with the doctor, who met her unfortunate end in Episode 1 at the hands of the raincoat-wearing killer, Fake Rita mentions work she's done with Ted Bundy, John Wayne Gacy, William Bonin (aka "The Freeway Killer), Patrick Kearney (aka "The Trashbag Killer"), and Robert Hansen (aka "The Butcher Baker"). Is this a shout-out to Netflix's hit true-crime series Mindhunter? That's no '80s reference, obviously, but the similarities to the plot of that series -- which follows FBI agents as they study serial killers -- and this storyline are hard to ignore. 
At the very least, each of these murderers helped shape our understanding of serial killers as the 1980s progressed. And with The Night Stalker and Mr. Jingles roaming free, we suppose it was just a matter of time before Ryan Murphy dug into his bag of serial killing tricks to throw out a few notorious names just to remind viewers that, hey, this Richard Ramirez dude was real… and definitely not as sexy as AHS: 1984 is making him out to be.
Episode 4: "True Killers"
Sleepaway Camp Crystal Lake
Who didn't see this twist coming? Honestly, we referenced both Friday the 13th and Sleepaway Camp above, in earlier episodes. But in Episode 4, titled "True Killers," viewers finally get the truth behind Mr. Jingles' history of murder at Camp Redwood… and it's all based in lies. 
This reveal comes in a genre one-two punch as Meadow Wilton (Grossman) comes forward as the campground's real killer. To cover her tracks after her bloody '70s murder spree, she pegged the massacre (which was a response to the incessant bullying she received by the other campers) on groundskeeper Benjamin Richter, better known as Mr. Jingles. She got away with it, while Richter spent all these years undergoing electro-shock treatment until he believed he was the murderous monster everyone thought him to be.
So, to sum up, much like Pamela Voorhees (Betsy Palmer) -- Jason's mother was revealed as the real killer in the first Friday the 13th movie -- and Angela Baker (Felissa Rose) in Sleepaway Camp, the seemingly innocent woman no one suspected is actually the one everyone should've expected. It feels like a no-brainer that Ryan Murphy would pull this twist, but since AHS: 1984 all transpires at this creepy campground filled with familiar '80s tropes, we respect the plot device… and collective genre nod.
Episode 5: "Red Dawn"
I ain't afraid of no Montana
We're halfway to this season's finish line and the noteworthy '80s references have slowed to a trickle. In Episode 5, titled "Red Dawn," we only really got one worth a mention and it happened near the episode's end. As it turns out, Camp Redwood is one of those pesky haunted locales -- much like the Harmons' house in the series inaugural season, Murder House, as well as the Hotel Cortez in Season 5, Hotel -- that show up here and there in American Horror Story. It explains why each and every character who has died on the property just won't stay dead. 
So, it was only a matter of time before someone made a joke about it. And since it's the summer of 1984, what better way to make light of a bloody situation than to reference one of the most iconic '80s movies ever: Ghostbusters. As Montana rises from the dead, only to murder a cop in cold blood, she turns to her fellow ghost friends Xander and Ray to crack wise, saying, "There is no Montana, only Zuul." 
Okay sure, Zuul was a minion of the demon Gozer, and not just a simple ghost -- but we're just splitting hairs here. These AHS ghosts probably don't care that much about such details. And if we're being honest here, the reference was one of the only highlights to a rather humdrum episode. Thanks for the chuckle, Mr. Murphy.
Stay tuned, we'll be updating this story each week as AHS: 1984 continues.