'All My Friends Hate Me' Is a Hilarious Thriller About the Anxiety of Adult Friendship
Longtime pals Tom Stourton and Tom Palmer co-wrote the blistering new movie.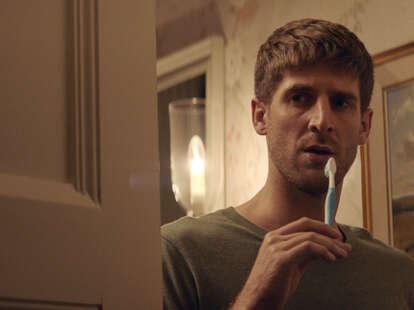 In your 30s, friendship can be a weird thing. Maybe you'll start to wonder if your long-term companions still fulfill you the way they once did, or why work and other boring commitments have left so little time to nurture new bonds. Maybe, like the British actor and screenwriter Tom Stourton, you'll be invited to the wedding of friends you haven't seen in a while, in turn convincing yourself the whole thing is a ruse that will result in the groom roasting you on a microphone before a roomful of mostly strangers.
"Which is a crazy thing to think, and so self-centered," Stourton says. "We just thought that was a funny idea."
The "we" includes Tom Palmer, Stourton's comedy partner. The two met at the historical boarding school Eton College around age 13. After graduating from university, they launched a duo called Totally Tom that found modest YouTube fame. They're in their mid-30s now, which makes them an adult-friendship success story. Still, they're almost painfully familiar with the uneasiness that can accompany postgraduate relationships, when commonalities like attending the same school, playing the same sport or musical instrument, or coaching each other through young dating mishaps have faded. When Stourton told Palmer about his wedding anxiety, a movie concept was born.
All My Friends Hate Me, newly available on VOD, is their tense, tingly satire about a gawky 31-year-old named Pete (Stourton) whose far-flung university friends have put together a birthday getaway at a palatial country estate resembling something out of a murder mystery. When Pete arrives, he finds himself home alone, waiting for hours until the group stumbles in from a nearby pub—the first of several passing discomforts that ignite the social anxiety Pete is desperate to shake. Is their thoughtlessness some sort of twisted joke? As time passes and more awkwardness ensues, Pete's paranoia ratchets way, way up.
Stourton and Palmer wrote the script with Meet the Parents and the 2014 relationship-crisis masterstroke Force Majeure in mind. "Just that idea of playing out an awkward moment for a long, long time, and the idea of taking something really trivial and making it feel properly dramatic and kind of gut-punchy," Palmer says. "That was definitely a tone we wanted to reach for, and to us, that feels like a truthful psychological experience, where something very, very small ends up being played out very big in your head."
Even though no one roasted Stourton at that wedding, there's something about post-20s friendship that generates self-inflicted crises. (Mid-20s, too, as the show Girls acutely understood.) If the friends who knew you before you became the you you are today, back when you were petty and callow, can they ever let go of their previous conceptions? Pete, a purported nice guy whose defensive layers are revealed as the movie unfolds, wants to tell stories about his recent stint aiding Lebanese refugees, but his pals show no interest in his philanthropic streak, too preoccupied with their own professional and personal liaisons. Instead, Pete finds himself embroiled in overcooked drama about whether his ex-girlfriend (Atonia Clarke) still has feelings for him and whether the scuzzy-seeming stranger (The Great's Dustin Demri-Burns) his friends have invited over is plotting to kill him.
All My Friends Hate Me plays, at times, like a horror movie, refusing to confirm whether Pete's jolting interactions are only happening in his head. ("We never really knew ourselves the extent to which he was imagining it," Stourton says. Because director Andrew Gaynord shot out of sequence, Stourton drew a graph that mapped out Pete's neuroses so he could calibrate the intensity of his performance.) But it is ultimately a cringe comedy, further frayed by the sometimes mean-spirited humor that Pete endures. There he is, trying his hardest to move on from his adolescent skeletons, to be more giving and relatable, while drowning in this upper-class house among a group of people who taunt him about the sins that prompted his soul-searching.
"How sincere is Pete's sudden moment of reforming himself and learning accountability and responsibility?" Palmer asks. "Obviously, that is something we should all do, especially when we get older, and it's not too late. But he seems to be doing it for quite immature reasons: 'I want to get one up on my friends,' 'I want to be better,' 'I want to be liked.' We are essentially asking people to feel very, very uncomfortable and anxious for 94 minutes. We wouldn't have it any other way, I don't think."
Matthew Jacobs is an entertainment editor at Thrillist. Follow him on Twitter @tarantallegra.