'Alone Together' Star Esther Povitsky Takes on Body Image by Calling Herself 'Esther-Pretty'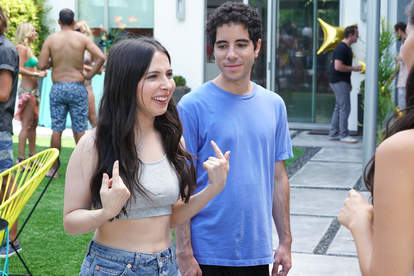 There's a joke in the pilot of Freeform's new comedy Alone Together that's both brutal and relatable -- specifically to me. Esther, a fictional version of actress-comedian Esther Povitsky, is at dinner with an older man she met on an escort website. (Just go with it.) She's talking about her fledgling career as a stand-up when he asks to hear some of her material. She launches into it.
"The name Esther isn't like really for a hot girl. So I feel like I'm 'Esther-pretty.' That's like as pretty you can be with the name Esther."
As you can see from the byline, I too am an "Esther." This punchline hits home.
Esther, as both Povitsky and I well know, is a strange name to have has a 20-something in the year 2018. Without face-to-face contact, people tend to assume you're older than you actually are, or compliment you by saying, "Oh, you don't hear that much anymore." Perhaps it's telling that one of the most famous modern characters named Esther is the terrifying kid in the horror film Orphan, who, spoiler, turns out to be a secret 33-year-old. Povitsky is right: It's not a moniker associated with the zeitgeist.
The full extent of Povitsky's self-lacerating humor is on full display in Alone Together, which focuses on her relationship Benji (co-creator Benji Aflalo), the straight male best friend with whom she's definitely not having sex. The two are Los Angeles nobodies. Esther covets the model-perfect bodies and cool aesthetics of the city's glamorous denizens; Benji is simply apathetic. Povitsky hopped on the phone with me to discuss the show, but more specifically being an Esther.
Freeform
Thrillist: It was super weird to get your text message coming from another Esther. I feel like I don't meet many other Esthers.
Esther Povitsky: I just realized how weird that would be if I got that message. I would be so freaked out.
When did you first realize that you could make jokes about the name Esther?
Povitsky: Probably not really until I started doing stand-up, because growing up I was always really insecure about it, I didn't like it; it was an old lady name. Every time I met someone, they would tell me about their grandmother named Esther. I feel like every time I saw a movie, Esther depicted someone who is not attractive and lame, and I just felt really ashamed of it for a long time. It wasn't until I started doing stand-up and got a little bit more confident I was able to just attack it head on and start talking about it and making jokes about it. It ended up working out well for me and it's something now that I'm so proud of. Like I love my name now. I'm just so happy with it.
I didn't grow up with any other Esthers.
Povitsky: Me either.
But it's sort of nice because in classrooms you weren't with a million other Sarahs or Laurens.
Povitsky: What's your middle name?
Clare.
Povitsky: That's really pretty. Mine is Lauren.
I'm so sorry, I feel like I just insulted your middle name.
Povitsky: No, not at all. Are you kidding? I would fantasize that that was my first name forever. No, don't even. So why did you get this name?
It's my great-grandmother's.
Povitsky: For me it's my grandmother. So that makes sense.
That's sort of how you get the name I think, unless it's a biblical thing.
Povitsky: Right, yeah. I feel like I don't know any Esthers. It's such an interesting name because it really does shape your identity. Automatically, out the gate, you're not like everyone else, you have a name no one's heard of. It already has an association with old people. It does shape who you are, which is crazy to think because it's such a simple thing, but there's no way this name hasn't shaped me to be who I am. It's such an integral part of me I feel like.
Has the "Esther-pretty" joke from the pilot been in your act for a while now?
Povitsky: Yeah, so that was a joke I've been doing for a long time now and when we were improvising the scene, Jim O'Heir just said, "Tell me a joke." I didn't even know what to do and that was the one that came to mind, which is kind of crazy to me. But, yeah, that was the one that came to mind even though I don't think I'd done it for a long time. It's true, people in movies and on TV the pretty person isn't named Esther, they're just not. It's not a name that our culture associates with youth or beauty or any of the good stuff. When people know my name, and then they meet me they are like, "Oh, you're like young. Oh." [That] kind of inspired it: People are surprised that I'm pretty because I'm an Esther, so that's kind of where it came from.
Was there a writing process for the joke or did it just pop into your head because of all these things?
Povitsky: I think when I started stand-up I was just really encouraged to get up on stage and talk about myself: What's true to you? What makes you who you are? Not a joke about airline peanuts, but a joke about who you are that only you could tell on stage, nobody could take it from you, it was your truth. So I just got up on stage and that was one of the things that I talked about, because it's about my name and that's my identity and it's not a common name and there weren't any other stand-up comedians with that name. So I felt like that was a good area for me. And, like I said, my name has shaped me to be who I am so strongly that it just felt like the exact right area for a stand-up comedian especially when starting out who is really honing in on their voice.
In the joke and in the show, Esther is a very image-obsessed character living in LA, a very image-obsessed town. How does image factor into the idea of the show for you?
Povitsky: I think image is so huge when you get here, you kind of realize that most people just want to distill you down to simply an image, and so for me, this show is how I speak up about that and kind of poke fun at it. Because in the show this character that I play, Esther, who is myself, is obsessed with wanting to fit in with the pretty people and look like them and be like them. I think you watch the show and hopefully you think, "That's crazy. Why does she want to be like them? She's just fine."
For me, this isn't a show where it's like making fun of the pretty people. It's really showing the truth that is: There are a lot us that move here and we want to fit in and we want to be a part of it and we're not ashamed of it, and we do get rejected by it and we're never going to fit in with it, and that's really true to me. I understand it's controversial to admit that you want to be skinny and pretty, but that's how I really feel and that's how our culture has made me feel, that's how the culture of Los Angeles has made me feel, that's how the entertainment industry has made me feel, and I'm not going to be ashamed of that. And of course I don't really feel that way, I love myself the way I am. I think I'm gorgeous, I think I'm healthy and all those things, but I'm not going to pretend like I didn't want those things when I first moved here.
You also did a web series Esther With Hot Chicks. What fascinates you about the idea of being hot?
Povitsky: I think that I quickly learned that those women who are so perfect and beautiful, their reality is different than mine. I'll never forget: I had this gorgeous roommate, she moved in with me, because I had a revolving door of roommates who I shared a studio apartment with at one time. We went out to a bar and a man walked up to her and asked her if he could buy her a drink. And I was shocked. I was like, "Wait, that happens in real life? I thought that was just something that happened in movies." People are like, "That's crazy." It's not. I have never been in the bar and had someone ask to buy me a drink. I had never seen that happen in real life.
So I witnessed that those people are living in a different world. They walk in places, they get free stuff, people act different around them, people notice them and stare at them. If you're gorgeous you might as well be a celebrity because people are going to look at you and treat you like you are one. So I really took notice of that and kind of became obsessed by it, because I wasn't being treated that way. I just was so interested in it. And also the thing with Esther With Hot Chicks is this obsession of thinking that you can get to that point. That comes from a real place of knowing that like if I eat right and I exercise right I can be pretty or prettier, but also really facing the reality of you look the way you look and the real way to be beautiful is to love yourself the way you are. But, yeah, all that fascination just comes from seeing it, and I'm not going to pretend that it's not like that.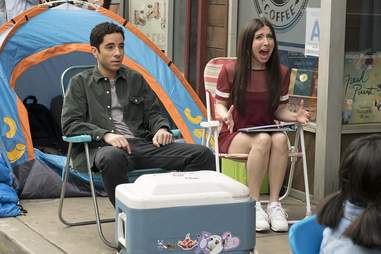 Freeform
The series centers around your friendship with Benji. What were some of your initial ideas for it?
Povitsky: We were always platonic best friends, we spent a lot of time together. I found it so fascinating that people would always ask, "Are you guys having sex? Are you guys dating? Have you guys hooked up? What's the deal?" This fascinated me because it made me realize that people looked at a man and said, "Why would he hang out with that woman if he's not having sex with her?" It made me really mad. And that's almost part of the origin of why we're doing the show, because we can be friends and it can be platonic and it can just be a buddy-comedy and not a will-they-won't-they story.  
You lob some spectacular insults at one another. Was that a facet of your friendship before the show?
Povitsky: That was definitely part of who we are. Benji is kind of an insult comic, and I grew up in a household that was very playful. I kind of got teased a lot by my parents and my sister. For me, I hear insults and I feel love, and so Benji loves to insult people, so we just kind of fit right in with each other.
How did you guys meet originally and do you want to show any of that backstory in the show at all?
Povitsky: Yeah, we met at the Comedy Store. We both were doing the open mic at the Comedy Store. We've talked a lot about maybe doing an origin story episode. As children, we were both really big in AOL chatrooms in the '90s. We kind of want to explore doing an episode where we secretly somehow knew each other as children. But I don't know, we'll see.
On Twitter and elsewhere you're known as "Little Esther." How did that come about?
Povitsky: That was really just a nickname, because when I started stand-up, everyone would call me Baby Esther or Little Esther because I was so much younger. I'm petite, I'm 5-foot-1. It just stuck. I needed a Twitter handle and I didn't want to put my last name in it because I mean, you know how it is, "Esther" is already enough of a name. So I just made it Little Esther and then that nickname stuck. People ended up really liking it. It's not like a character by any means. It's just a nickname.
How were you connected with The Lonely Island, who produce the show?
Povitsky: We knew them a little bit. I had done an episode of Brooklyn Nine-Nine. When we made our short film, we sent it out to a bunch of different people and they were actually the only people who wanted to meet with us so when we went in and met with them, we were like, um, "So you guys are our only hope."We just got super real. And then at the end of the day, they called us and said they were into it.
Thank you so much for taking the time to talk to me, Esther.
Povitsky: Oh my God. Thank you, Esther. Thank you for all these questions, and it is so weird to call you by your name.
Sign up here for our daily Thrillist email and subscribe here for our YouTube channel to get your fix of the best in food/drink/fun.
Esther Zuckerman is a writer based in New York City. Her work has appeared on
Entertainment Weekly
,
The Atlantic Wire
, and Refinery29. Find her on Twitter: @ezwrites.