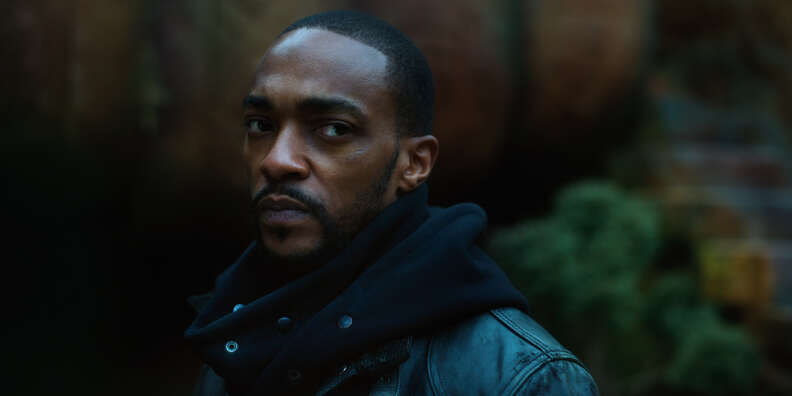 Netflix
Netflix
Why Season 2 Is Actually the Perfect Time to Get Into 'Altered Carbon' on Netflix
After a two year wait, Altered Carbon returned to Netflix on Thursday, bringing with it some notable changes. This time around, the series, which is inspired by the cyberpunk books penned by Richard K. Morgan, has ditched the brooding noir aesthetic which prompted all the Blade Runner comparisons in its first outing. Anthony Mackie takes up the mantle left by Joel Kinnaman, who played the menacing, and often naked, anti-hero, Takeshi Kovacs.
If you're like many who tuned in for Season 1, and then thusly tuned out, you may need a brief refresher on what exactly is going on with Altered Carbon -- and some extra encouragement to get into the legitimately fun second season. It's 300 years in the future and, for all intents and purposes, humanity has cracked the code on immortality. With the help of alien tech known as "stacks," a consciousness is now able to be moved from one human body (or "sleeve") to another. This concept is transhumanist science fiction 101, and opens up obvious questions about one's identity, morality, mortality, and the very Blade Runner notion of what it may feel like to be "more human than human."
With the heavy lifting already done by Morgan, with regards to this world-building and the rules that come with it, Netflix's adaptation was a bit clunky, and dare we say boring, when it dropped to the streamer in 2018. Attention to detail is obviously key in crafting this universe for the small screen, but it felt as if the show was all blood and boobs with no actual soul.
That has changed with Season 2 and, with help from Alison Schapker, the showrunner taking over from series creator Laeta Kalogridis, we're here to break down a handful of reasons why now may be the perfect time to give this silly little series another shot.
This Takeshi Kovacs has heart
One could easily point to Kinnaman's performance as the body swapping criminal-turned-reluctant detective in Season 1 as the reason many turned the show off. As towering as he was, latching on to every scene with a focused scowl and punchy fists, there was a huge lack of an emotional center in him that permeated the story being told. When the news hit that Falcon from the Avengers franchise would step into the role of Takeshi Kovacs, our curiosity was triggered. Could Anthony Mackie bring something better to the series? The short answer: Yes.

"In Season 2, when Kovacs starts out, he's suddenly closer than he's ever been and suddenly maybe he's onto finding Quell," Schapker says. "This is a guy who actually cares. You think something the audience feels may be, unconsciously, that their hero now has a ton on the line? And that's what gets them really invested in the mystery."
The mystery unfolding this season is much more personal
If you're new to Altered Carbon, you're probably shouting at the computer right now, asking, "Who the heck is Quell!?" That's short for Quellchrist Falconer (Renee Elise Goldsberry), Kovac's long-lost love, who appeared only in flashbacks in the first season.
Part of what makes Mackie's Kovacs more interesting this season is the change in the show's story. His mission in the new episodes has put him back on his home planet, Harlan's World, after continually searching for Quell over three decades. This undying devotion gives Kovacs an empathetic layer for audiences to glom onto, leading us to actually kind of care about what happens to him. Which is an achievement given how that simple detail was all but missing in Season 1.
What complicates matters is that when he does find her, she's not at all the same woman he fell in love with. "What is going on with Quellchrist Falconer -- you know, what happened to her?" Schapker continues. "Why is she acting the way she is? The secret with her is tied up in a secret with the planet." Add the growing military conflict on the ground, a troubling political narrative, and a deeper look at the troubled history of this world, and the episodes trudge along quite nicely.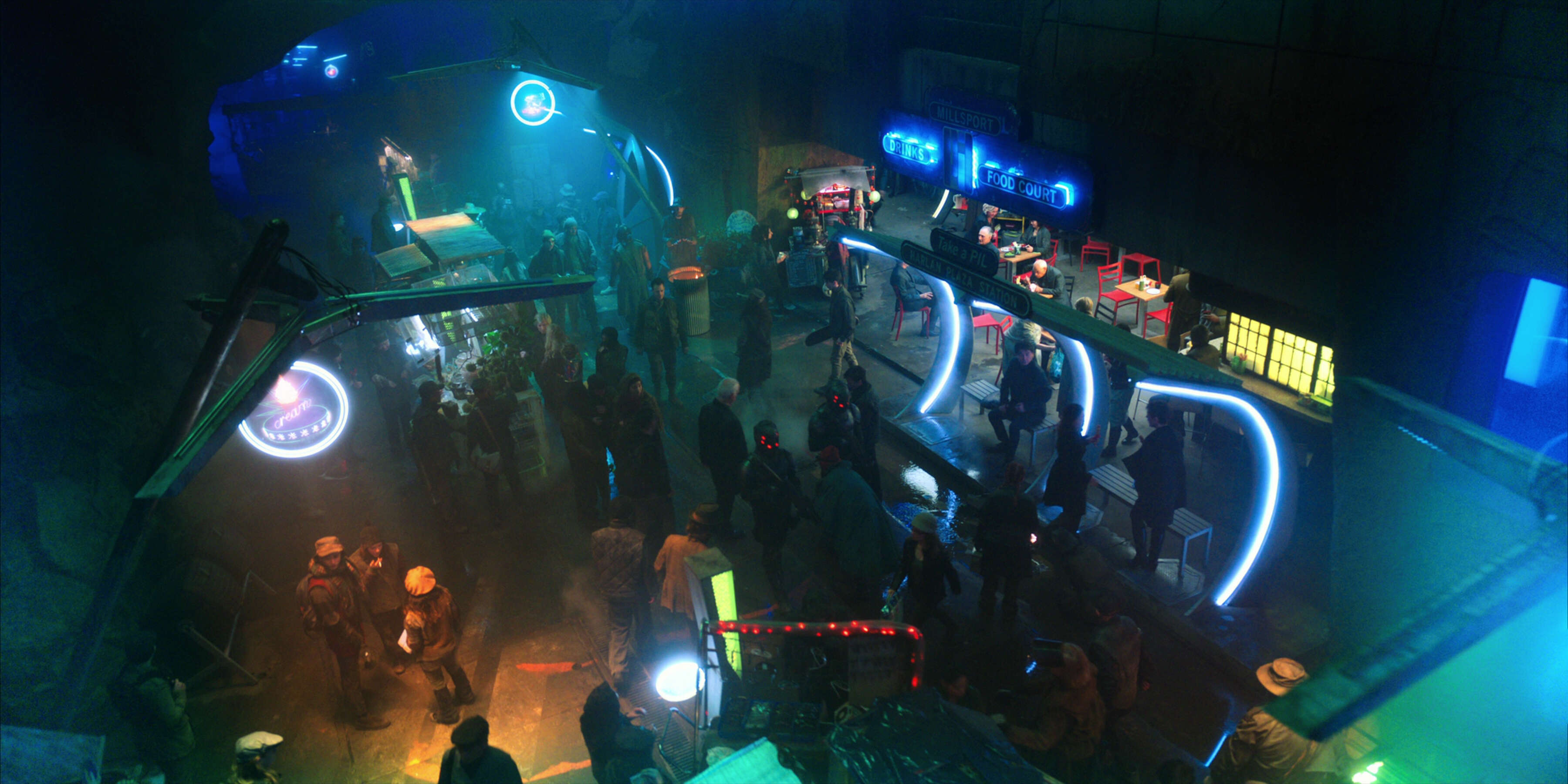 The show finally embraces its cyberpunk roots
We mentioned above that the show, for the most part, has ditched the cyber-noir tone of Season 1. According to Schapker, this was a clear decision as dictated by the shifting tones of Morgan's novels.
"[Similar to] the books, which we're not doing [the series] in a faithful chapter-by-chapter way, but inspired by them, it takes on a different sort of genre tone in the sense of it's not a noir, red-light district whodunnit," she continues. "Just to just have tons of nudity would have been gratuitous."
Instead of sticking with the Blade Runner aesthetic from the first installment, the program branches out and explores multiple tropes and style nods classic to the cyberpunk genre. There's bits of Philip K. Dick and pieces of William Gibson here. And, from a cinematic perspective, you've got hints of the bright neon, night club-filled, classist futures as depicted in movies like from Total Recall,Demolition Man, and The Matrix.
"It turns into a bit more of a military thriller or more of a like a sci-fi heist," Schapker continues. "[Morgan] does not stick to just one sub-genre of cyberpunk. So we, too, are allowing ourselves each season to let the mystery be its own thing."
Season 2 is posturing for more mainstream success
Anthony Mackie's attachment to Altered Carbon brings with it a bigger possibility that fans of his work in the Marvel Cinematic Universe may actually tune in to watch. And while Schapker denies any influence Disney may have had in keeping Mackie mostly clothed for the duration of the season, she explains that, for her, sex and violence in a TV show such as this need to be justified.
"I really feel like sex and violence sort of should come from the story, you know?" she says. "I feel like season one, very much, that story demanded that nudity. We were dealing with a mystery that involved the sex workers, the red light district, sexualized violence against women, and just by that nature, you were just going to see a lot of flesh."
The Season 1 story was taken from the first book in the series, which inspired the unflinching tale that was being explored. But in its second season, Altered Carbon is scaled back in that regard. Yes, there is still a fair share of shoot-em-up action scenes -- and the blood still flows -- but the use of nudity is sparse. So, while this still may not be considered a show that is guaranteed fun for the whole family, the demographic scope has expanded greatly.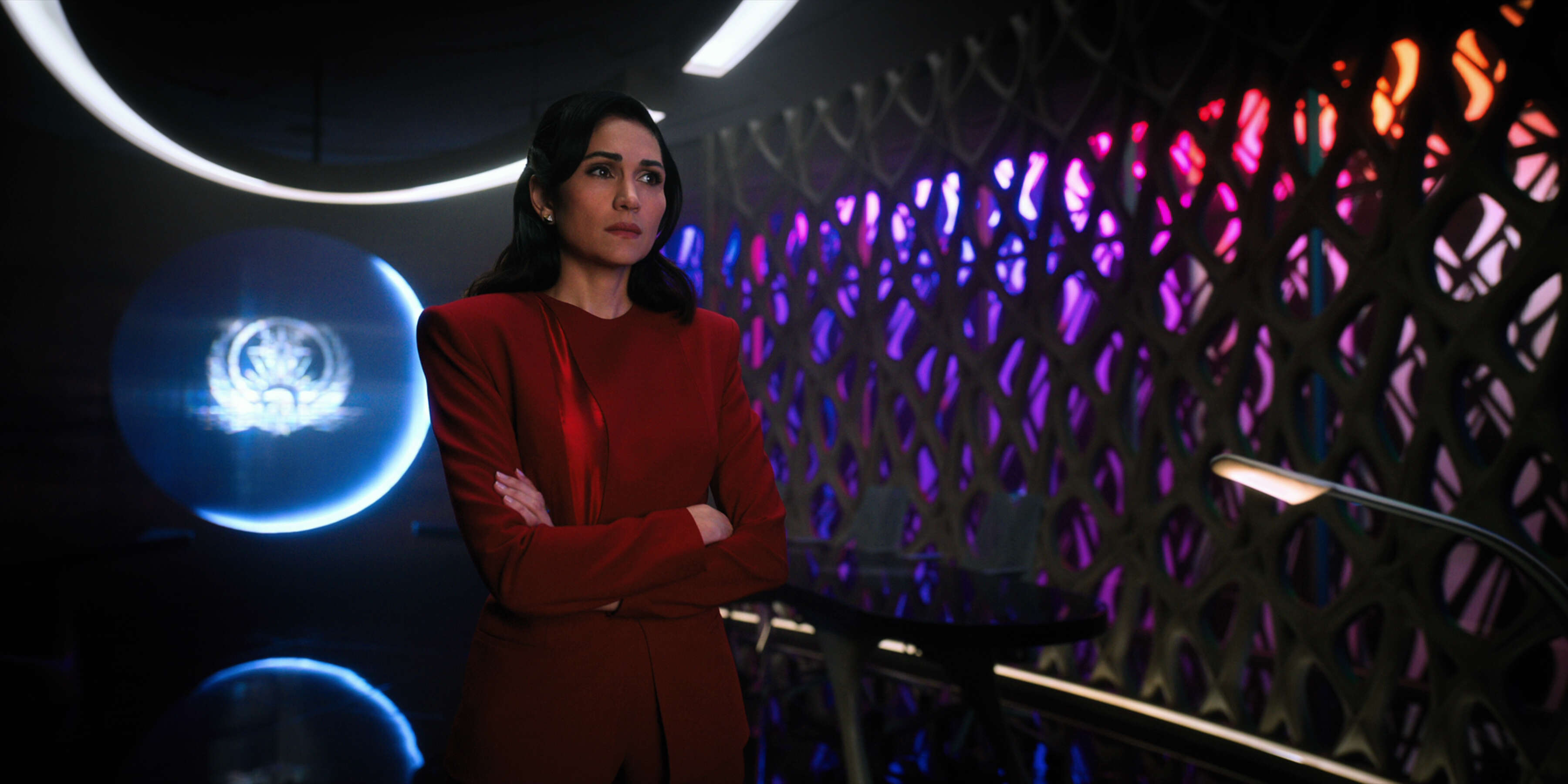 The side characters are the best characters
Anthony Mackie's casting as Takeshi Kovacs is definitely one of the catalysts for Altered Carbon's welcome change. But, let's be real here: through all the show's narrative changes, Kovacs -- who really just never smiles -- is still a bit difficult to connect with. Thankfully, the cast of side characters, and the relationships he forms with them, further bring the series to life.
We've already touched on the return of Quellchrist Falconer, but this season's story and Kovacs' own journey, is detrimental to her episodic arc. There's a push-pull, love-hate thing happening that makes Kovacs a bit of a wild card, and this conflict -- along with the bigger mystery connected with Quell's murderous behavior, which has the woman delving into the traumas of her past while searching for her present identity -- places the rest of these ancillary characters in their appropriate lanes.
There's Trepp (Simone Missick), the no-nonsense bounty hunter who is apprehensive about getting involved with Kovacs until her wife and child's safety are threatened. What's interesting here is that Trepp feels like Misty Knight in space, and given the fact that Missick played the detective in Marvel's Luke Cage, her casting here feels more than convenient. That said, she's more than just a foil to Kovacs, and the peek we get into her home life adds a necessary human element to the bounty hunter lifestyle as depicted in the series.
From Danica Harlan (Lela Loren), the ruthless leader of Harlan's World, to new A.I. personality DIG 301 (Dina Shihabi), Season 2 of Altered Carbon has invested in its strong female characters. And given the amount of diversity this time around, Schapker and company seem to have taken these steps in response to the whitewashing backlash the show received in its first outing.
Most notable of all the supporting roles is the return of former hotelier, and trusted sidekick to Kovacs, Poe (Chris Conner). For a character who started off as nothing more than a quirky A.I. figure appearing here and there to offer levity, Poe unexpectedly evolves into a wonderfully nuanced dude in Season 2. If he wasn't involved in the story in this capacity, would the whole thing would fall apart? Probably.
"I think that's kind of an amazing thing when you have this kind of magic happening in a character as embodied by an actor, and I think we really have that in Poe with Chris Conner," Schapker says. "So, I really do think of him as the heart of the show. And more human than the humans in many respects."
Fewer episodes means less commitment
With so much content in Peak TV, sometimes it's hard to compete as a 10 episode season. Well, take note, short attention spanned friends: Season 2 of Altered Carbon is just eight episodes long. Sure, that's not a huge change. But imagine everything you can get accomplished in your life with those two extra hours!
Need help finding something to watch? Sign up here for our weekly Streamail newsletter to get streaming recommendations delivered straight to your inbox.