Obscure Streaming Services to Get When You're Bored With Netflix
Look, there's a lot to watch on Netflix, Hulu, and Amazon Prime. But even though you maybe still haven't finished Love Is Blind or Season 3 of Ozark, there's a good chance you're getting a little tired of scrolling through the same old platforms over and over again. In this period that necessitates staying home, you can always shake up your routine by getting really invested in a new streaming service. Maybe you're looking for some trashy TV to zone out to? There's a (free) one for that. Horror films? Yeah, we've got you covered. New arthouse releases? Same. What about the best of the best? There's a highly curated service at your fingertips. Find out which one is right for you.
Pluto.tv
Price:
Free
Chances are you've let Pluto TV fly under the radar. And that's fair enough! It's super weird. But it's also, most importantly, free. And while you'll have to deal with the occasional ad, it is also perfect for when you're in the mood for some mindless comfort TV. On Pluto TV, you can find channels like "MTV Teen," which is just a marathon of
My Super Sweet 16
. There are also feeds dedicated to one program and one program only. Want to watch hours of
Degrassi: The Next Generation
or
The Hills
? Of course you do. Head to Pluto. Other options for all-day bingeing include
Mystery Science Theater 3000
and
The Addams Family
. There are also movies on demand, in case that's more your speed.
The Criterion Channel
Price:
$10.99/month or $99.99/year; includes two-week free trial
By now, you probably know about the Criterion Channel, every cinephile's comfort blanket. The big reason to subscribe to Criterion is its expertly curated selection, which includes classics both new and old. With Criterion, you can get a crash course on film history from around the world while finding odd and thrilling work from across the decades. In the mood for a classic musical? There's the wonderful
The Court Jester
starring Danny Kaye. (It's one of my favorite movies of all time.) What about a Polish horror musical about man-eating mermaids? There's also
The Lure
, a freaky fantasy that hit the U.S. in 2017. See? Criterion has everything! Plus, Criterion basically programs mini film festivals for you, offering double features and pairings of shorts and full-length films. If you want a collection of works from some of your favorite artists like Guillermo del Toro or Sofia Coppola, you can dive into the "Adventures in Moviegoing" tab. It's really just the best.
Kino Now
Price:
Movies rented a la carte
Want to watch great films
and
support art house cinemas that were forced to close during the coronavirus pandemic? Kino Marquee, a service from the distributor Kino Lorber, has you covered. Through Kino Marquee you can watch movies by paying for a "ticket" that goes directly to a theater. So you can watch the awesome, bizarre Brazilian western
Bacurau
while supporting
your favorite local spot like Film at Lincoln Center or BAM
. Or you can check out the new Ken Loach
Sorry We Missed You
by going to Film Forum -- virtually. You can also buy or rent other Kino titles, like last year's brilliant Israeli film
Synonyms,
through
Kino Now
.
Shudder
Price:
$5.99/month or $56.99/year; includes 7-day free trial
Love horror? Then you have to get Shudder. The service, which is owned by AMC Networks, has pretty much everything a horror fan could want. There are options from masters of the genre, like John Carpenter and George Romero, and plenty of underrated finds. Shudder also produces and distributes its own original content including films and series.
Tigers Are Not Afraid
-- the best horror movie of last year,
according to us here at Thrillist
-- was released via Shudder.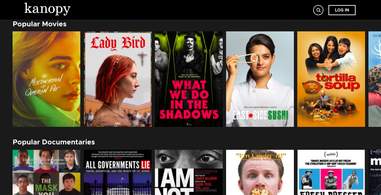 Kanopy
Price:
Free, with a participating library card
If you have a library that gives you access to Kanopy, sign up now. Its options are great: It has A24's entire library, and a host of documentaries and modern classics. But there's a catch: You need to be a member of a library or university that provides access. That may be trickier than you might expect. For instance, last year the
New York libraries
pulled out of their deal with Kanopy, explaining that it was too pricey to maintain.
BritBox
Price:
$6.99/month or $69.99/year; includes 7-day free trial
Are you the type of person who lives and breathes
Masterpiece Theatre
? Is your idea of relaxation an obscure British comedy or countless episodes of
Doctor Who
? Would you consider yourself an Anglophile in any, way, shape, or form? Well, then the obscure streaming service for you is BritBox, which will satisfy your need for content from across the pond. It's basically got it all: literary adaptations,
Absolutely Fabulous
, all the
EastEnders
you could possibly want. Brew yourself a cup of tea and hit subscribe.
Need help finding something to watch? Sign up here for our weekly Streamail newsletter to get streaming recommendations delivered straight to your inbox.