How a Song About Punching Keanu Reeves Made It Into Netflix's Rom-Com 'Always Be My Maybe'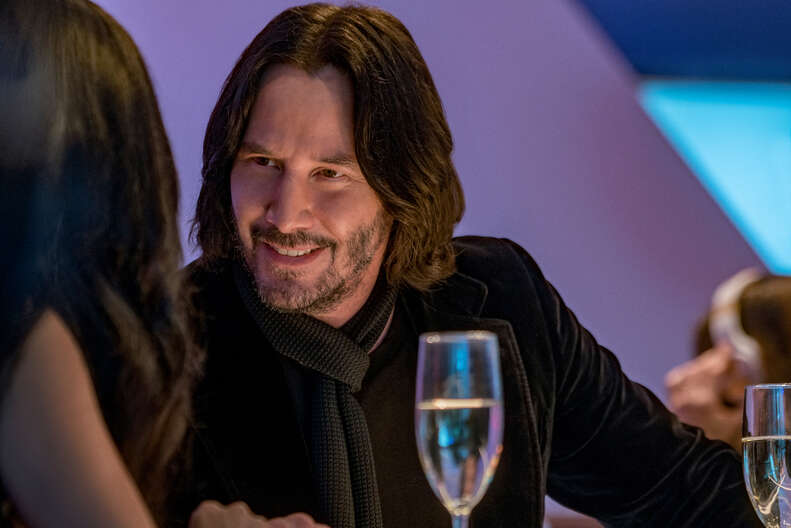 May 2019 was the month of Keanu Reeves. Keanu -- it just sounds better to say "Keanu" rather than "Reeves," yes? -- has always been adored, but public love of the deep-voiced star reached a fever pitch recently. The fervor coincided with some sweet stories about how Keanu is apparently a very nice man, the release of John Wick: Chapter 3, and his excellently deranged cameo in the Netflix movie Always Be My Maybe, which just recently hit the streaming platform.
Perhaps the apex of this fandom culminates in the rap that plays over the credits of Ali Wong and Randall Park's rom-com, in which Park, in character, raps about getting to punch Keanu Reeves. If it sounds like a knock on the erstwhile Neo, it's not. "I really wanted it to just be an homage to Keanu and kind of a thank you for doing our film and for being a part of it," Park tells Thrillist.
Always Be My Maybe -- written by Park, Wong, and Michael Golamco -- charts the love story between childhood friends Sasha (Wong) and Marcus (Park). The two are inseparable until they lose their virginities to one another in high school, and awkwardness set in. She goes on to be a successful celebrity chef, while he stays at home, occasionally working for his dad's HVAC company, smoking weed, and playing in his throwback backpack rap group, Hello Peril. When Sasha moves back to the Bay Area to open a new restaurant, they reunite, and, naturally, rekindle their old chemistry. Still, there are a couple of stumbling blocks, one of which happens to be Keanu Reeves himself.
Midway through the movie, Sasha surprises Marcus and his then-girlfriend Jenny (Vivian Bang) with her new beau on a double date. Their mouths drop open as Keanu, mane flowing, strides through the room in slow motion. But this is not the reportedly benevolent Keanu of real life. Instead, this fictional Keanu is an asshole who wears glasses without lenses and cries while eating a dish of venison that, per his request, plays with the concept of time. (Both the glasses and the sobbing were Reeves' ideas, according to Park.) The couples' night at a trendy restaurant dissolves when they retreat back to Keanu's hotel to play a game he describes as "truth or dare, but a little more apocalyptic," which culminates in Keanu daring Marcus to strike him. Marcus obliges -- a triumphant moment until Keanu puts him in a chokehold.
At the end of Always Be My Maybe -- after Sasha and Marcus have fulfilled the rom-com prophecy and end up together -- Marcus wonders aloud if the people in her newest restaurant knows he punched Keanu. She suggests he write a song about it. Soon enough, the audience hears the chorus: "Best believe I punched Keanu Reeves/And it was better than any scene/You could see in Speed/I hit John Wick."
That closing line was actually not in the original script, Park explains. "That was one of the alt lines," he says. "We had a bunch of options and we ended up choosing that one." It wasn't until the creative team screened a cut of the film that a Netflix executive suggested that there should be an actual song to accompany the piece of dialogue. Park had already worked with producer Daniel Nakamura, a.k.a. Dan the Automator (who also composed the score for Booksmart and has collaborated with artists like Gorillaz and Kool Keith) on other songs for Hello Peril, so he enlisted him again for the Keanu rap finale.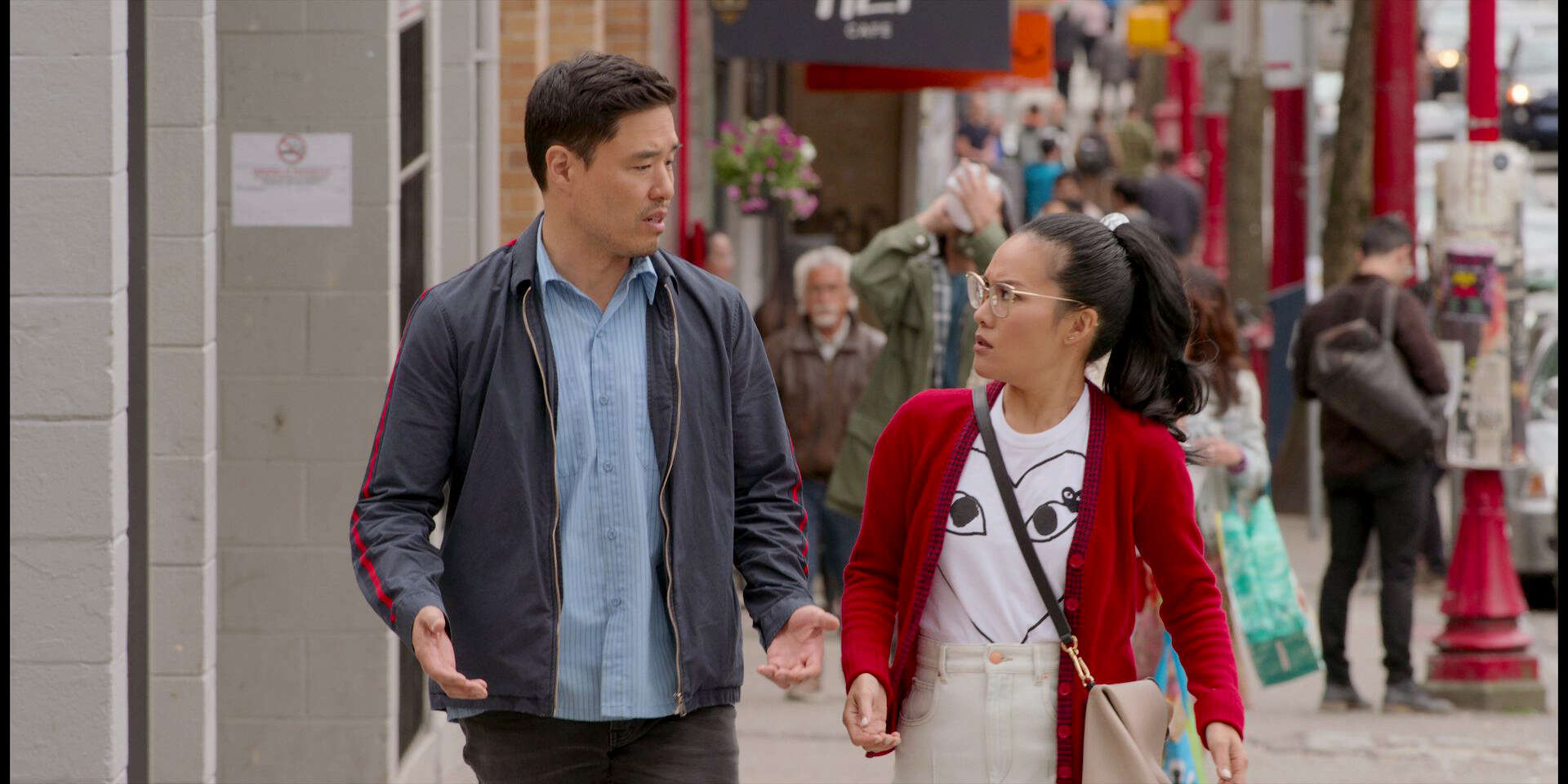 Hello Peril's very '90s aesthetic was familiar to Park: "I was in a band right after I graduated college and it was very similar. It was a hip hop band, except for there were like two emcees, me being one of them." Marcus was based on a subsection of dudes Wong recognized from her time in the Bay Area, but Park identified with him as well. "I think I was kind of that character for a long time. I lived at home in my 30s with my parents. I was pursuing acting and I was broke." Whereas Park eventually became a successful actor, thanks to projects like The Interview and Fresh Off the Boat, Marcus remains stuck in his ways, at least at the film's outset. Still, that doesn't mean Hello Peril's music is bad. In fact, Park and Nakamura aimed for the opposite. "We wanted to make sure [Marcus] was a catch and not some loser," Park says.
Once he and Nakamura finished a draft of the Keanu song, they sent it off to Reeves for approval. He had one incredibly humble and endearing note: The song shouldn't be entirely about the legend of Keanu Reeves. He suggested that Park add more about the the romance between Sasha and Marcus. "He's just like that; he's so thinking about the project and not himself," Park says. Even now, he seems shocked that Always Be My Maybe even got Reeves, who popped in to film on a break from the latest John Wick. "He was in stunt mode," Park explains.
So what was it like punching Keanu Reeves? "It was thrilling," Park says. "It was so fun. Part of the reason was because Keanu was having so much fun." It was just one punch, but working with Reeves on the choreography was indeed special: "I felt like I really got to know him during that section of the shoot. We really bonded over that punch."
Sign up here for our daily Thrillist email and subscribe here for our YouTube channel to get your fix of the best in food/drink/fun.