6 Things to Know About Netflix's 'Amanda Knox' Documentary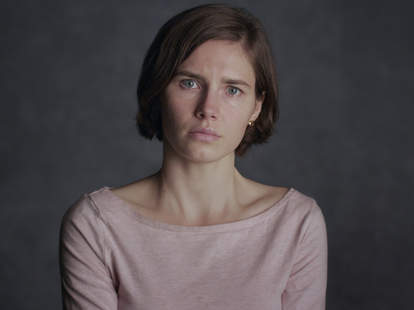 In 2007, Amanda Knox, then a 20-year-old linguistics major at the University of Washington, decided to spend her junior year studying abroad in Perugia, Italy. As she explains in Amanda Knox, a new documentary making its Netflix debut on Friday, "I felt like it was very important for me to get out of my comfort zone and see if that made me turn into an adult." 
The experience did cause Knox to grow up, but not in ways she'd expected: the Seattle native was accused of murdering her British housemate Meredith Kercher and spent the better part of four years caught in the Italian judicial system, much of it in prison.
The Netflix documentary focuses mostly on the long-term damage inflicted on Knox by the sensationalistic media coverage of her trial, and how the 29-year-old's desire to lead a quiet life in Seattle after being fully acquitted of all wrongdoing is a daily challenge. Here are six more things to look for when you watch the film (which you absolutely should).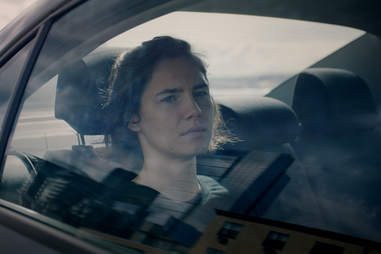 Netflix
Knox wasn't the only suspect in the messy trial
In addition to Knox, prosecutor Giuliano Mignini charged two more people with Kercher's murder: Raffaele Sollecito, an Italian who was briefly Knox's boyfriend; and Rudy Guede, an Ivory Coast-born acquaintance of her downstairs neighbors. Although only Guede's DNA was found in Kercher's bedroom -- where she was sexually assaulted and stabbed in the neck -- Mignini used DNA found on a knife in Sollecito's kitchen and Kercher's broken bra clasp to incriminate the couple.
Guede was tried first in "fast-track" proceedings, and initially sentenced to 30 years in prison before an appeal reduced it to 16 years. Knox and Sollecito's criminal journey was far more convoluted, and they were convicted in December 2009. Their ruling was overturned in October 2011, allowing Knox went home, and later, in January 2014, they were reconvicted. Finally, Italy's Supreme Court definitively acquitted Knox and Sollecito in March 2015, citing "stunning flaws" in the investigation and "a complete lack of biological traces" linking them to the crime scene.
Despite many melodramatic editing choices, the film offers unparalleled access to its subjects
Blackhurst and McGinn started working on this documentary in 2011. After two-plus years of building trust with Knox, they convinced her to tell her story on camera. She comes across as extremely self-aware -- after all, she did spend years isolated from society, probably thinking about how she'd answer such questions -- maintaining her innocence but courting shock value by wondering aloud, "If I am guilty, it means that I am the ultimate figure to fear, because I'm not the obvious one."
Next, Sollecito agreed to talk, as did Mignini, the man who ordered their arrest. The fact that the directors got access to all three parties is huge, and with the additions of a journalist, a pair of DNA experts, and Guede's lawyer, you've got a well-rounded doc. Through Blackhurst and McGinn's lens, we're even privy to the moment Knox learns that she is finally free -- they were in her home on the day the Supreme Court verdict was announced. When we watch Knox accept a congratulatory phone call from Sollecito, you realize that though they only spent five days together as a couple prior to Kercher's murder, they are forever bonded by being the only two people on the planet who endured eight years of flip-flopping verdicts for a crime.
The film isn't perfect: the musical choices are heavy-handed (tango beats when we're told why this was such a scintillating story, violins-under-duress when Kercher's final minutes are described), as are the visual metaphors. Mignini visits a church to remind us that true judgment happens at the pearly gates, and we last see Knox looking out onto open water -- her journey continues, and she will proceed with caution against life's waves.
And Blackhurst and McGinn's subjects will no doubt cringe at a few match-ups made in the editing room: Knox -- who is not the person currently in jail for Kercher's death -- is introduced in a voice-over that accompanies images of the victim's blood smeared on the floor; journalist Nick Pisa's comparison between penning a front-page story and having sex abruptly ends with footage of the flower-strewn van carrying Kercher's coffin to her funeral.
Ultimately, though, the film organizes the case's convoluted details in a manner that makes them easy to parse, even for those of us who didn't follow the trials and appeals closely in real time.
Journalism schools across the globe should screen Amanda Knox as a cautionary tale
Though he seems pleased to have been featured, former Daily Mail writer Pisa has the unfortunate task of representing every press member who covered the aftermath of Kercher's murder in Perugia. For the most part, the media behaved horrendously during this assignment -- this movie offers wonderful instructions for how not to act, especially when a family is mourning their child.
In the digital age, reporters must now keep up with a 24-hour news cycle and write click-worthy headlines. The more the public read about Amanda Knox, the more that they wanted to read. Police and prosecutors tried to control the narrative, leaking the information that they hoped would sway public opinion. And the press printed what they were told, even complete fabrications, including the false revelation that Knox tested positive for HIV during her prison medical exam.
"It's not as if I can say, 'Right, hold on a minute, I just want to double-check that myself in some other way' -- I mean, goodness knows how -- and I'll let my rival get in there first before me and then, hey, I've lost the scoop," says Pisa, who has apparently never heard of fact-checking and will risk ruining the reputations of bewildered 20-somethings. "It doesn't work like that, not in the news game."
No matter how badly you muck up an international murder investigation, you can still get a promotion in Italy
Mignini admits in the film that 24 hours into the case, "Undoubtedly, I started to suspect Amanda" (throughout the film, Knox is almost always addressed by her informal first name, while her ex is called by his surname -- casual sexism at its finest). Among his reasons: Kercher's body was found covered up, which Mignini interpreted as a final maternal act; when the police first cordoned off the crime scene, she and Sollecito "were comforting each other with an affection inappropriate for the moment"; and when Knox was brought into her kitchen for informal questioning the next day, she covered her ears like there was "memory of a noise, a sound, a scream. Meredith's scream," Mignini says.
Then there was the knife and the bra clasp. A knife that seemed to resemble the size and shape of the murder weapon was found with Knox's DNA on the handle, and police said Kercher's DNA was on the blade. However, during the first appeal, forensic experts attributed the minuscule presence of Kercher's DNA on the blade to contamination -- police later admitted that 50 pieces of victim-related evidence were examined in the lab at the same time.
Meanwhile, in video footage filmed the day after the body's discovery, we see Kercher's bra clasp on the floor, ripped from the garment. And yet the bra clasp was not officially found and catalogued as evidence for another 46 days, having been obscured by a rug. When the clasp was found, Sollecito's DNA was on it, along with the DNA of two other men, something police neglected to report. At that point, as we see in the documentary, many people had set foot in the crime scene, sans hazmat suits and shoe coverings; in the investigation's earliest hours, we even watch a woman kick in a door's glass window to unlock it from within.
Still, Mignini's hometown greeted him like a hero for his prosecution of Kercher's alleged killers. At the end of the film, we're notified that Mignini has since been promoted.
Amanda Knox's dad is the real hero
When we're first introduced to Curt Knox, he's exiting the courtroom following his daughter's first conviction. Throngs of reporters and photographers surround the family, and when one paparazzo gets too close, Mr. Knox shoves him out of the way. Yes, it's aggressive, but by the film's end, when you see the questions he's had to contend with, Mr. Knox can do no wrong -- he's just a man trying to protect his daughter.
On his lawn back in Seattle, Knox does a curt Q&A with members of the press. At the prospect of movie offers for Amanda, he answers, "That's not our focus at this time. Our focus is her well-being." Then, Mr. Knox is informed by a supposedly helpful man, "She's not such a hot property in an interview term if you wait a month." "Um, I'm not looking at her as a hot property," Mr. Knox replies with an unwarranted amount of grace.
If you insult the Italian justice system, expect a sick burn from a lawyer named Biscotti
Guede's attorney, Walter Biscotti (really), has no qualms about his decision to try his client separately, knowing that Knox and Sollecito would both blame Guede if the trio shared a trial. Admittedly, though, "It bothered me that the American media lectured us about the law," he says on screen, teeing up this gem: "This courthouse, in 1308, housed the first faculty of law in Europe. In America in 1308, they were drawing buffaloes in caves."
Sign up here for our daily Thrillist email, and get your fix of the best in food/drink/fun.