Everything You Need to Know About Amanda Knox Before Watching 'Amanda Knox'
A college coed accused of murdering her roommate. Satanic rituals. Group sex gone wrong. These sound like the plot details of a trashy pulp novel, but they were all factors in the never-ending saga of Amanda Knox, who was definitively acquitted of her study abroad roommate's 2007 murder just last year.
Now Netflix is telling her complete story with Amanda Knox, a documentary about the complex case. The investigation of Meredith Kercher's death and the four subsequent trials Knox endured have generated hundreds of articles, interviews, and court transcripts -- but with this primer, which goes over the biggest, most sensationalist beats from the case, you'll actually have time left over to watch the doc yourself. Once you're caught up, decide for yourself if Knox truly is "Luciferina with the face of an angel." Because, yes, someone really called her that.
Meredith Kercher was brutally murdered
In the fall of 2007, Knox arrived in Perugia and took a room in a cottage with three roommates. Two of them were Italian women in their late 20s who held jobs at law firms. The other was Meredith Kercher, a college student like Knox. Kercher came from the University of Leeds, where she was majoring in European studies. While the two students weren't particularly close, they were friendly. Kercher was even with Knox when she first met Raffaele Sollecito, her Italian ex-boyfriend, at a Schubert recital.
After the concert ended, Knox spent a straight week with Sollecito, at his place. But then the pipes in his apartment leaked, so she returned to the cottage to take a shower. While she was there, she noticed blood on the sink. Kercher's door was also locked. Freaked out, Knox bolted from the house and called her other roommates. She then returned with Sollecito, who tried to force the door open. When that didn't work, they called the carabinieri -- the Italian military police.
Only the carabinieri didn't show up. The local postal police did instead (more on them in a minute). By that point, one of the girls' Italian roommates had shown up with her boyfriend and two friends. This entire group entered the apartment with the officers. They kicked down the door to discover a gruesome scene: bloody prints all over the room, and in the middle of it, Kercher's body. She had been stabbed with a knife several times and left on the floor, partially covered by her comforter.
Knox's behavior raised flags
Although it appeared to take Knox -- described by family and friends as "naïve" -- a long time to realize she was a suspect in Kercher's murder, the police were suspicious of her right away. That was because they viewed her behavior in the immediate aftermath as wildly inappropriate.
As police investigated the crime scene, Knox and Sollecito waited outside. They kissed, either unaware of or unbothered by the nearby camera crews, who plastered their affection across the evening news. Later, when the couple went to the police station to answer questions, officers say Knox did cartwheels and splits -- that is, when she wasn't sitting on Sollecito's lap.
Knox denies she ever did cartwheels in between interrogations but admits she could've been "more sensitive." Unfortunately, the investigators weren't just suspicious of her odd behavior, they were also unbelievably incompetent.
The wrong police were put on the case
The entire murder investigation might've gone differently if the correct cops had arrived on the scene. Instead, Knox and Sollecito encountered the state's so-called postal police, which is normally assigned to petty crimes like phone theft.
Accordingly, two officers were already in the area responding to a call about an abandoned cell phone, which it turned out belonged to Kercher. Knox and Sollecito claim they had already called the carabinieri when the postal police arrived to return Kercher's phone. The postal police claim that call was made later. Regardless, Knox let them into the house to investigate.
As Rolling Stone noted, the carabinieri surely would've closed off the crime scene immediately and conducted a careful inspection. Instead, the postal police let Knox, Sollecito, Romanelli, and Romanelli's three companions "tramp" through the house. They also initially refused to break down Kercher's door, prioritizing her privacy over her safety.
The chief forensics expert would not take Kercher's body temperature, a crucial test for determining time of death, until a full day after her body was discovered. As a result, the tests came back with a wide range of "sometime between 8pm and 4am." A narrower time frame could have cleared Knox and Sollecito, as they were both seen at Sollecito's apartment around 8:45pm, and his computer showed activity until 9:10pm.
One of the prosecution's key pieces of evidence -- Kercher's bra clasp, which contained trace amounts of Sollecito's DNA -- was not bagged for 46 days after the murder. In that time, it had been moved and dumped into a pile of debris. The other major piece of evidence was a knife, which came back with traces of Knox's DNA on the handle and Kercher's DNA on the blade. But when the knife was tested again, none of Kercher's DNA was found.
Knox has always maintained that her signed confession was coerced by the police, who refused to let her see a lawyer and hit her until she agreed to their version of the events. By her account, the police first bullied Sollecito into claiming Knox slipped out of his apartment the night of Kercher's murder. Then they pressured Knox into admitting she had gone back to her home that night, along with her boss at the local bar Le Chic, Diya "Patrick" Lumumba, and heard Kercher scream as he stabbed her.
Whatever happened in that interrogation room, it's clear the police didn't like her; one officer insisted Knox was lying about taking a shower on the morning Kercher's body was discovered because she "smelled like sex."
Tabloids trashed Knox
That "smelled like sex" line very much encapsulates the media's portrayal of Knox as a kinky seductress who killed for sport. This perception was largely shaped by Nick Pisa, the Daily Mail reporter who gave her the inescapable nickname "Foxy Knoxy." Pisa also published Knox's leaked prison diaries. With those, he pounced on details like her worries over an STD scare and previous boyfriends (in his words, "many lovers"). Pisa's reports come across as downright gleeful, and even today, he seems proud of his opportunistic coverage.
Pisa was far from the only one giving Knox a hard time. Over the course of the trials, she was called a "Bambi-eyed killer," "Luciferina with the face of an angel," and a "sex-mad American party girl." And that was just the press -- some of the most vicious nicknames came from the prosecutor trying Knox, Giuliano Mignini. He was fond of calling her a "she-devil," since he was convinced she was in cahoots with Satan.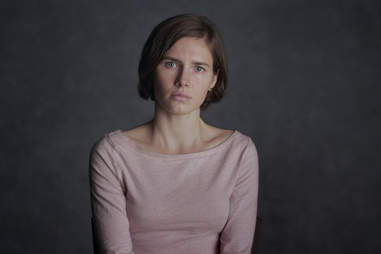 Netflix
A prosecutor obsessed with satanism went after Knox
Mignini connected defendants to demons long before the Knox trial. While working on a case against the "Monster of Florence," a serial killer responsible for at least 16 murders, he inexplicably lumped the suicide of Dr. Francesco Narducci in with the victims. Narducci, Mignini claimed, belonged to a satanic cult that killed women for body parts in occult rituals. According to his theory, the doctor was the "keeper" of those body parts, and was murdered by the secret society so he would keep quiet -- because the "Monster" wasn't one person but a network of 20 conspirators in government and law enforcement who banded together to keep their devil worship under wraps.
If you think this sounds kooky, so did the judge who heard Mignini's arguments. He threw out the charges Mignini brought against the 20 suspects, and Mignini was later convicted of abuse of office in his pursuit of the Monster of Florence.
Still, Mignini clung to occult theories, arguing that Knox and Sollecito had killed Kercher as part of a satanic rite. Later, he determined it was a sex orgy gone wrong: Kercher didn't want to participate in their wild group sex, so they stabbed her.
Rudy Guede was key to the satanic theory
It's important to note that Mignini included a third person in all these satanic orgy theories. Rudy Guede was a small-time thief who had broken into a nursery school in Milan the week before Kercher's murder. He knew some of Kercher and Knox's neighbors, so he'd met the girls before. And only his DNA matched the bloody tracks left in the apartment.
When Guede was apprehended, he insisted Knox and Sollecito had nothing to do with the crime. But once he was arrested, the police didn't alter their original story much at all, they simply swapped Guede in for the third man Knox had originally named in her confession. (That was her boss, Diya "Patrick" Lumumba.) Guede was tried alone and convicted three times.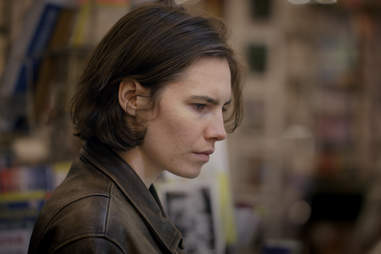 Netflix
Knox was found guilty, then innocent... two times in a row
From January 16th, 2009, all the way through March 27th, 2015, Knox was subjected to four separate trials. In the first one, she and Sollecito were found guilty of sexual assault and murder; she was sentenced to 26 years in prison, while he got 25. Then an appeals court found them both innocent in 2011. Knox returned to her home in Seattle, thinking the whole affair was behind her. But in 2013, Italy ordered Knox and Sollecito to stand trial again, which resulted in a guilty verdict -- but Knox's family insisted she would not return to Italy to serve her now-28-and-a-half-year sentence. So the case was appealed again.
Ultimately, the convictions were thrown out. Since this happened in Italy's highest possible court, it meant Knox and Sollecito were finally free. Knox is still in Seattle, where she writes for The West Seattle Herald; Sollecito remained in Italy, where he has started a lawsuit for wrongful imprisonment. Well, that, and a "social network for graves."
While her painful court battles have ended, Knox's life is far from normal. "For better or for worse, I haven't felt like any-other-person-my-age for a long time," she wrote in a Herald op-ed this August. But she's working on it: "It may still be the case that... I'm reminded that I'm 'That girl in Italy?! That Amanda Knox?!' Yeah, I'm her. I'm also the Amanda Knox who is so excited to be living my life alongside people I love and respect, lugging furniture, scooping cat poop, paying the bills, moving on." For Knox's sake, hopefully, the documentary will help her continue to make her way forward.
Sign up here for our daily Thrillist email, and get your fix of the best in food/drink/fun.