13 Office Perks That Will Make You Want to Change Companies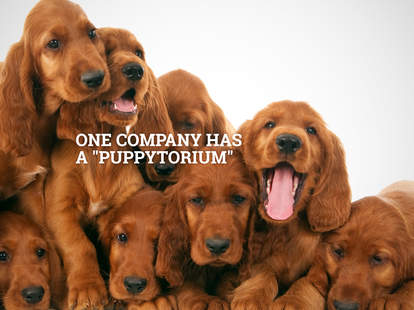 Shutterstock / Jennifer Bui/Thrilist
Most employers offer their devoted staff some freebies, even if it's just free fruit snacks. But there are free Shark Bites... and then there are free butlers. Because we want to fuel your resentment of loved ones who work at Facebook, we rounded up a few companies with the kind of perks that make your boss look like a miserly Victorian-era factory foreman. Wallow in jealousy at the unbelievable benefits at these 13 companies:
Google
Best perk:
Multiple arcades, bowling alleys, etc.
Google's perks are the bar against which most "cool" companies are measured. Of course it has a fitness center and break-time distractions like video games, but it's not just a lone elliptical and Pac-Man machine. There are multiple, full-service gyms and arcades (DDR, Wii, Frogger, etc.) scattered across campus. Along with free shuttles to work, all kinds of fancy free food, rock walls, bowling alleys, a gigantic chess board that's basically wizard chess -- yeah, go ahead and punch your friend who works for them now, if you haven't already.

S.C. Johnson
Best perk:
Concierge service
The "family company" wants to make sure its staff gets to spend time with its actual families, so it offers a concierge service to all employees. Need your fridge restocked? Or a car tune-up? One of the company concierge gophers will do it for you. Just make sure you're specific with your Doritos requests.
Burton Snowboards
Best perk:
So many snow days
The front door to Burton says, "we close our doors if it snows two feet in 24 hours," and that's not some bullshit metaphor. If there's enough snow, employees get the day off to hit the slopes. And considering you get 50-60% off its products along with free season passes to the mountain of your choice, you'd be stupid not to.

World Wildlife Fund
Best perk:
Panda Fridays
Your office might have Summer Fridays, but Panda Fridays put those precious half-days to shame. Every other Friday, the entire WWF office closes down. This is all year long. Some people choose to work from home on those days, but those people don't respect the panda's wishes.

Gawker
Best perk:
Paid sabbaticals
After you've worked at Gawker for four years, you're allowed to take a full month of paid leave to do whatever the hell you want. Want to backpack through Europe? Or just spend 30 days yelling at people from your stoop? Go ahead! Your sabbatical won't cut into your normal vacation or sick days, so the sky's the limit. Once you come back, weekly breakfast and lunch plus rooftop screenings will be waiting for you.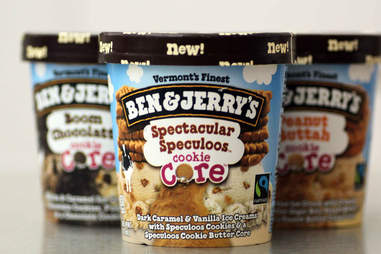 Kristin Hunt/Thrillist
Ben & Jerry's
Best perk:
Three free pints every day
The sweetest perk at the spacious, dog-friendly Ben & Jerry's office is the magical three pints rule. If you work there, you get to take home three pints of whatever flavor you please, every single day. It's also got an office slide, and you do not.

AOL
Best perk:
Nap pods
If your buddy works for AOL, it is your responsibility as a friend to ask him or her about the nap pods once a week. But "NapQuest" isn't just about work-sanctioned snoozes in a dark room -- there's also a massage chair available for staffers whose backs are in knots. AOL has a Friday drink cart, as well, and if you work for Arianna, she's getting you a Christmas sweater (not the ugly kind) or, if the break in tradition continues, Christmas PJs.
Facebook
Best perk:
Barbershops and doctor's offices
Like Google, Facebook is the kind of place with a lengthy list of increasingly insane perks. Communal bikes, video games, free iPad accessories from a 24-hour vending machine -- you know, that kind of Silicon Valley nonsense. But the 57-acre campus also has every amenity you'd expect in an actual city. That means you can get in your yearly physical and a quick haircut without ever leaving work. Thanks, Zuckerberg.

Pandora
Best perk:
In-office concerts
You'd expect a music-savvy place like Pandora to have superior office playlists. But it does employees one better by hosting frequent office concerts by artists ranging from Miguel to Father John Misty. And you thought the stock options were sweet.
Dropbox
Best perk:
The "jam room"
Dropbox first got on our radar because of its vending machine of Apple products you can obtain just by swiping your work ID. Pretty sweet, but other places (i.e., Facebook) have those. Not many have a dedicated "jam room" with couches, electric guitars, and amps for the musically inclined employees, though. It makes the game room and the Lego-themed conference room look downright boring.

Netflix
Best perk:
Full year of parental leave
This move got Netflix tons of well-earned praise, but the company still had some pretty great benefits before the big announcement. Namely, free daily catered lunch, an enormous movie theater to pre-screen new shows, a dog-friendly policy, Zipcars, and so many free House of Cards backpacks.
Chartbeat
Best perk:
The "puppytorium"
Offices are getting increasingly cool about bringing your dog to work. But there are chill pet policies, and then there's Chartbeat's "puppytorium." It's the back room in the company's New York headquarters, and it's full of valued canine employees like this guy. You can escape there for a playtime break when work gets overwhelming. Make sure to hit the kitchen's seltzer tap and Chartbeat library on your way back.

Boston Consulting Group
Best park:
Red zone reports
If you work seven straight weekends at some places, your boss will just ask you why you can't make it an even eight. Not so at Boston Consulting Group, which issues "red zone reports" that flag employees who are spending too much time at the office. If management decides it's more than a temporary bump, it'll put a Career Development Committee sponsor on the case. That person will work with the spent consultant to switch deadlines, reassign priorities, and bring in new resources. You can also recharge by taking a paid sabbatical... if you've been working as a partner for five years. If not, there's also opportunity to do paid "social impact" work for charities for up to a year.
Sign up here for our daily Thrillist email, and get your fix of the best in food/drink/fun.
Kristin Hunt is a staff writer for Thrillist, and would probably live in the puppytorium, if her office had one. Follow her to the free snack bins at @kristin_hunt.