Amazon Just Made Monthly Prime Memberships More Expensive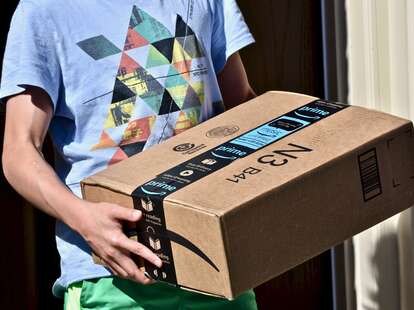 Amazon, the world's leading e-commerce emporium led by the world's richest man, is raising monthly prices for Prime members by almost 20%, the company announced in an email to customers on Friday.
The price hike will see the monthly price of Prime membership climb to $12.99 from $10.99. The jump won't affect the company's annual fee of $99, if customers chose to pay the subscription at one time.
Amazon's expansionary vision, which has seen it cannibalize multiple industries while its stock surged 6.6% last year, has rendered its CEO Jeff Bezos the richest man on the planet. But its transformation from online book peddler to world-beating conglomerate has been expensive, apparently.
As Recode points out, the mind-boggling quantity of goods available to Prime members made its previous $10.99 subscription fee unsustainable.
On Friday, the company wrote in a statement:
"Prime provides a unique combination of shipping, shopping, and entertainment benefits, and we continue to invest in making Prime even more valuable for our members. The number of items eligible for free two-day shipping increased in recent years from 20 million to more than 100 million items. We have expanded Prime Free Same-Day and Prime Free One-Day delivery to more than 8,000 cities and towns... Members also enjoy a growing list of unique benefits like Prime Music, Prime Reading, exclusive products, and much more."
The prices are also climbing for college students, who will pay $6.49 per month, up from $5.49.
Now we can all pay a little more every month to welcome Amazon delivery people into our homes while we're not there.
Sign up here for our daily Thrillist email and subscribe here for our YouTube channel to get your fix of the best in food/drink/fun.

Sam Blum is a News Staff Writer for Thrillist. He's also a martial arts and music nerd who appreciates a fine sandwich and cute dogs. Find his clips in The Guardian, Rolling Stone, The A.V. Club and Esquire. He's on Twitter @Blumnessmonster.