AMC's Attempt to Kill MoviePass Already Has 380,000 Members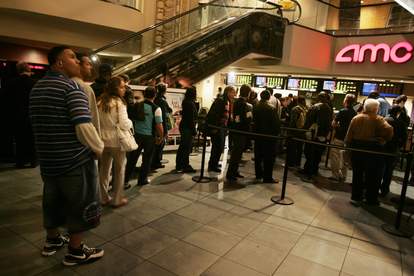 Chris Hondros/Getty Images
Back in June when AMC Theaters announced it was going to war with MoviePass, the popular (and troubled) film subscription service, the battle plan sounded familiar. Like its industry-disrupting competitor, the AMC membership program, dubbed AMC Stubs A-List, offered moviegoers the opportunity to see multiple films in a given month for a flat rate. At the time, the biggest difference was in price and reputation: Where the more established MoviePass essentially offered a movie-a-day for $9.95 a month, the upstart AMC plan provided three movies a week for $19.95 a month.
What a difference a few months makes. According to the theater chain (via Variety), the AMC Stubs A-List  program now has over 380,000 members, which the company claims outpaces its internal expectations for the service. In addition to saying the service has added 120,000 members within the last six weeks, the company also claimed that the introduction of the service has caused an "incremental increase in attendance."
While MoviePass still boasts over 3 million members and offers a cheaper option, the company has faced an unceasing series of publicity challenges. Though MoviePass's business model, which relied on dramatic price drops to grow the subscriber base, has always looked shaky to casual observers, the company has faced increased scrutiny after technical challenges that occurred in July. According to a recent survey, downloads of the app have decreased 76% since June of 2018.  
At the same time, its parent company, Helios & Matheson, has relied on some complicated tricks to keep the leaky boat afloat from a financial perspective. This includes, as Business Insiderrecently reported, issuing new shares, a risky method that has contributed to its plunging stock price. The stock currently sits at around 2 cents per share. 
Are consumers making the jump from MoviePass to chain-backed services like the AMC one and a similar subscription offered by Cinemark? It's difficult to say. What does feel clear is that audiences are increasingly open to the idea of paying a monthly fee for trips to the movies. In the same way the streaming space is big enough for Netflix, Hulu, Amazon Prime, and other corporate-backed platforms from companies like Disney, it feels like the theatre subscription wars are only getting started.
Sign up here for our daily Thrillist email and subscribe here for our YouTube channel to get your fix of the best in food/drink/fun.