AMC Declares War on Universal Over the Streaming Success of 'Trolls World Tour'
We're in uncharted territory and battle lines are being drawn.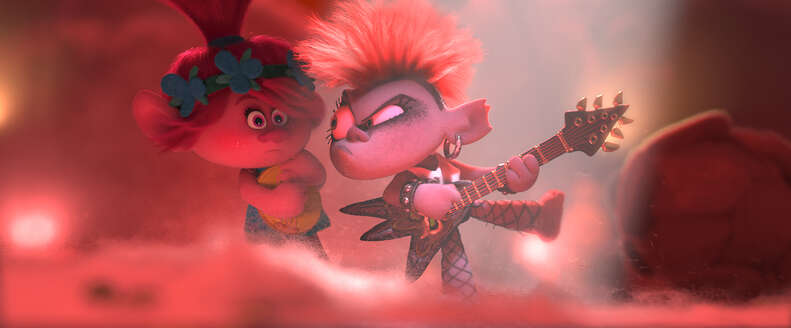 Over the weekend of April 10, families across the world gathered around their television sets and watched a battle play out between trolls. In Trolls World Tour, the sequel to 2016's animated hit Trolls that had its theatrical release cancelled and was instead released on VOD in the wake of the ongoing coronavirus pandemic, there are pop trolls, hard rock trolls, country trolls, funk trolls, and even classical trolls, apparently led by a conductor named Trollzart, and they all presumably fight for troll dominance. Now, this ridiculous movie has caused a fight that's spilled over into the real world, and it could lead to real changes in your moviegoing experience.
It all started on Tuesday with an article in the Wall Street Journal, which revealed that Trolls World Tour had collected an estimated $100 million in premium VOD rentals in its first three weeks in North America. While that's not as much as the original Trolls made in its first three weeks in domestic release -- and doesn't even touch the original's $346 million global box office haul -- it's still a significant chunk of change, particularly at a time when the movie business has mostly stalled. "The results for Trolls World Tour have exceeded our expectations and demonstrated the viability of PVOD," said NBCUniversal CEO Jeff Shell. "As soon as theaters reopen, we expect to release movies on both formats."
Unsurprisingly, that comment did not sit well with AMC Theatres, the world's largest movie theater chain. In a strongly worded letter, AMC chair-CEO Adam Aron described Shell's comments as "categorically unacceptable" and went on to declare that "effectively immediately AMC will no longer play any Universal movies in any of our theaters in the United States, Europe or the Middle East."
Clearly taken aback by AMC's aggressive response, Universal, which also announced this week its plan to release the Pete Davidson comedy The King of Staten Island on VOD and skip theaters entirely, put out a follow-up statement where it accused AMC of attempting to confuse their position and their actions. "We absolutely believe in the theatrical experience and have made no statement to the contrary," read the statement. "As we stated earlier, going forward, we expect to release future films directly to theaters, as well as on PVOD when that distribution outlet makes sense."
Though AMC is financially vulnerable at the moment, having recently raised $500 million in debt to combat theater closures and staff furloughs, they have managed to rally Regal Entertainment owner Cineworld Group to their side. "Today we make it clear again that we will not be showing movies that fail to respect the windows as it does not make any economic sense for us," wrote the company in a statement. Not as confrontational as AMC's outright ban, but still drawing a line in the sand.
Is this all just PR chest-puffing and territorial saber rattling? With many movie studios pushing their major releases to the fall of 2020 and beyond, the theatrical movie distribution business has never been on shakier ground. We simply don't know what a "return to normal" would look like at the cinema; what's clear is that audiences are spending lots of time watching movies like Trolls World Tour on VOD and various streaming platforms like Netflix. At the same time, betting against the general audience's appetite for giant tentpole blockbusters, like Universal's own Fast and Furious franchise or the Jurassic World series, is a risky move. What works for family movies like Trolls World Tour, Warner Brothers' Scoob!, or Disney's Artemis Fowl might not work for bigger releases. Big movies with big budgets require big theaters to make big money.
Anyone predicting the imminent total collapse of the theatrical distribution model, brought on by the rise of streaming services and the decline of the moviegoing experience as a shared social experience, should remember that similar debates have played out with each new technological innovation. First, the emergence of televisions in homes was going to kill movies; then, the availability of VHS was going to kill movies; finally, video games were going to kill movies. Like Dom Toretto in the Fast movies -- or maybe even a powerful music-loving Troll -- moviegoing can't be killed.
What can certainly die out and never come back? Specific theater chains, movie studios, and the antitrust laws that sustain the economic conditions of the business. (There's a reason why Netflix is buying up its own theaters.) Huge media companies like NBCUniversal and Disney are currently spending tons of money on building out streaming platforms, with Disney+ already up and running and Peacock launching later this year in July, but they're coming from behind and don't expect for those projects to be profitable. Blockbusters are a different matter: They make money by putting butts in seats. Even Trollzart could tell you that.
Need help finding something to watch? Sign up here for our weekly Streamail newsletter to get streaming recommendations delivered straight to your inbox.