'American Crime Story: The People v. O.J. Simpson' Is Flawless True-Crime TV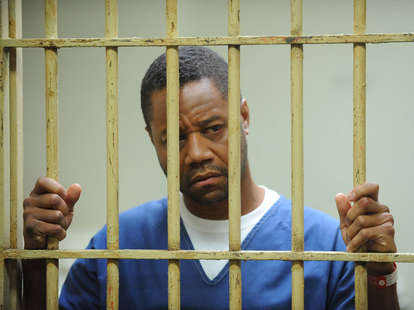 In the pre-Game of Thrones, post-Making a Murderer TV doldrums, there hasn't really been a buzzy, conversation-starting show for everyone to rally around. But come February, that's all about to change. American Crime Story: The People v. O.J. Simpson, Ryan Murphy's dramatization of the O.J. Simpson murder trial, hits FX on February 2, and after watching the advance press screeners, I'm convinced it has every ingredient to become a TV phenomenon. (Seriously, I practically inhaled the first six episodes.) Here's why the series should be on your radar.
It's crack for true-crime junkies...
With Serial season one, The Jinx and Making a Murderer, true-crime fans demonstrated a fondness for bloodlust narratives and tumbling down Reddit rabbit holes. Those stories, while certainly attention-grabbers in retrospect, don't have the constant twists and turns of the OJ Simpson trial, which was one of the biggest media events in modern history -- something that many young viewers may not remember first-hand.
Luckily, Murphy has recreated the frenzy in painstaking detail, beginning after the beloved celebrity athlete is accused of murdering ex-wife Nicole Brown Simpson and her friend Ron Goldman. With mountains of evidence pointing to OJ's guilt and the mountains of money that went into his defense, the murder trial transformed from an open-and-shut-case into a sprawling referendum on race, police violence, sexual assault and celebrity culture, galvanized the nation, and made reality stars out of the lawyers and witnesses.
...and candy for reality-TV junkies
From the 50-mile Ford Bronco chase O.J. led police on across the freeways of Los Angeles before turning himself in -- see, I told you this was insane -- to the legal in-fighting and back-stabbing that plagued both the prosecution and defense teams, the so-called "trial of the century" gave Americans a peek into a world that was glamorous and sordid in equal measure. It fueled the fixation with real-life, real-time drama that endures to this day.
It also turned the participants into bona fide celebs: prosecutor Marcia Clark (whose nude vacation photos became tabloid fodder as the case heated up); O.J. houseguest Kato Kaelin (patron saint of freeloaders everywhere); and stage-five-clinger/O.J. BFF Robert Kardashian, who stood by his friend even as evidence of his guilt mounted, and whose notoriety arguably led to the green-lighting of Keeping Up With the Kardashians in 2007 (and yes, Kris, Kim, Kourtney and Khloe do make appearances in American Crime Story).
As the case's real participants undoubtedly begin to weigh in and old tabloid mainstays like Kaelin come out of the woodwork, American Crime Story promises to deliver that tantalizing merging of entertainment and reality that characterized the trial in the first place. (Kendall and Kylie, as ever, we await your Instagram commentary.)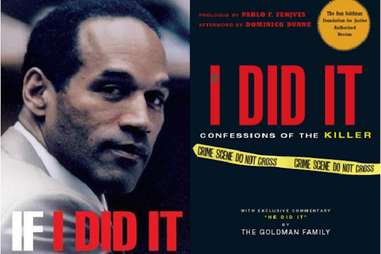 It's made to geek out over
Those who found themselves scrutinizing maps of the Best Buy parking lot or going for a B.A. in cell-tower technology post-Serial will find more than enough supplementary material here to set them off on an obsessive deep dive. After finishing the first six episodes, I picked up The Run of His Life: The People v. O.J. Simpson, the book by New Yorker writer Jeffrey Toobin on which the show is based, which goes into extensive additional detail about the trial's colorful cast of characters, particularly the egotistical, feuding defense lawyers of O.J.'s "dream team."
And that's just a starting point. Pretty much every participant in the case wrote a book about it -- see Clark's account of the trial Without a Doubt and O.J.'s nauseating, quasi-confessional cash-grab If I Did It: Confessions of the Killer. Heck, even the dog involved with the case wrote a book.
It's a guaranteed conversation starter
While many people still remember the O.J. trial as if it were yesterday, many aspects of the case look different in the harsh light of today. Back in 1994, two years after the Rodney King riots, O.J.'s savvy defense lawyers successfully turned the trial into a referendum on racial injustice and the well-documented discrimination within the LAPD, and beliefs about O.J.'s guilt and innocence ended up dividing largely on racial lines. While O.J. may certainly have done the deed, the issues Johnnie Cochran and his defense team dug up were all too real; in the era of Black Lives Matter, and with the country outraged at the recent shooting deaths of Freddie Gray, Tamir Rice, Eric Garner and others, the themes that ran through the trial take on a whole new weight.
The case is also fascinating from a gender politics standpoint, especially in regards to how O.J.'s long history of spousal abuse factored in and the media's sexist targeting of Marcia Clark, whose courtroom hair-styles became as much of a trial talking point as the forensic evidence.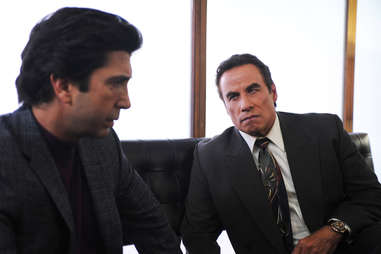 There's a killer cast
Half gritty cable drama, half campy melodrama, American Crime Story is above all an incredible showcase for its actors. There's Murphy regulars Sarah Paulson as the brittle yet sympathetic prosecutor Marcia Clark and Connie Britton as sleazy fame-seeker Faye Resnick. David Schwimmer (Ross!) plays Robert Kardashian and Selma Blair is his ex-wife, a woman you've never heard of named Kris Jenner whose kids didn't turn out to be famous at all.
The heaviest hitters are a spray-tanned, brow-penciled John Travolta as attorney Robert Shapiro and a swaggering Courtney B. Vance as Johnnie Cochran. Cuba Gooding Jr., meanwhile, takes on O.J., and he's good enough to make you almost forgive him for Radio and Daddy Day Camp.
Sign up here for our daily Thrillist email, and get your fix of the best in food/drink/fun.
Anna Silman is a staff writer at Thrillist, an alum of Salon and Vulture, and a true-crime junkie. Find her on Twitter: @annaesilman.