Why 'American Crime Story' Season 2 Might Be Better Than 'People v. O.J.'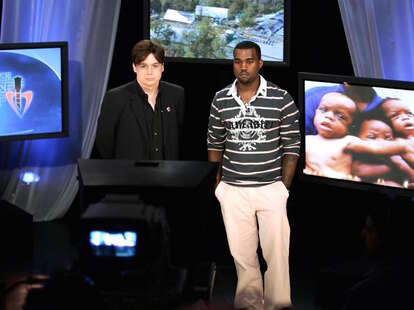 When we heard that Season 2 of FX's American Crime Story would be about Hurricane Katrina, we were a little flummoxed. Certainly, the 2005 storm that devastated New Orleans isn't a traditional crime in the way that the O.J. Simpson murders were, right? And wasn't it too soon? Plus, it dashed any hopes we had of seeing Ryan Murphy's take on the Tonya Harding/Nancy Kerrigan affair.
But the more we think about it, the more excited we are to see the story of Katrina retold the American Crime Story way. We're on board with Ryan Murphy's plan to turn the show into "a socially conscious, socially aware examination of different types of crime around the world." And we agree with his opinion: "Katrina was a fucking crime -- a crime against a lot of people who didn't have a strong voice and we're going to treat it as a crime. That's what this show is all about." Here are some things we're looking forward to.
Season 2 will take a page out of Serial's book
Ryan Murphy's approach is similar to how the podcast Serial followed up on its smash first season. After delving deep into the story of a local crime, host Sarah Koenig pivoted to explore an event that had broader societal implications (Bowe Bergdahl's defection from the US military and his subsequent kidnapping by the Taliban) but that still allowed her to explore similar themes about truth, justice, and the way we tell stories. In turning to Hurricane Katrina for Season 2, American Crime Story has the chance to deal with a lot of the same sociocultural issues it dealt with in Season 1, only on a much grander and more ambitious scale.

It will explore important contemporary issues
My favorite thing about The People v. O.J. was how it allowed us to view past events differently through the lens of the present: reimagining Marcia Clark as a modern-day feminist hero, understanding the black community's anti-LAPD sentiment in the wake of #BlackLivesMatter, and watching the first major broadcast event of the reality-TV era in our Kardashian-saturated age.
Just as the O.J. trial ended up being about much more than the case itself, Hurricane Katrina is a lens through which Murphy and his team will be able explore bigger themes like race, class, climate change, bias in the media, urban development, the role of police and government, and the pervasive cultural influence of the Kardashian-Wests (kidding, sort of).
Hurricane Katrina disproportionately affected poor black residents, and the catastrophe and its aftermath shone a damning light on the country's endemic racial and class inequality. The extent of the storm's damage wasn't a foregone conclusion; rather, it was government ineptitude (both before and after the storm) and systemic racism and poverty that caused much of Katrina's devastation. When it comes to pointing fingers and naming names, we don't expect Murphy to hold back.

There are crazy stories to tell
While I found Serial Season 2 slow, albeit fascinating, I don't think ACS runs the same risk of losing momentum. If The People v. O.J. often had a stranger-than-fiction quality about it, the stories that came out of Hurricane Katrina are even harder to believe.
For a taste, read Sheri Fink's unbelievable story "Deadly Choices at Memorial" (and its follow-up book, Five Days at Memorial) about a flooded New Orleans hospital that euthanized some of its sickest patients during the crisis. And also read "Deluged," by Dan Baum, which examined the overwhelming failure of the New Orleans police department to respond to the catastrophe. There are astonishing vignettes of heroism -- like Joel Anderson's story about a small-time drug dealer who saved countless lives -- and sprawling tales about the disaster, such as Wright Thompson's "Beyond the Breach," an epic 25,000-word masterpiece about Katrina's ramifications 10 years later.
While it's not clear if Season 2 will be based on any particular source text, there's incredibly rich material to draw on. And from a visual perspective, the catastrophic citywide flooding or the apocalyptic scenes inside the Superdome promise to be much more interesting than the inside of a courtroom.

The stakes are so much higher
The People v. O.J. was a particularly compelling show because it relied on multiple perspectives: the cunning "dream team" of defense lawyers; the principled prosecutors; the families of the victims; savvy hangers-on like Faye Resnick; the "Juice" himself; and the jury, sentenced to a different kind of involuntary confinement. Similarly, Season 2 has the opportunity to be a particularly rich mosaic, segueing between the high-up decision-makers within FEMA and the US government, the first responders in the police and National Guard, and the many New Orleans residents who had their lives torn apart by the storm.
Speaking to THR, Murphy said his plan is "to follow a group of six to eight people in an attempt to examine all sides of the tragedy, from the Superdome in New Orleans to the hospital to those who were put on buses and dropped off with babies who had to wear trash bags for multiple days." While, say, the jury sequestration on the O.J. trial was rough, it obviously pales in comparison to Hurricane victims trapped without water or medical supplies for days on end. Season 2 promises to be an even more intense and emotional viewing experience, with much higher stakes.

Someone's probably going to play Kanye
One of the best parts of The People v. O.J. was seeing beloved actors bring real people to life, whether it was David Schwimmer as reality-show patriarch Robert Kardashian or John Travolta's so-bad-it's-good depiction of lawyer Robert Shapiro. Season 2 promises even more opportunities for this sort of stunt casting, from incompetent FEMA director Michael Brown and disgraced New Orleans mayor Ray Nagin. Will someone be playing President George W. Bush? (What's Will Ferrell up to these days?) And what about that guy who said "George Bush doesn't care about black people"? Knowing Murphy's track record with casting, he won't let us down.
Sign up here for our daily Thrillist email, and get your fix of the best in food/drink/fun.
Anna Silman is a staff writer at Thrillist Entertainment and an "American Crime" junkie. Find her on Twitter: @annaesilman.