The Bloody Opening of 'American Gods' Episode 1 Has Its Own Secrets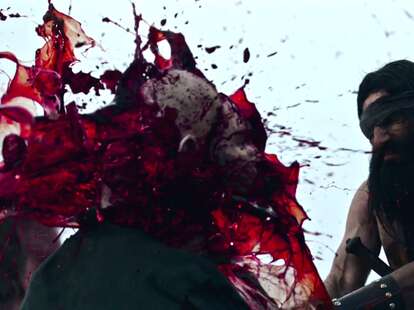 Starz
Starz
Read our deep dive interview with American Gods author, Neil Gaiman.
A brutal ballet of limbs and blood, a violent, last ditch effort from Leif Erikson and his band of vikings to appease the wind god, opens Starz's new fantasy series, American Gods. And what an opening it is, with slow-motion scenes of entrail-littered sacrifice, hinting at the savage nature of an incoming war waging between Old Gods and New Gods in Hannibal creator Bryan Fuller's adaption of the wildly popular Neil Gaiman novel.
It's just one example of the vivid and stylized visuals, which also include the pilot's hallucinatory introduction to more modern Gods. Here's how Fuller's team of effects artists pulled it off.
Episode one's buckets and buckets of blood
The Viking sequence hits hard, as only a cable television series could. The concept was, according to the show's visual effects designer Kevin Tod Haug, a push for "ultra violence, and then an added order of magnitude" designed by director David Slade (30 Days of Night). "It was played mostly for fun, if you will. The idea is that it's so active that you can't really take it seriously."
Where equally vicious series like Spartacus relied on computer-graphic blood to enhance action sequences, American Gods relied on old fashioned fight moves, carefully choreographed by stunt coordinator Branko Racki, practical dummies, and gore from makeup effects designer Christien Tinsley. Blood elements were produced using hydraulically sprayed blood bags filmed with a high speed camera that could capture every drip in slow-motion.
Digital effects were still required to bring a lot of the action together. VFX studio Mr. X Inc, known for work on the Resident Evil movies, came on board to finesse the blood splatters, add extra, flying flesh pieces for maximum carnage, and to insert CG weapons that would have caused action damage during shooting.
By using both practical and digital approaches, the shots have a much more visceral feel, according to Jeremy Ball, a visual effects supervisor on the show. "We tend to start with the prosthetics and push these as far as we can until they starts to feel rubbery or overly stiff, and then we either manipulate it or we replace them with CG," says Ball.
The technical truth behind Technical Boy
If that opening to American Gods wasn't crazy enough, the first episode later enters psychedelic territory when protagonist Shadow Moon (Ricky Whittles) sees Technical Boy (Bruce Langley), a New God, and his minions take on fleshy forms.
This was something the show's makers called "Godflesh," an effect made possible with the use of a custom-built rig designed to surround the actors with multiple cameras and produce "volumetric" footage (like a more advanced version of the bullet time effect in The Matrix). The end result is computer-graphic animation based on Langley's on-set performance.
"The rig was made up of between five and seven cameras that were synchronizable," explains visual effects director of photography David Stump. "They were light and portable enough that we could just fly them in on a moment's notice and then tear them out again."
French visual effects studio BUF, who Haug had collaborated with several years earlier on groundbreaking VFX shots in David Fincher's Fight Club, then extracted "point clouds" from the camera array footage and used photogrammetry techniques -- a method of extracting CG textures from real photography -- to orchestrate the final Godflesh look.
This is just the beginning
It might have only just started but American Gods is already shaping up to be one of those water-cooler conversation TV series. The show's visual effects team is angling to produce stunning imagery to match.
"No matter what we did, however supernatural it may be, it had to have a sort of photographic reality to it," says Haug.
"That's right," adds Stump, "the visual effects had to give plausibility to a lot of really, really improbable things in every episode… and there's some weird events coming."
Sign up here for our daily Thrillist email, and get your fix of the best in food/drink/fun.
Ian Failes is a visual effects and animation journalist who's mostly afraid of blood and guts. Follow him at @vfxblog.