How 'American Gods' Cut Off Emily Browning's Arm (Then Sewed It Back On)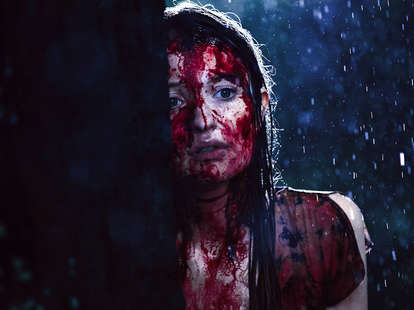 There was a lot to take in during episode 4 of Starz's American Gods. We learned that Laura Moon -- the dead wife of our hero, Shadow -- is no longer dead. We also find out that she's now a fearsome fighter who's OK with losing an arm and having it sewn back on.
These revelations come courtesy, once again, of a strong collaboration between the show's practical and digital effects artists. Here's how the fierce battle scenes with Emily Browning as Laura were made, and how the actress lost, and re-gained, her appendage.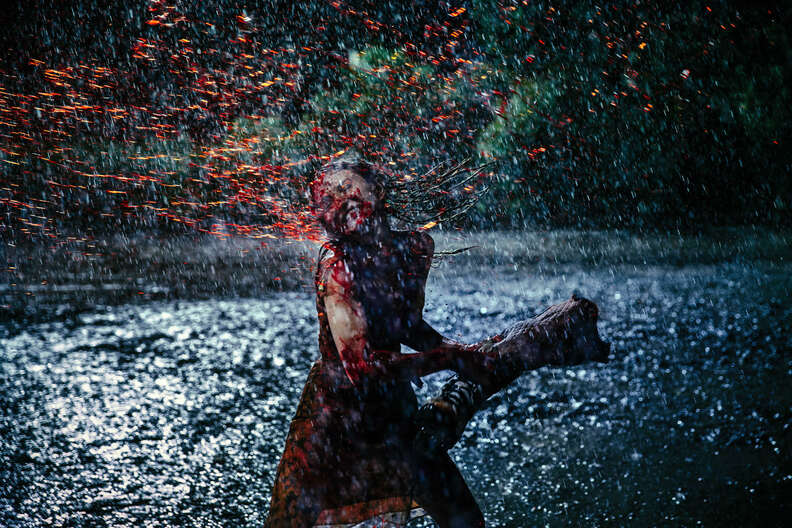 Laura's adventure in zombieland
Resurrected and returning to the human world, Laura stumbles upon Shadow being hung up by Technical Boy's offsiders. In brutal fashion, and echoing the series' opening Vikings attack, Laura wreaks havoc on the men by severing limbs, ripping off heads, and even kicking one of them in half. That meant a lot of blood and a lot of visual effects work.
"We broke a lot of the rules about how you're supposed to shoot visual effects sequences like that," recounts VFX supervisor Jeremy Ball. "We had the full rain going, we had our characters in their flesh-head form. These were stunt guys in full prosthetic head pieces with little eyes holes gouged out that we would fill in later."
For the big fight moments, like Laura literally ripping one of the men in half, makeup effects designer Christian Tinsley built a practical body puppet that was enhanced with computer graphics.
More than a flesh wound
In the wash-up, Laura herself loses an arm. Until it is sewn back on, the character remains arm-less (well, Laura carries it around with her). But it did mean that Browning's real arm had to be digitally removed, and the actress also had to 'fake' not having the appendage.
"Emily was really great and she was very conscientious of her arm," says Ball. "She had a thing where she liked to tie it behind her back in a way, to sort of ball it up in a fist and fold it behind her back, because for her that just helped her feel a little bit different and feel a little bit crippled."
Browning wore a blue screen sleeve, with the idea being that visual effects artists (from Base FX in China) could then isolate her arm and remove it. They also re-built parts of the frame that the bluescreen sleeve was covering, and added a stump to Laura's shoulder.
The separate arm being carried out was a prosthetic creation that had just enough flex in it to make it feel believable. When Laura manages to find someone to stitch it back on - almost as if it's just a typical clothing repair job - the practical and digital effects work met yet again.
"We had an additional arm performer," explains Ball, "who we could use to just shoot the arm that [sat] on the table. Then there are composites done in the computer where we're combining a real hand with a prosthetic."
There are plenty of films and TV shows with characters missing arms or legs, but, says Ball, the work is never simple. "You hear the horror stories in removing a limb from an actor. One problem was every shot was different -- do you use a prosthetic rubber arm or do you have an actor stand-in off camera so that it's a real arm and it gives you some movement, and then try and tie it all in together with visual effects? We did a bit of everything."
Sign up here for our daily Thrillist email and subscribe here for our YouTube channel to get your fix of the best in food/drink/fun.
Ian Failes is a visual effects and animation journalist. Follow him into the afterlife at @vfxblog.