What the Big 'Coven' Return Means for the Rest of 'American Horror Story: Apocalypse'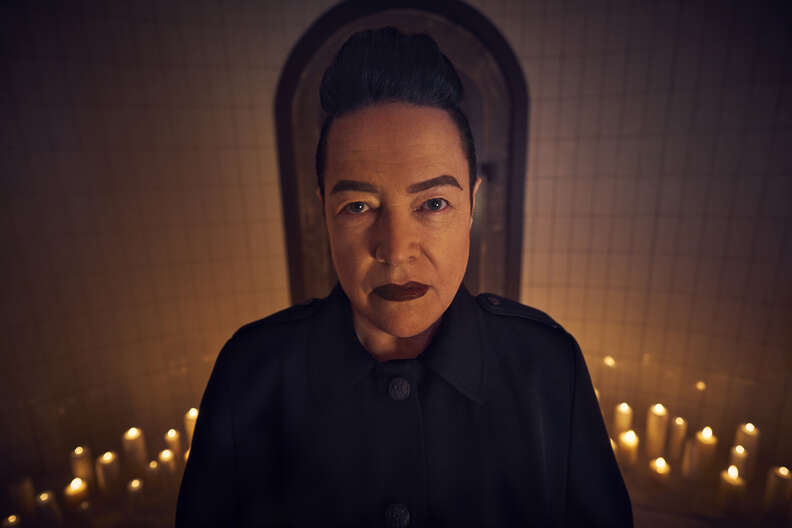 This story contains spoilers for American Horror Story: Apocalypse.
We knew heading into American Horror Story: Apocalypse that the season would serve as a major crossover event for two of the show's previous outings: Murder House and Coven. How, exactly, those two might merge was anyone's guess. In Episode 1 of Apocalypse, we were introduced to a grown-up Michael Langdon (Cody Fern), the Antichrist who was born in Murder House and is now a leader in the Armageddon-orchestrating Cooperative. That draws a direct line between this season and the first, but where would Coven fit in? In the latest episode, "Forbidden Fruit," we finally got an answer when three of the witches from Coven swooped into a post-apocalyptic bunker to revive a number of its inhabitants, who are possibly fellow witches.
Fans have been waiting patiently for the arrival of the Coven gals, so it was nothing short of cathartic and empowering to watch Cordelia Goode (Sarah Paulson), Myrtle Snow (Frances Conroy), and Madison Montgomery (Emma Roberts) strut into Outpost 3, one of the six remaining facilities after the nuclear annihilation of planet Earth. Not only did the witches survive the blast, but they survived with their trademark chic black ensembles in tact. As they swept through the halls of Outpost 3, seemingly impervious to the atomic toxins that made other survivors cancerous leeches, a sense of restoration followed in their wake. We've been waiting for them, and they made an arrival that's hard to forget.
But what brought them to Outpost 3? And why did they wait until now to show up? Let's dig into their arrival, how it fits into the present storyline, and what it means for the future of American Horror Story: Apocalypse.
Michael Langdon has a confusing relationship with the witches.
The Coven trio arrive at Outpost 3 shortly after Michael's twisted plan to kill the bunker's inhabitants has gone into effect. With the help of backstabbing pawn Wilhelmina Venable (Sarah Paulson) -- who is herself soon shot and killed -- Michael and his secondhand robot woman Madame Mead (Kathy Bates) poison the survivors with venom-laced apples at a Halloween celebration. Cue the witches, who return to revive their "sisters," Coco St. Pierre Vanderbilt (Leslie Grossman), Dinah Stevens (Adina Porter), and Mallory (Billie Lourd).
We learn earlier in the episode that both Dinah and Mallory have some sort of magical allure, which could hint at the reason for the witches' return. As Michael tests the inhabitants of Outpost 3 one-on-one, he reveals a past connection to Dinah, who speaks of her own powers. It seems pretty likely that she might be a witch, and he seems to be on good terms with her. But then something curious happens in his meeting with Mallory. She claims she's always felt like there was another person inside of her, trying to claw its way out. When Michael confronts her physically, she's able to make the fire in the fireplace behind them erupt, and blasts him backward. "What are you?" he asks, clearly disturbed by her power -- a power she's also unaware of and unfamiliar with.
In a later scene, Michael is seen convening with the devil in some sort of ceremonial Skype call. He cuts his arm and his blood forms into a pentagram on the ground below. "I thought I destroyed them all, but one survived. I found her. She's here," he says. He's clearly referring to Mallory, but to what extent? His conversation with Dinah seemed to imply that he's comfortable with witches, but what is it about Mallory specifically that rattled him?
Mallory might be another familiar witch in disguise.
When Mallory tells Michael about her power in the earlier interview scene, she hints that something lives inside of her. This could be a metaphor for the woman who's yet to emerge from within, but it could also be literal; what if one of the Coven witches physically resides in her body?
It's very possible that Fiona Goode, mother of Cordelia, has embedded herself in Mallory's person. Last we saw of former Supreme Fiona, she was sentenced to a hellish afterlife with her ax murderer boyfriend. In "Forbidden Fruit," we see the return of Myrtle Snow and Madison Montgomery -- both witches who died in Coven's finale. If the witches are able to see a second life, that means it's very possible Fiona somehow escaped her own personal hell and is living the post-apocalyptic life in the body of another young witch.
The thing that really gives weight to this theory is Madison's line delivery at the end of "Forbidden Fruit." After the coven revives the three Outpost 3 women, Madison gets into Mallory's face and utters her famous line: "Surprise bitch. I bet you thought you'd seen the last of me." The person she first said this to? Fiona Goode.
It seems pretty likely Madison would reserve this specific phrase for the former Supreme who consistently screwed her over. The only other explanation is that Mallory is a relative of hers -- maybe a sister? -- or a former assistant, and this is a catchphrase the witch bestows on any of her underlings or people she loathes.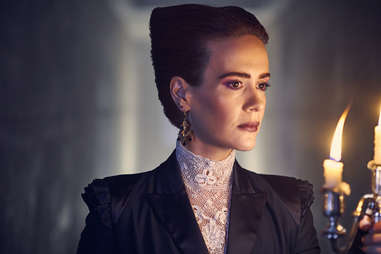 The witches showed up at an opportune time.
It's hard to suss out just yet why the witches came to Outpost 3 at this specific time. Perhaps the deaths of their "sisters" spurred them, or perhaps they were responding to something that we're not yet aware of. Either way, their arrival at this specific moment means we're about to get some answers.
First of all, are the witches in charge of the sanctuary outpost that Michael frequently mentions? We don't know what this outpost contains other than better food and a more "impregnable" location. It's possible the witches are in charge of this outpost, and that's why it's so protected. Or maybe they've been hiding out in their own private quarters, waiting for the perfect moment to descend on Outpost 3 and have their way with Michael.
Either way, they entered the events of Apocalypse at the most opportune time. With most of the survivors now dead, and a select few women revived, we can piece together what this apocalypse means, how it might be resolved, and what the future of the world looks like under the guidance of powerful women defying male power.
But maybe the apocalypse is just a vision.
One popular theory is that the apocalypse we've been privy to is just a vision Cordelia -- as Supreme -- receives, and that every episode until this point is a warning sign of what could happen if the Coven women don't prevent it. According to showrunner Ryan Murphy, things start getting wacky around Episode 5, so it'll be around that time that the reality of Apocalypse starts to crystallize. Is anything real? Is everything fake? One thing is for sure: The coven will play a big role this year, as will the cast of Murder House beyond just Michael Langdon.
But how will all of these things come together? For now, it's anyone's guess. But this being American Horror Story and all, it'll likely be something no one will figure out on their own.
Sign up here for our daily Thrillist email and subscribe here for our YouTube channel to get your fix of the best in food/drink/fun.
Lindsey Romain is a writer and editor living in Chicago. She covers politics for
Teen Vogue
and has also appeared in Vulture, Birth.Movies.Death, and more. Follow her on Twitter @lindseyromain.