All the Crazy Sh*t That Happened When 'American Horror Story' Returned to the Murder House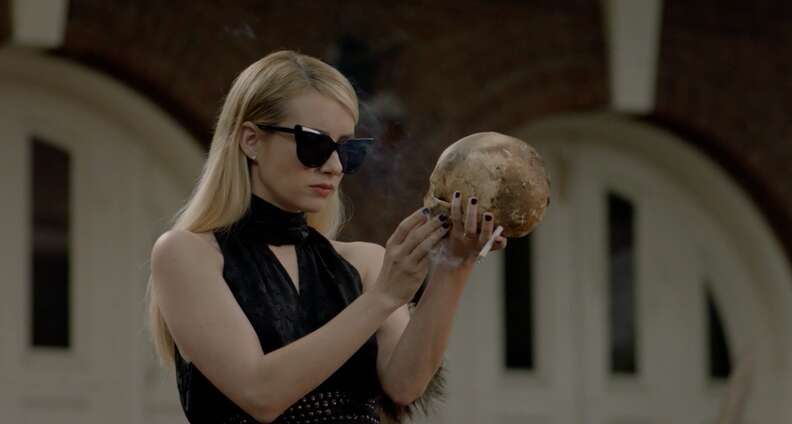 FX
FX
After last week's big tease, we knew American Horror Story was headed back to the Murder House. But it was hard to anticipate just what the return might look like. It's been seven seasons since we first stepped foot in the notorious Los Angeles mansion, home to more than 30 ghosts -- including grungy murderer Tate Langdon (Evan Peters), duplicitous maid Moira O'Hara (Frances Conroy), and the Harmon family (Dylan McDermott, Connie Britton, Taissa Farmiga) -- who still roam its halls, only appearing when they want to be seen. The opening shots of this week's episode, "Return to Murder House," were a welcome punch of nostalgia. It's the place where all of the show's madness started.
But revisiting the Murder House was more than just fan service. (Although there was definitely a lot of that.) It's also the birthplace of Apocalypse's big bad: Michael Langdon, son of Tate and Vivian Harmon. Last week, Cordelia Goode (Sarah Paulson) sent Madison Montgomery (Emma Roberts) on a mission to visit the house and gather information about Michael's upbringing. Warlock Behold Chablis (Billy Porter) invited himself along, too, curious to check out the boy wonder he helped ascend to Supreme status -- and wondering if that was a mistake.
Madison and Behold pose as a married couple and purchase the house, and the episode opens with their arrival. Lucky for us, inside those familiar halls was a bevy of surprises. Let's break down everything we learned in "Return to Murder House."
Constance Langdon is back -- as a ghost.
We knew Jessica Lange would return as Constance Langdon for one episode, but we had no idea how that would play out. It turns out, about as fabulously as you might expect from the undisputed queen of American Horror Story.
After Madison and Behold arrive at the house, they perform a spell to force the ghosts out of hiding. They bump into a few familiar faces (more on that in a bit), then stumble on Billie Dean Howard (Sarah Paulson), a medium and one of the only living people welcome in the house. That's when Constance makes her entrance, descending from the stairs above where Madison, Behold, and Billie are gathered. When Madison asks who she is, she replies: "I'm Constance Langdon and this is my fucking house."
It's an applause-worthy moment, the completely indulgent return of our star, and a reminder of how much better this show is with Lange around. She instantly slips back into the character, who, we learn, is now a ghost whose soul is tethered permanently to the property. A former owner of the house, it's also where three of her four children died -- including a young daughter we meet for the first time, who happens to be missing her eyes -- and so she gets to be with them. "I was always meant to be a mother," she explains to Madison and Behold.
After sending the spell-casters on a wild goose chase to rid the home of Moira, whom she's always despised, Constance promises to tell them more about her grandson, Michael. We also learn that, to avoid his wrath, she killed herself in perfect Constance style: By downing a bottle of Crown Royale, taking a handful of pills, and dancing around the room to a dusty vinyl.
It was excellent to see Constance back in full form, and a delight to have more time with Jessica Lange. Sadly, for the character, her ending was tinged in tragedy... thanks to Michael.
Though it's been hinted at all along, "Return to Murder House" is the first time we learn explicitly that Michael is the Antichrist. Constance relays the story of his adolescence -- how he was fond of murdering small animals as a toddler, before advancing to humans as he grew older -- and how one night he mysteriously aged a decade in his sleep. Convinced his evil was far darker than she could handle, she offed herself in the Murder House before he could kill her himself.
Distraught at the loss of his only family, Michael wound up bonding with an unlikely person: Ben Harmon, husband of his mother, Vivian, and resident Murder House ghost. Even in death, Ben plays the role of psychiatrist, and he comes to view Michael as something of a son -- hoping through the power of love and attention he can dissuade Michael's evil tendencies. This works for a while, until Michael encounters his real father, Tate, who dismisses and yells at the boy, telling him he's not his son. This seems to kick off a new violent streak in Michael, who murders a couple that moves into the house and then obliterates their souls so their ghosts can't linger. Already, his intense powers are on display.
But things get even weirder when we're introduced to Anton LeVay (Carlo Rota), a real-life figure fictionalized for the series. Having faked his death to prepare for the coming Antichrist, Anton and two other Cardinals of the Church of Satan (Kathy Bates and Naomi Grossman) arrive at the Murder House to meet their master. They perform a ritual called the "Black Mass" where Michael eats the heart of an innocent girl, then we see his shadow transform into a winged beast. "Hail Satan!"
The Harmons are still dealing with the same family drama.
We learn a lot about the good side of Michael via Ben, but it's Vivian who informs Madison and Behold of her son's status as Antichrist. Turns out, Michael's also responsible for causing rifts in Ben and Vivian's afterlife marriage. Same as when they were living, things are tense between the Harmons. Vivian just can't forgive Ben for growing close with Michael, and for avoiding her other son -- Michael's twin, who was a stillborn but is now a baby ghost in the house -- in the process.
Meanwhile, their moody daughter Violet is still very, very moody. She's avoiding Tate, her ghost boyfriend (and also her mother's rapist), who's desperately trying to regain her approval. Her sulking involves a lot of crying in corners and lingering in the shadows. Looks like death didn't do much to alter the fabric of the Harmon family.
It was still full of happy endings.
Despite the tragedy of what became of Michael, "Return to Murder House" felt like a lovely goodbye to the famous location and the ghosts who dwell there. Constance gets to live with her children forever. Moira's bones are taken offsite and buried with her mother, and we see the two reunite in a cemetery. And Madison helps mend Violet's complicated feelings for Tate, reminding her that he was a victim of the house's evil, and that the terrible things he did were because he was under its spell.
The episode closes with Madison and Behold leaving the house, equipped with all the knowledge they need about Michael, while Violet and Tate embrace in an upstairs window. Since when is American Horror Story ever this pleasant?
Is that the last we'll see of the house?
"Return to Murder House" definitely felt like an epilogue to the Murder House plot, so there's a good chance we won't return to it. On the other hand, we have no idea what will happen to it or its inhabitants after the world ends. (This episode takes place in the pre-apocalypse timeline.) Does the Murder House become one of the Cooperative's bunkers? Is it destroyed, and the ghosts finally freed? It's hard to say; American Horror Story is almost impossible to predict. But given the show's frequent visits to its favorite mansion, we'll never fully give up hope that we'll go back again someday.
Sign up here for our daily Thrillist email and subscribe here for our YouTube channel to get your fix of the best in food/drink/fun.
Lindsey Romain is a writer and editor living in Austin. She covers politics for Teen Vogue and has also appeared in Vulture, Birth.Movies.Death, and more. Follow her on Twitter @lindseyromain.