Why Michael Langdon Is 'American Horror Story: Apocalypse's Scariest Character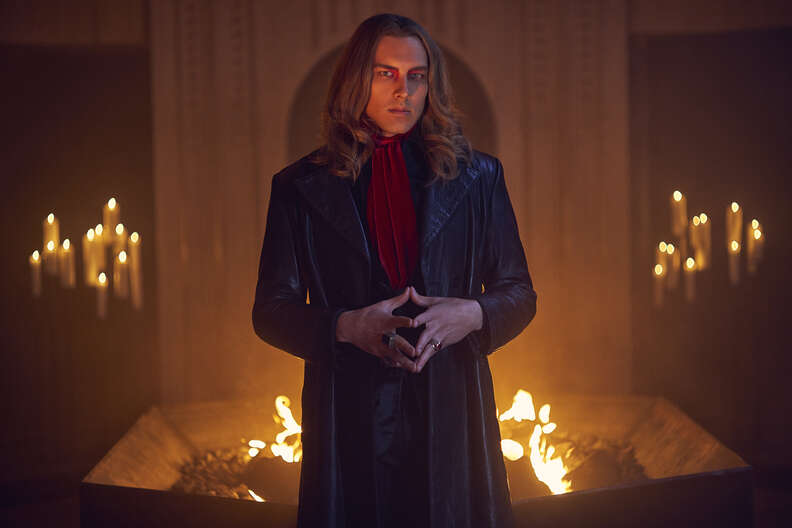 FX
FX
Michael Langdon rides through the night in a blackened horse-drawn carriage. The world is in ashes after ballistic missiles launched atomic bombs into every major city on earth. Nuclear winter has arrived. Mankind has fallen.
Or rather, mankind is entering the next stage of evolution. That's what Wilhelmina Venable explains to the select survivors, who -- by virtue of superior genetics or a $100 million ticket -- now live in one of six underground outposts.
Venable oversees Outpost 3, an ornate, Gothic bunker several stories underground and the main stage for American Horror Story: Apocalypse, the eighth season of Ryan Murphy's popular horror series. There, survivors are treated like prisoners, tortured with repetitious music, cannibalism, and sadistic beatings. Things carry on this way until, 18 months after Armageddon, Michael Langdon arrives at their door. He looks like something out of a vampiric Y.A. novel. He tells Venable there is another, stronger outpost out there -- a "sanctuary" -- and he's come to find out who in Outpost 3 is worthy of a transfer.
Who is this mysterious figure, and why is he treated with such esteem? This isn't the first time we've seen Michael Langdon on American Horror Story. In fact, he's been a key part of the show since the first season, Murder House. Here's a refresher course on Michael Langdon, including here he came from, why he's significant, and the role he'll play in Apocalypse.
Michael Langdon is the son of Tate Langdon and Vivien Harmon.
Murder House takes place in a uniquely macabre Victorian mansion in Los Angeles. The Harmon family moves there from Boston after their patriarch, Ben, had an affair, and his wife, Vivien, a miscarriage. In the very first episode of American Horror Story, Vivien has sex with a man in a black rubber suit she believes to be Ben, but who we later learn is Tate Langdon in disguise.
Tate Langdon is the ghost of a teenager who in 1994 murdered a handful of his classmates in a school shooting, before a SWAT team killed him in his home, the titular Murder House. His spirit is now trapped in the house with several others, whom Tate befriends. One of them is Nora Montgomery, whose baby son was murdered in the 1920s, and who later committed suicide in the house. Tate promises Nora he'll give her a baby, so he rapes Vivien. The conception produces twins.
Vivien, unaware that she's carrying the children of a ghost, has a rough pregnancy. Ben eventually has her committed to a psych ward, believing her anxiety about the house to be a mental disturbance. She returns to the house and dies giving birth to the twins, one of whom is a stillborn. The other is Michael Langdon.
Michael Langdon is the Antichrist.
Tate's mother, Constance, lives next door to the Murder House, and remains obsessed with the home where she once lived, and where her many dead children now reside in the afterlife. After learning Tate impregnated Vivien, she grows concerned and consults her friend Bille Dean Howard, a powerful medium with ties to the occult. Constance asks what it means when a ghost produces a child with a human, and Billie tells her a story about the "Pope's Box," a locked box given to the new pope that contains the secrets of the apocalypse.
The box's contents reveal that the Antichrist will be the result of copulation between a human and spirit. Constance realizes, with horror, that her grandchild is that very child. "A child born of human and spirits will usher in the end of times," in other words.
After Vivien and the rest of the Harmons die, Constance is left to raise the surviving child on her own. Murder House ends with Constance looking into the eyes of her now-toddler grandson and realizing what he'll become.
Who plays Michael Langdon on American Horror Story: Apocalypse?
Michael Langdon is portrayed by Cody Fern, a veteran of Ryan Murphy series American Crime Story, having played David Madson in the Gianni Versace edition of that show. You may also recognize him for his work as Duncan Shepherd in Netflix's House of Cards, though Michael Langdon may just be the role that earns him widespread recognition.
The Antichrist is the main villain of Apocalypse.
We learn in the first episode of Apocalypse that the nuclear bombs were dropped by an organization called the Cooperative, which wanted to destroy mankind on purpose. When Michael arrives at Outpost 3, he flashes a badge that reveals he's a member of the Cooperative, possibly the leader. His arrival should mean that more answers are soon to come, most importantly: What are his motives? What is his association with the coven? (Apocalypsewas promoted as a Murder House/Coven crossover season.) What will Earth look like after Armageddon? And where the hell is Constance?
We know Jessica Lange will return for one episode this season, reprising her Murder House role. Perhaps her return will be a flashback, or maybe we'll learn she's also a member of the Cooperative, and lives in the sanctuary outpost Michael talks about.
As for Michael, there are more clues hidden in the trailer for Apocalypse, like his ability to summon snow (or is that ash?) and Kathy Bates' "Hail Satan!" proclamation in his presence.
We also know that the Murder House will be seen again this season. Was it left standing post-apocalypse, or will these also be flashback looks at the place of Michael's conception? It's hard to say just yet, but it'd be fun to see him interact with his parents, who are stuck forever in the confines of the house. (Mostly, we just want to see Michael and Vivien trade hair-styling tidbits.)
No matter what's to come, American Horror Story: Apocalypse is already off to a spooky, fascinating, and meticulously stylized start.
Sign up here for our daily Thrillist email and subscribe here for our YouTube channel to get your fix of the best in food/drink/fun.
Lindsey Romain is a writer and editor living in Chicago. She covers politics for
Teen Vogue
and has also appeared in Vulture, Birth.Movies.Death, and more. Follow her on Twitter @lindseyromain.