How Every Season of 'American Horror Story' Is Connected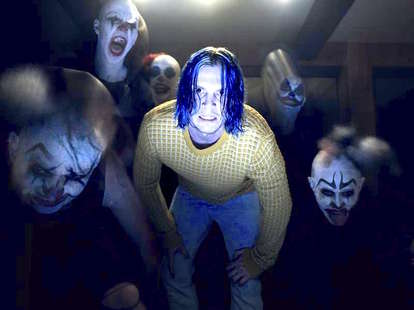 This story contains spoilers for all seasons of FX's American Horror Story.
Ryan Murphy and Brad Falchuk's hit anthology series, American Horror Story, is re-entering the stratosphere this week with an election- and clown-themed marketing campaign and a new subhead: Cult. The show, famous for its complete and utter lack of subtlety, is sure to bring an all-new set of explosive moments and shocking imagery to Season 7 – how could it not, with Trump and trypophobia on the menu?
Another thing it's sure to bring? Callbacks to previous seasons. Murphy has long hinted that the seasons are connected, and in the last few years has gotten pretty obvious about it. Characters from different seasons pop up in new ones, references are made to other crossovers, and last names offer clues to less surface-level connections. We know for sure that Freak Show's creepy clown Twisty will pop up in Cult -- Murphy confirmed as much on his Instagram -- and after the connections-heavy Roanoke last year, it's possible we'll get even more major collisions.
Need a refresher on all of the ways the previous seasons are connected? Here's a look back at re-appearing characters, places, and faces.
Lana Winters
Sarah Paulson has appeared in every season of American Horror Story, but her most iconic character remains Lana Winters, an investigative journalist who got trapped in Briarcliff Manor in Asylum while on assignment. Lana eventually escapes, only to pop up in the Roanoke finale as a Barbara Walters type interviewing Lee Harris. Paulson played double (actually, more like triple) duty in Roanoke, also appearing as an actress named Audrey Tindall who plays the re-enactment of Shelby Miller in the reality show My Roanoke Nightmare.
Billie Dean Howard
Roanoke wasn't the first time Paulson played more than one character in a singular season. In Hotel, she reprised her Murder House role of Billie Dean Howard while also playing the hotel's resident ghostly drug addict Hypodermic Sally. If you recall, Billie showed up briefly in Murder House as Constance's psychic pal. In Hotel, she returned, this time as the star of a psychic reality show.
Scáthach
In Roanoke, Lady Gaga plays the mysterious woods witch Scáthach, a terrifying sexual being who participates in colonial sacrifices and later torments the reality TV crew. Murphy has confirmed that Scáthach is the original Supreme, an all-powerful witch who we first learned about in Coven. He also confirmed that the Coven witches will reappear in a future season, and that we'll see more of Scáthach then.
The Motts
Freak Show gave us one of AHS's most bizarro villains, a petulant man-child-turned-serial-killer named Dandy Mott, son of the creepy but fabulous Gloria Mott. In Roanoke, we learn of a character named Edward Phillipe Mott, who built the house that much of the season is set in. Prior to Roanoke's premiere, Murphy teased that we'd learn more about Dandy's family, which seems to confirm that he's a descendent of Edward Phillipe.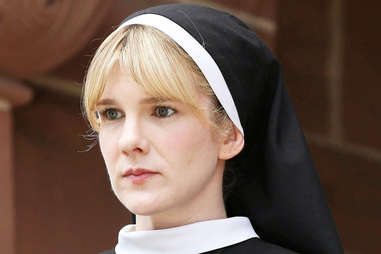 Pepper and Sister Mary Eunice
The microcephalic Pepper was the first blatant example of American Horror Story crossovers, appearing first in Asylum and then in Freak Show, with the events of the latter leading directly into the events of the former. Pepper is taken to Briarcliff in Freak Show by Lily Rabe's Sister Mary Eunice, who also appears in both seasons.
Dr. Arden
Another character who shows up in both Asylum and Freak Show? The evil Dr. Arthur Arden. Briarcliff's doctor was formerly known as Dr. Hans Grüper, a Josef Mengele-esque Nazi who experimented on and tortured captive Jews, and eventually ran concentration camps. One of his victims was Elsa Mars, whose legs he cruelly amputated while filming a smut film in Germany. He eventually winds up at Briarcliff's tuberculosis ward, and stays on when the building becomes an asylum, continuing his experiments.
The Montgomerys
This one hasn't been confirmed, but is anything on AHS a coincidence? In Coven, Emma Roberts plays the bitchy, drug-addicted actress Madison Montgomery. In Murder House, we meet a doctor named Charles Montgomery, who performed illegal abortions for women in Los Angeles. Charles also pops up in Hotel, and attempts an abortion on Lady Gaga's Countess, which fails. Are Charles and Madison related? Both hail from LA and are relatively sadistic, so we'd bet on it.
Queenie
Coven's Queenie makes her re-appearance in Hotel, after coming to LA to appear on The Price is Right. She dies there, which seems like Queenie's end. But given Coven's probable return, perhaps Queenie -- who died and was resurrected during that season -- will show her face again.
Marcy
Real estate agent Marcy first appeared in Murder House, where she sold the titular mansion to the Harmon family. We see her again in Hotel, this time peddling another cursed property to an unsuspecting client. She's killed by Rudy and Natacha, which seems like cosmic payback for the Harmons and William Drake, all of whom die in the buildings she sold them.
Detective Jack Colquitt
There are two different Detective Jack Colquitts in AHS, played by two different actors, appearing in two very different timelines. The first one -- played by Geoffrey Rivas -- shows up in Murder House, investigating the disappearance of Sally Freeman. The second -- played by P.J. Marshall -- appears frequently throughout Freak Show, as a source of frustration for the freaks. It's possible the two characters are related, but it's even more likely that this is a somewhat obscure reference to The X-Files. On that show, the Cigarette Smoking Man wrote a novel whose main character is named Jack Colquitt. James Wong, an American Horror Story producer, directed that episode of The X-Files, and has used the name in other projects of his.
Massachusetts and Florida
Both states get referenced in ways that are probably not accidents. In Murder House, Vivine Harmon mentions that she has family in Florida, which is where Freak Show takes place. Massachusetts gets even more in-universe exposure, with references in almost every season. The Harmons are from Boston, Briarcliff Manor is in the state, the Salem Witch Trials are a key part of Coven, and Hotel's James March has a Boston accent.
Sign up here for our daily Thrillist email and subscribe here for our YouTube channel to get your fix of the best in food/drink/fun.
Lindsey Romain is a writer and editor living in Chicago. She covers politics for
Teen Vogue
and has also appeared in
Vulture
, Birth.Movies.Death, and more. Follow her on Twitter @lindseyromain.