The Judgment House From 'American Horror Story: Cult' Exists in Real Life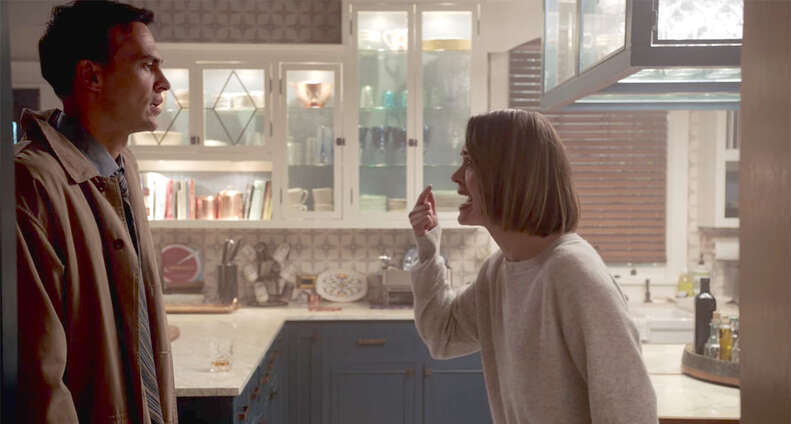 This story contains spoilers for American Horror Story: Cult Episode 8.
The latest episode of American Horror Story: Cult, "The Winter of Our Discontent," had a lot of freaky stuff going on, from a bizarre All-4-One-scored bedding ritual to fratricide to Ally Mayfair-Richards (Sarah Paulson) finally joining the cult. But nothing was so downright terrifying as an early episode flashback that saw a younger Kai and Winter visiting something called "Judgment House," a deranged haunted house run by a man named Pastor Charles that contained the real bodies of tormented "sinners."
The Anderson siblings find Judgment House on the dark web. They're invited by Pastor Charles himself, and at first the siblings believe the house is populated with actors. But after smelling blood on a victim in the first room they enter -- a mockery of an abortion clinic -- they realize they're in a real-life house of horrors, and that Pastor Charles is far more sinister than they could have imagined.
Does Judgment House sound like an invented, over-the-top nightmare designed to spice up a fictional show? It isn't: Judgment House shares a name and basic concept with a real-world series of haunted houses run by evangelical churches throughout the United States. While the actual versions aren't full of dead or tortured bodies, they do have a similar, bizarre function -- to scare people "for the sake of heaven."
"Hell houses" have been around for a while
The Judgment House in AHS falls into a category of horror experiences called "hell houses," which usually spring up around Halloween. Televangelist Jerry Falwell is credited with popularizing the concept of hell houses back in the 1970s, when his Liberty University in Virginia started putting on a "Scaremare" to bring religion back to a faithless holiday. The concept of the hell houses, designed to confront people with Christian concepts of eternal salvation or damnation after death, spread from there. Like haunted houses, anyone can create a hell house with unique variations; some entrepreneurial Christians, however, have turned the concept into serious moneymaking businesses.
According to The Guardian, one house, Dark Rail, near Dallas, has been around for more than 25 years. But one of the biggest nationwide enterprises, Judgement House (sic), began in Clearwater, Florida in 1983, and now licenses its name and scripts to churches around the country.
What exactly is Judgement House?
According to its official website, Judgement House is "a walk-through drama that presents the truth of people's choices versus the consequences of those decisions both in this life and the next." Though they vary by location, every Judgement House starts with a depiction of death, then lets people choose the next path: heaven for believers, hell for everyone else. As with AHS, the rooms contain depictions of all manners of sin -- drug abuse, pre-marital sex, playing with tarot cards -- and forces the actors who participate in these sins into hell, where they suffer terribly for refuting Christ.
The purpose of Judgement House? To save souls by literally scaring people into believing. It may sound drastic, but it appears to be paying off, with the Washington Post reporting that the popularity of the houses is on the rise. Churches pay as much as $15,000 to put on the lavish, hellish productions; one church in Philadelphia had roughly 1,4000 attendees last year, and there are more than 120 official Judgement Houses throughout the country.
Churches that want to be Judgement House locations purchase scripts from the Florida-based ministry. There are over two dozen to choose from, all focusing on ordinary people "forced to face a reckoning," and all intended to be used as an alternative to Halloween's secular haunted houses.
They may be popular, but they're also super controversial
Judgement House shies away from the direct social issues that have gotten other hell houses into trouble. One of those issues is homophobia; in 2006, the National Gay and Lesbian Task Force Policy institute released a report that criticized hell houses for "demonizing" LGBT youth. The houses have also faced the heat for their gruesome depictions of abortion, suicide, and drug use.
Even some devout Christians have issues with the houses, as they paint God as unmerciful and cruel. Russell Moore, president of the Ethics & Religious Liberty Commission of the Southern Baptist Convention, wrote a post on his website calling out Judgement Houses for "[abstracting] judgment from the love and glory of God."
On YouTube, you can find videos like the ones above that show how hell houses essentially bully visitors into believing -- another controversial way of depicting gospel.
But let's be clear: American Horror Story's version is pure fiction
Judgement Houses may be strange and intense, but they don't actually inflict bodily harm on anyone. In AHS: Cult, Pastor Charles is a straight-up murderer, and not a particularly smart one: as Kai and Winter discover, the people he's trapped and tortured aren't even guilty of the sins he punished them for.
Still, it's hard to blame the show for conflating real-life hell houses with its own fictional version. For a series that relishes in horror found in the nooks and crannies of Americana, Judgement House is too strange a reality to pass up.
Sign up here for our daily Thrillist email and subscribe here for our YouTube channel to get your fix of the best in food/drink/fun.
Lindsey Romain is a writer and editor living in Chicago. She covers politics for
Teen Vogue
and has also appeared in Vulture, Birth.Movies.Death, and more. Follow her on Twitter @lindseyromain.