'American Horror Story' Title, Teaser, and Evan Peters's Role, All Revealed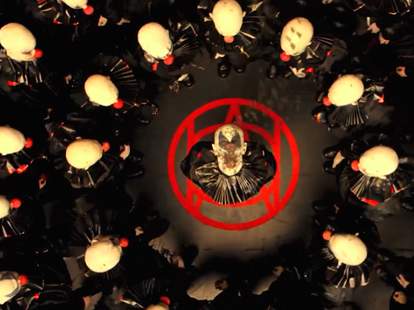 For the sixth season of his horror-movie-remixing FX series American Horror Story, creator Ryan Murphy held every detail close to the chest, going so far as to release a series of fake trailers in order to throw dedicated audiences off the track of the new "theme." (Fans debate whether American Horror Story: Roanoke was worth the wait, but that's neither here nor there.)
Murphy isn't acting so tight-lipped over the new season. Almost immediately after the 2016 Presidential election, the writer dropped news that the season would somehow tie back to the political brouhaha, through inspiration or direct reference. No one knows exactly what he means by that -- here's everything we know about Season 7 the season so far -- but thanks to a major play at this year's San Diego Comic-Con, we now know the theme/title of the incoming season:
American Horror Story: Cult
Murphy dropped the theme with a boatload of other goodies for fans. First and foremost was this teaser trailer, which introduces yet another set of freaky clowns to the AHS universe. In the brief clip, the pack of bald headed hooligans appear to be worshipping the Jim Jones of harlequins, who also as the ability to summon a swarm of bees from his mouth.
Leading up to the reveal, Murphy teased a big scene from the season in which some unlucky actor would be covered head to toe with bees, but it's unclear how or why our new clown friend spits the stinging insect. Is there connective tissue to a past season? The only other big AHS moment involving bees was back in Coven, when fundamental Christian Joan Ramsey murdered her adulterous husband by filling his car with bees. If there's a political connection to Cult, perhaps the is the right-wing weapon of choice? Or it's just a great reference to The Wicker Man remake.
The teaser also reveals, albeit for a split-second, the presence of a woman sans makeup swaying among the clowny cultists. Who is it? Not Lena Dunham, who recently joined the cast, nor does it appear to be any of the AHS regulars. The more important detail is that she exists at all; someone may be infiltrating the cult this season, which should, uh… end poorly.
FX
After unveiling the Season 7 title, Murphy took to Twitter to revel in the excitement and answer a few fan questions. In various, the creator detailed that Cult would be 11 episodes long see the return of Frances Conroy and Mare Winngham ("and others," he added mysteriously), and take place in Michigan -- the state that many believe cost Hillary Clinton the election. Probably not a coincidence.
Responding to a fan begging for more Evan Peters, Murphy tweeted back, "And more Evan you will get. This is his heaviest season yet." In continued tweets, it was revealed that Peters would play a character named "Kai" while Sarah Paulson would assume the role of "Ally."
What does it all mean?!?!? That's something Murphy didn't disclose, and we'll likely only find out when American Horror Story: Cult premieres on September 5.
Sign up here for our daily Thrillist email and subscribe here for our YouTube channel to get your fix of the best in food/drink/fun.
Matt Patches is the Executive Entertainment Editor of Thrillist. He previously wrote for Grantland, Esquire.com, and Vulture. Find him on Twitter @misterpatches.