The True Story of the Woman Who Inspired the 'AHS: Cult' Serial Killer Storyline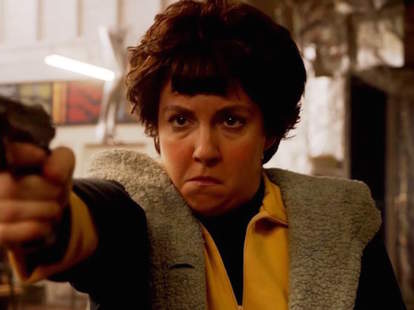 Let's get one thing out of the way: No, Valerie Solanas was not the Zodiac killer. Not that we know of, anyway. On last night's episode of American Horror Story: Cult, Lena Dunham played Solanas, the woman who -- unfortunately for her -- is famous for attempting to assassinate pop artist Andy Warhol in the 1960s. The show devised an invented history for Solanas that included her leading a cult of fellow radical feminists so riled up by inequality that they start murdering people in the Bay Area.
The real-life Solanas was not a cult leader, but rather a paranoid schizophrenic who spent much of her post-Warhol life in jail and psychiatric hospitals. But her life and legacy are even more interesting than the fiction we saw depicted, and may serve as a possible springboard for the rest of AHS: Cult. Here's the real-life story of Valerie Solanas, a tragic feminist icon who remains influential to this day.
As American Horror Story depicted, Solanas was abused growing up
Valerie Solanas was born and raised in New Jersey, and from a very early age was sexually abused by her biological father. Her parents divorced when she was very young and her mother remarried a man with whom Solanas had a very tempestuous relationship. She was sent to live with her grandparents, and suffered more abuse at the hands of her grandfather, a violent alcoholic.
Solanas was homeless by 15, a mother by 17 (her son, David, was adopted shortly after his birth), and a prostitute by the time she graduated high school. She moved to New York in the 1960s and wrote extensively about her own life, including a play titled Up Your Ass (mentioned in the episode), based on her experiences as a prostitute.
Solanas wanted Warhol to read her work
Solanas met Andy Warhol in 1967 outside of his studio, The Factory, the tinfoil-lined insides of which were meticulously recreated for American Horror Story. She gave Warhol a copy of Up Your Ass and asked him to produce it. He agreed to read it, but later lost it, which would prove a grievous mistake. Still, he temporarily alleviated Solanas' woes about the lost manuscript by paying her $25 to appear in his film, I, A Man. She agreed to the part, and also had a small role in Warhol's other 1967 film, Bikeboy.
But Solanas was still obsessed with getting her play produced, to the point that she grew violent. She visited Margo Feiden, a New York-based producer, in June of 1968 to convince her to make Up Your Ass, but Feiden refused. Solanas then showed Feiden a recently purchased gun and declared her intention to shoot Warhol. "Yes, you will produce the play, because I'll shoot Andy Warhol and that will make me famous and the play famous, and then you'll produce it," Solanas allegedly said, before leaving Feiden's office.
Feiden contacted authorities, but they did nothing. The next day, on June 4, Solanas arrived at The Factory and shot at Warhol three times, missing the first two times but hitting him on the third. She also shot art critic Mario Amaya in the hip and tried to shoot Warhol's manager, Fred Hughes, but the gun jammed. She exited The Factory, and later that day turned herself into authorities. Warhol survived the attempted murder after a five-hour surgery.
FX
Remaining years and legacy
The rest of Solanas's life diverged greatly from that of her AHS: Cult character, who's portrayed as a mad genius masterminding the Zodiac killings. Instead of fleeing to San Francisco to lead a radical feminist cult inspired by her own SCUM Manifesto -- a 1967 self-published manifesto that blames men for ruining the world -- she was institutionalized and eventually served a year in prison for her murder attempt. In 1971, she stalked Warhol and was arrested for it, and spent the rest of her life homeless and in obscurity.
There isn't too much known or written about Solanas in the years between her arrest and death in 1988, but her weak mental state makes her an unlikely Zodiac candidate. She did, however, become a cult figure of her own right, her radicalism inspiring a number of books, plays, and films, most notably 1996's I Shot Andy Warhol, directed by Mary Harron and starring Lili Taylor.
How Solanas's story might inspire the rest of AHS: Cult
We learn by episode's end that the girls of Kai's cult -- Beverly, Winter, and Ivy -- are being fed Valerie's story by a supposed former flame (played by an always-wonderful Frances Conroy) who wants them to retaliate against their leader. We also learn that this is a ploy set up by Kai, who is in full cult-leader mode at this point, with his home populated by uniformed henchmen. Who knows what he has brewing, but the show seems intent on forging the similarities between Valerie and Beverly Hope, who's increasingly wary of Kai's loose philosophies.
Will Beverly successfully murder the villainous Kai, succeeding in ways Valerie couldn't? It's hard to say, but though Kai seems to be manufacturing his group's discomfort, we probably shouldn't underestimate the power of women motivated by anger.
Sign up here for our daily Thrillist email and subscribe here for our YouTube channel to get your fix of the best in food/drink/fun.
Lindsey Romain is a writer and editor living in Chicago. She covers politics for Teen Vogue and has also appeared in Vulture, Birth.Movies.Death, and more. Follow her on Twitter @lindseyromain.