This post contains spoilers through the eighth episode of American Horror Story: Roanoke.
Lee, the "non-actor" character and original My Roanoke Nightmare survivor played by Adina Porter on American Horror Story, was the glue that held last night's bloody "Chapter 8" together. She was present for every revelation, and had a hand in two of the biggest kills. If it weren't for her, not much would have happened in this non-event of an episode that largely made it seem like the series was just biding time and knocking off characters to get to "Chapter 9."
She was last night's hero, in a twisted sort of way, one you should pay extra special attention to moving forward. Here's why:
Recommended Video
Huge Hollywood F#@k-Ups You Totally Missed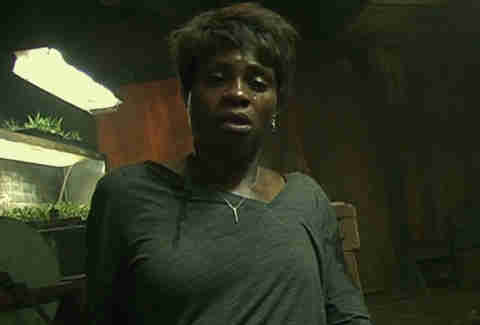 She made a questionable confession...
At the top of "Chapter 8," viewers found Lee in the same compromising situation she was in last week: tied to a chair in the Polk grow house, down a few layers of leg skin. Things weren't looking good, as the youngest and most impressionable Polk, Jether (Finn Wittrock), stepped up to stand guard. Lee took the opportunity to send one last message to her daughter, Flora, via phone video:
"You've heard many things about me this past year, so I want to tell you the truth," she told the camera. "I killed Daddy. That's on me. And me alone. No one else helped me -- it's nobody's fault, except mine. He was gonna take you away from me, and I couldn't see my life going forward that way. I don't know if one day you'll forgive me, I just want you to go on without the weight of lies and doubt." 
...before killing a Polk
Not long after dropping the Mason bombshell, Lee exploited Jether's naïveté through seduction. "I like you," she said, as he loosened her restraints. The former cop quickly capitalized on Jether's weakness by putting him in a chokehold, stabbing him, and escaping to find Audrey (Sarah Paulson). It was a ruthless move that showed adept use of psychological manipulation -- one that has to make you wonder: was her confession in the previous scene real? Or was it just a genius part of her plan to hoodwink Jether?
She helped us get lots of delicious Polk info
The scenes Lee shared with Jether and his mother were pivotal for a few reasons. When she tried to tell the former that normal humans don't eat people, viewers saw, in his hesitance, how suggestible he could be. But also: (1) the line gave Mama Polk a reason to finally tell her family's cannibalistic backstory, which dates all the way back to the Great Depression and involved punishing a group of thieving hobos by eating them; and (2) Lee's reaction to the story -- "They have the death penalty in North Carolina, you're all gonna die when they catch you" -- enabled Mama to explain why the cops never mess with the Polks: the family pays them handsomely.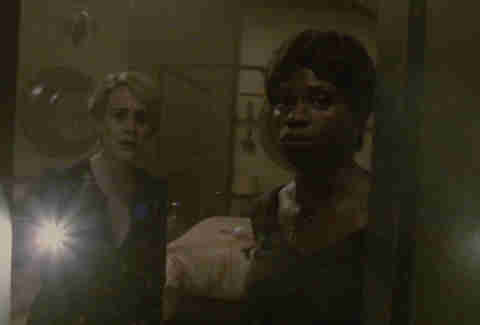 She effectively killed Dominic
When Audrey and Lee returned to the main house, the latter was shocked to find her brother (André Holland) Negan-ed to death. She told Dominic (Cuba Gooding Jr.) the equivalent of "pics or lyin'" as he tried to explain that the real Shelby (Lily Rabe) was the culprit. Despite Dominic's attempts to stay united as a team, Lee kicked him outside of the master bedroom (which oddly appears to be some sort of safe space?) and into the ghoul-infested hallway. "You have to open the door," Audrey told Lee, after she slammed and locked the door. "There was something out there -- I saw it!" "It's his fault they're all dead," Lee replied, consumed by her anger and heartbreak. By hanging Dominic out to dry, she effectively ended his chances of getting that spinoff and showed us exactly how she feels about the whole team thing.
What will happen if she lives or dies?
Lee, down an ear and nursing a mangled leg, enters "Chapter 9" as one of the few remaining survivors. The chyron from Episode 6 made it clear that there can only be one by the end -- if all of this isn't an elaborate hoax staged by a not-really-dead Sidney, that is. Lee seems like one of the better bets to make it to the end: she has a lot to live for (mainly her daughter), and she also probably wants to clear her name to overcome the shame fans of My Roanoke Nightmare inflicted upon her because of her addiction and because of the dubious Flora drama.
If Lee does make it out alive, we could be in store for an intense "Chapter 10." "We are figuring out, Okay, who's the one person who's going to make it out alive? And, What are they going to do to do payback against a network that put them all in a situation where they all are going to be killed?" series skipper Ryan Murphy told E! Online a couple weeks ago. "You cannot trust [Matt, Shelby, and Lee]. What they said and what they explained in their version of [My Roanoke Nightmare] is not actually the truth." What are Lee's real motives for coming back to the house, and what is she trying to accomplish? Her end goal could involve exacting revenge on the sleazy execs who approved Roanoke in the first place -- after all, the docu-series tarnished her image, and led to the death of her brother and sister-in-law.
Lee's tactics to ensure her own survival, as outlined above, have been ruthless. She's the kind of character who, if you're Audrey, you want on your side. But she's the kind of character who, if you give her reason to doubt you, like Dominic, you want to fear. She's a combat-trained former police officer. She knows how to break people down with mind games. She has the unreliable but likable qualities of a complex antihero.
Even if Lee dies in the next couple weeks, that might set up a tragic reason for the real Flora to surface. Right now, one thing's clear: Porter's character is the real driving force and mystery of the show, holding it together and keeping it exciting until Ryan Murphy's final twist in "Chapter 10." As the season winds down, she, dead or alive, might reveal herself not only to be the MVP of Episode 8, but the MVP of the entire season.
Sign up here for our daily Thrillist email, and get your fix of the best in food/drink/fun.