7 Ways the 'American Horror Story' Twist Could Play Out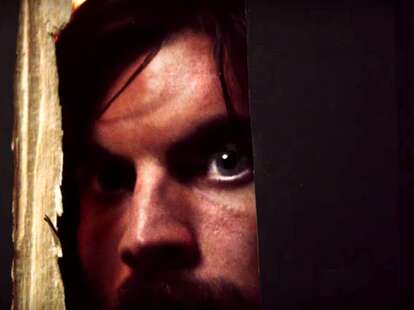 "Chapter 5" of American Horror Story felt like a swift slice from the The Butcher's cleaver. The gory installment saw Matt (Cuba Gooding Jr.) and Shelby's (Sarah Paulson) escape, the introduction of Evan Peters' character, and, most importantly, the setup for Ryan Murphy and Brad Falchuk's first monster twist of the season: a complete inversion of the format.
Alongside the end credits, a teaser clip for next week showed the camera crew, led by AHS alum Cheyenne Jackson, breaking the talking-heads documentary form and hurrying to capture what sounded like contentious footage:
Over the course of the next three weeks, Murphy and Co. will likely steer AHS into meta-mindfuck territory. The co-creator told Entertainment Weekly last month that there will be a "huge turn and the thing that you think you're watching is not what you're watching." Here's a look at what that huge turn could entail, given what we've seen so far on My Roanoke Nightmare:
1. Will ghost hunters take on The Butcher?
The promo above shows Jackson and his posse storming into a room, on a mission, visibly pumped. "We rolling?" he says to his camera operator. "No matter what anybody says, even if I tell you to stop, you keep rolling, got it?" It's unclear what kind of doc crew this is -- just that they're confrontational. Maybe, like Elias back in the day, these people are ghost hunters investigating the house and its victims, or the original documentary crew going for more... confrontational footage (which would validate theories that Jackson was the disembodied interviewer voice we've heard all season).
What's interesting about the clip is the location -- it's not Mott manor; it seems more like an office space. Maybe Jackson's planning on ambushing My Roanoke Nightmare executives. Or maybe his target is one of the "real" characters -- Matt (André Holland), Shelby (Lily Rabe), or Lee (Adina Porter) -- or the real estate agent who lists the house. Will the real Matt and Shelby guide the team back to the land of the Lost Colony so they can grab legit footage? Will Jackson bring his reenactment team with him, so the entire cast can assemble in one place?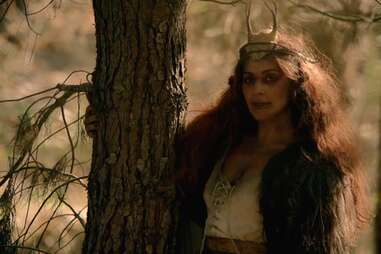 2. New ghosts, new actors
If the real Matt and Shelby required reenactors to tell their story, that should mean the same for the ghosts we saw on My Roanoke Nightmare, right? In other words, if we do in fact return to the house, Lady Gaga's wood witch might be played by a different AHS actor -- same with Edward Mott and The Butcher. Meaning we might not see Peters as Mott again (out-there theory: AHS staples Jessica Lange, Finn Wittrock, and Matt Bomer surprise us by replacing them). The good news is that Peters, Gaga, and Bates could all return if their characters join the film crew back at the Roanoke site -- or in other roles completely. It wouldn't be the first time one of this saga's actors played two characters in the same season.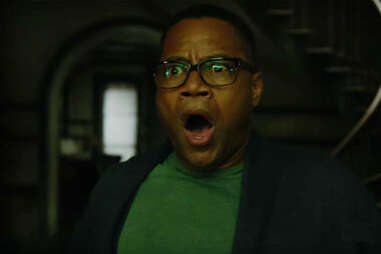 3. Are the Millers the new Polks?
Some fans have speculated that the Millers might still be alive because they are the ones who have a deal with the Butcher. If Matt and Shelby were her new proxies, that would mean they'd be helping the evil spirit trap a fresh batch of victims at the house. One big implication: unreliable narrators. Everything Matt and Shelby have told the cameras -- everything we've seen reenacted -- could be a lie to entice an opportunistic crew to stumble upon inevitable death. If this crew really is a team of ghost hunters, be scared for them. Very scared.
4. Remember "Murder House"?
How could you forget? So far, each episode of Roanoke has winked at a prior season (last night, Peters ripped through his sheets, Hotel-style). Many viewers, this one included, have wondered what the heck that means for Episode 6. A reset? A massive crossover of sorts? A popular theory online mentions a return to Murder House:
5. Is the witch having another baby? What happened to the feral kids?
Lot Polk (Chaz Bono) had a noteworthy moment last night. He yelled at Matt and Shelby because they turned in his babies, the feral duo found suckling the sow. Right, those two! Where they've been and what they've been up to could very well inform the direction of the season's back half. Consider this: there aren't any women in the Polk family, aside from Frances Conroy's mother character. So who gave birth to the twins? We're guessing Lady Gaga's witch. We're hung up on our Antichrist theory; if what Matt told the cameras was true, and he really did have sex multiple times with her, maybe there's an evil surprise waiting for us back in the forest.
6. Will we ever get "MURDE" closure?
Remember the big M-U-R-D-E that's supposedly spray-painted on the wall of Mott manor? It would be nice if we got to see the killer nurse sisters catch their final victim -- perhaps an unlucky soul from the camera crew whose name starts with the letter 'R'? We still don't know the name of Cheyenne Jackson's character...
7. Are Flora and Matt going to be okay?
Many fans have pointed out there was something creepy about the pizza interaction between Matt and Flora within Shelby's nightmare. Neither of them seemed like themselves. Was that just because the exchange took place in a dream, or is AHS teasing that one of them is possessed?
AHS changes form next week, but viewers will want to be extra alert past Episode 6. Both Paulson and Falchuk have mentioned that the season actually contains something like a double twist. The latter said that Episodes 1-5, 6-9, and 10 all function as discrete stories, and the former told Jimmy Fallon that "there's an enormous thing that comes that changes everything, and then something else happens later, too, that's really great." Bring it, Murphy.
Sign up here for our daily Thrillist email, and get your fix of the best in food/drink/fun.
Sean Fitz-Gerald is a staff writer at Thrillist Entertainment and is glad Flora didn't turn into a tree. Find him on Twitter: @srkfitzgerald.