Spoilers from "Chapter 7" of American Horror Story follow.
Plenty of questions paved the way for tonight's episode of Return to Roanoke: Three Days in Hell. For one, would we get to see Evan Peters again? Also: Where did the wood witch go? And why is Agnes, to borrow a term from former child star Dickie Roberts, so nuckin' futs? "Chapter 7" provided answers (shout-out to Rory's drippy corpse). But it also sent this murder train of an American Horror Story season totally off the rails.
The ride to Crazytown started with Sidney and Agnes, who quickly confirmed a couple things: that Sid truly was the ultimate sleazeball, laughing as Dominic and Matt exchanged fists, and dreaming of dollar signs to the very end; and, more important, that the ghosts and deaths you've seen on screen in Return to Roanoke are real. The way Agnes mercilessly hacked down Sidney, his cameraman, and his assistant was abrupt, shocking, and insane. (A small part of me thinks you should still be skeptical of what you're watching these next couple chapters, that maybe Sidney really is a TV genius and is staging everything from Matt's death to his own. But, yeah, emphasis on "small.") It was the perfect way to set the tone for an episode that made room for several of those types of moments.
Recommended Video
'Wild n' Out's' Justina Valentina Rips Shots and Shows Off Her Freestyling Skills
"Chapter 7" saw more bloodshed than usual, as Shelby also endured a vicious Agnes attack (only to recover and repeatedly pummel her husband's head with a crowbar, Negan-style); as the real Polks made their small-screen debut, captured Lee, and fed bacon bits of her leg to Audrey and Monet; and as the real Butcher almost split Agnes' face clean in half. These unfortunate highlights didn't just reinforce how much freakier you should expect the second half of Season 6 to be. They reinvigorated the show's sense of mystery, too.
How? What was most unnerving about Return to Roanoke tonight had less to do with the trauma that happened on screen -- we've already seen a disembowelment this season -- and more to do with the frequency at which it happened. The story that the real Matt and Shelby relayed to Sidney for My Roanoke Nightmare seemed freaky as hell, sure, but everything happened at a digestible pace. Now mayhem's coming at twice the speed, with exponentially more force.
The spirits are terrifyingly different. To an extent, that's to be expected. The reenactments were never going to be solid representations of what Matt and Shelby claimed to have experienced, but the ghosts we're seeing on Return to Roanoke are infinitely more malevolent and intimidating. If the real Edward Phillipe Mott is any indication, what we saw tonight didn't seem anything like Peters' semi-friendly underground-tunnel guide. These specters aren't taking their time introducing themselves, they have no patience, they don't even talk. Matt and Shelby's initial tale made it seem like escaping the haunted grounds was doable, like you could reason with the paranormal antagonists. The carnage and terror we're seeing now say otherwise.
Something about it all feels slightly fishy.
Is that what creator Ryan Murphy meant when he told E! Online: "You cannot trust [Matt, Shelby, and Lee]. What they said and what they explained in their version of [My Roanoke Nightmare] is not actually the truth"? The ghosts sure are different. What else about Matt, Shelby, and Lee's stories was fudged? As the chyron from last week explained, only one of the cast members makes it out alive.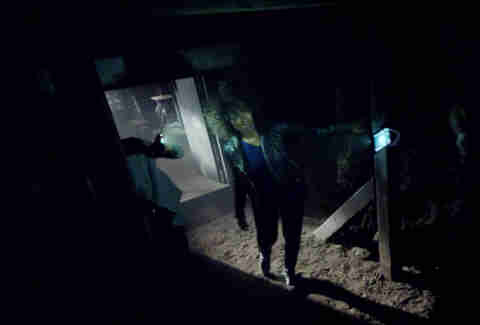 That lone survivor spot should belong to someone already familiar with the Roanoke grounds and spirits (i.e., a "non-actor"). An early favorite was Matt, in large part because he had ties to the wood witch -- many thought she was protecting him so she could have sex with him. But tonight's Negan moment, which came after Matt revealed he returned to the house for American Horror Story's original supreme, at once ended his abominable affair and dashed his hopes of survival.
Shelby's violent outburst served as an exclamation point for this goriest of AHS episodes, one that irreversibly changed the group dynamic. Dominic claimed he was the bad guy in his confessional, but it's clear that very few of these remaining characters boast redemptive qualities. We can't trust them, and none of them should trust each other. With Shelby and Lee standing as the only non-actors left, the former appears to be in the more ideal position: temporarily safe with Dominic. Is she in cahoots with dark forces as some have suspected? Has she made a deal with the Butcher to deliver a fresh batch of souls for this Blood Moon?
If viewers learned anything tonight, it's that this show has adopted a new breakneck pace and tone, one with no regard for its characters' lives or its fans' theories. The tortuous AHS murder train barrels toward Episode 10, where one more monster twist awaits.
Sign up here for our daily Thrillist email, and get your fix of the best in food/drink/fun.