Making Sense of That Confusing 'American Horror Story: Roanoke' Finale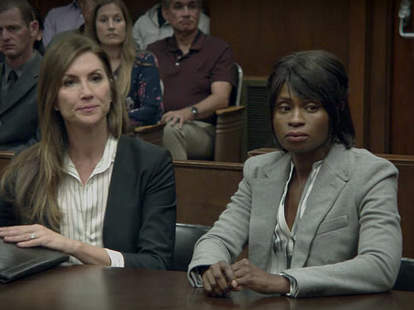 This post contains spoilers for the final episode of American Horror Story: Roanoke.
Lee wasn't quite herself last week. After an encounter with the Wood Witch, Adina Porter's character kindly volunteered to finish the Butcher's work, cleansing the Roanoke grounds with fresh blood. AHS showed us the aftermath of her savagery tonight with an all-over-the-place finale that served no dearth of fan-servicey winks before eventually delivering some rushed closure.
Written by Ryan Murphy and Brad Falchuk, "Chapter 10" picked up roughly one year after the events of Sidney's first show, opening with a spot-on parody of a rowdy PaleyFest panel, which had the cast of My Roanoke Nightmare present; before switching to a faux docu-series called crack'd, which chronicled Lee's path from police officer to celebrity who, yep, CRACKED; then to an unbelievable entry of The Lana Winters Special, with Sarah Paulson's Asylum character interviewing Lee; then to a totally batshit episode of some small-screen frat disaster called Spirit Chasers; and finally, to a hostage scenario that wrapped the Roanoke drama by breaking the found-footage conceit and providing one more twist.
The whole thing played a lot like a Murphy spin on Rick and Morty's "Interdimensional Cable," with a new mini-show-within-a-show popping up after every commercial break. In other words: lots to digest. Some of it was distracting -- gun-toting Lot Polk, we're looking at you. Some of it didn't make sense -- sorry, Priscilla. But some of it was enjoyable.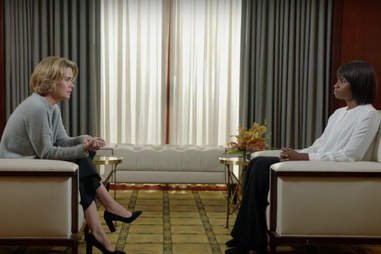 FX Networks/YouTube
The first chunks of the episode were explanation-heavy, detailing the legal drama that followed Lee's Return to Roanoke stint. Though she admitted to killing her husband on camera, Lee and her lawyer split the jury -- because marijuana in the Polk grow house was found to be extraordinarily hallucinogenic and at least one juror couldn't "send a woman to jail based on ghost stories" -- and dodge murder charges. It wasn't exactly a victory. As courtroom footage showed, Lee's daughter Flora, who had been living with her grandparents, testified against her mom in court because she witnessed Mason's murder.
Thanks to a heavily teased Lana Winters sit-down, viewers learned why this rocky mother-daughter relationship was so key not only to this episode, but ultimately to the entire season.
Lee and Lana were a choice match-up considering the interviewer's history in the AHS universe. The latter first appeared in Season 2's Asylum story as a tenacious newspaper reporter investigating the Briarcliff Manor mental hospital. (The crossover cameo isn't the first time a character from a previous season has returned. Paulson's psychic, Billie Dean Howard, popped up in the Hotel narrative, for example. Same with Gabourey Sidibe's Queenie.) After braving a string of searing horrors, not unlike the double dose of trauma Lee endured, Lana proved herself to be that season's ultimate survivor.
But the two women share more than just a will to live. Both killed estranged loved ones (in Lee's case, her ex-husband; in Lana's, her son), and, near the ends of their respective seasons, also revealed themselves to be adept mental manipulators. They're heroines of the grayest hue, fighters whose primal instincts to attain their goals have turned them into unpredictable forces. Lana's crossover moment, the most anticipated moment of the episode, was unfortunately its most ephemeral, as she wasn't here to hijack the finale. She was here to help us understand the mystery that has been Lee.
"Flora, I'm going to tell you something that maybe you already know," Lee said during her interview with Lana. "But you need to hear it from my heart: I love you, baby, and I'm never going to give up." As Lana explained -- after surviving Lot's brutal attack -- she and Lee are two women whom trouble loves. "When we latch onto something, it becomes our destiny," she said, "and we will do anything to see it through." For Lee, her destiny was protecting her daughter. Always.
FX Networks
The writing in this episode, especially Lana's description of a trial that made the world stop, evoked FX's other hit anthology series (The People v. O.J. Simpson). Fittingly, the controversy surrounding Lee's roles in My Roanoke Nightmare and Return to Roanoke garnered her not fame but notoriety, which caused her to lose the most important thing in her life: Flora.
That loss took literal form in the latter half of the episode, as Flora ran away to the Roanoke house to protect her dead BFF Priscilla from the Butcher's ghost. As Lee (and a random group of ghost hunters, who got their shit rocked because obviously this was all happening during another Blood Moon) searched for her daughter, her hunger for one last shot at redemption reached an all-time high. This time Lee wasn't just going to apologize, she was going to show Flora with her actions that her love was unconditional and unmatched.
"I am so sorry for the things I've done," Lee said, when she finally found her little girl. In a heartbreaking turn of events, Lee learned she'd never be able to force-repair her relationship with her daughter. But she could do right by Flora if she protected her friend and put an end to the house that ripped their family apart. Gun in hand, Priscilla killed Lee, making her a ghostly defender of the Roanoke grounds. And as Flora left her mom behind, the house burned under the light of the Blood Moon. Murphy's final twist? Flora, not Lee, was Season 6's ultimate survivor.
FX Networks/YouTube
It was a half-odd, half-rewarding ending: I'll never quite understand why Flora was able to basically say, Yeah, I don't want my mom either, and, Personally, I don't trust you, mom, but sure, you can protect my BFF for an eternity. I did find comfort in Lee's sacrifice. Saying goodbye to Flora might've felt like an inconsistent character move on the surface, but really it was the culminating point in a season-long battle against selfishness. Lee was never going to get full custody of Flora. Lee was also never going to be able to give Flora a normal life. So by sending Flora away from the colonial specters and into a healthy home, Lee accomplished the next best thing: ensuring a safe future. Lee wanted to be a good parent, and her pledge to protect Priscilla was the ultimate mom move, one that separated Lee from Lana (you know, not a great mom) and cemented her status as this season's MVP.
Fans quickly lauded Porter's work, and rightfully so:
But others griped about the last-minute focus on Priscilla and Flora:
The Roanoke curtains fell on the Butcher and her ghouls marching toward the house, their annual reign of terror set to continue. Though it's unclear what the future holds, Murphy has promised more crossovers à la tonight's Lana appearance, underlining the fact that all the AHS seasons exist within the same universe. (Don't forget that the Wood Witch we met this year is the original AHS Supreme.) "The seasons are connected, for sure," Murphy told The Hollywood Reporter earlier this year. "You'll see it this season, and then you'll really see it after [Season 6]. We lay a lot of pipe, and you'll see it explode in seasons seven and eight."
Murphy has also said that Season 7 won't be shrouded in as much mystery as Roanoke and that it should involve familiar Freak Show faces. "We're going to announce [the premise] in the spring," he told reporters mid-October. "We're not doing a secrecy thing, but [next season] does have a big hook behind it."
Until then, mourn Lee, and let the speculation begin.
Sign up here for our daily Thrillist email, and get your fix of the best in food/drink/fun.