Does 'American Horror Story' Season 6 Already Have a New Theme?
After Shelby stumbled upon a creepy colonial meeting in the woods last week, it seemed pretty clear that American Horror Story was focusing on the mysterious true-life tale of the Lost Colony of Roanoke -- and the second episode appeared to confirm that when it picked up right where the debut left off. And hey, it's officially subtitled the season Roanoke.
But Ryan Murphy rarely stays in one lane, and the second episode introduced a possible new theme for Season 6: Charles Manson. Maybe you've heard of him.
FX
The cult leader and mass murderer didn't actually appear himself, although Twitter would certainlylike Evan Peters to play him. Instead, the show channeled Manson's legend into the episode, which introduced the backstory of the Roanoke house and two murderous sisters, Miranda and Bridget Jane, who lived in the house in the late 1980s. You might remember them as the two women Shelby seemingly hallucinated during her wine haze in the season premiere.
Well, they were no drunken nightmare. They were nurses who ran an assisted-living facility in the house decades earlier. When they weren't busy doling out medication, they were killing patients using means such as rat poison, bullets to the head, and suffocation.
FX
Curiously, the sisters took in seniors whose first names began with the letters of their favorite word, and they gleefully spray-painted a new letter on the wall whenever they killed someone. But they left their ghastly art project unfinished, having gotten only as far as M-U-R-D-E. You don't need to be a spelling-bee champ to guess what they were going for.
The cops discovered what they were up to before Miranda and Bridget Jane could spray the final R and they fled the scene, leaving behind five dead bodies and some unerasable graffiti.
FX
We know this because Matt and Shelby stumbled upon a videotape recorded by a professor named Dr. Elias Cunningham (played by Denis O'Hare), who'd come to the property in 1997 to research a true-crime novel "in the vein of Helter Skelter." He was interested in Miranda and Bridget Jane's story, but became so horrified by the "malevolent forces" in the house that he retreated into a cellar elsewhere on the property. The videotape documents his final trip into the home, and ends with him seemingly getting whacked by that bloodthirsty colonist played by Kathy Bates.
There are a couple more Manson clues here. The red spray-painted messages echo the horrific phrases the Manson Family smeared in their victims' blood, like "Healter Skelter." (Their typo, not mine.) The Manson cult also scrawled the word "pig" on walls, which would explain that pig head that keeps popping up everywhere.
Fans have been anticipating a Charlie Manson Family reunion for a while -- remember this trailer? -- but the episode made good on another promise. One of the few clues Murphy offered about Season 6 was that it would feature "elements of children." And after Lee's daughter, Flora, was introduced, then promptly went missing in pursuit of her ghostly friend Priscilla, it's safe to say those elements are in play. Also in play: more Blair Witch Project nods.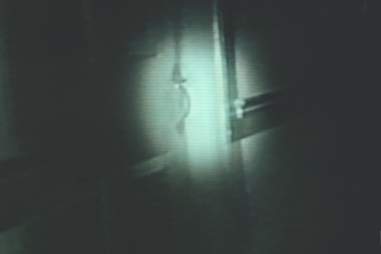 FX
Questions to ponder as we head toward Episode 3: is Dr. Elias Cunningham alive? Who took Flora? When will someone with a first name starting with the letter R be introduced? And does this all still connect to Roanoke or is it an intentional misdirect? As usual, AHS posed more questions than it actually answered. But hopefully, someone at FX can answer one of the episode's biggest mysteries: what happened to that killer theme song?
Sign up here for our daily Thrillist email, and get your fix of the best in food/drink/fun.
Kristin Hunt is an
American Horror Story
scholar and freelance contributor to Thrillist Entertainment. Follow her on Twitter @kristin_hunt.