'American Horror Story' Finally Delivered a Big, Hilarious Twist
FX
FX
This post contains spoilers for "Chapter Six" of American Horror Story: Roanoke.
Everyone saw this coming, but not like this. For five episodes, Ryan Murphy and his American Horror Story ensemble put the pieces in place for a major twist to the Roanoke arc. The faux-mystery series My Roanoke Nightmare was never going to sustain itself; how many times could we see Reenactment Shelby scream in fear, only to run into murderous inbreeds and bloodthirsty colonial ghosts?
"Chapter 6" of the sixth season delivered on expectations with a huge twist, and it couldn't have been... funnier? The second half of the season will be presented as a found-footage sequel to My Roanoke Nightmare, called Return to Roanoke: Three Days in Hell, and the results promise loads of bloodshed... and laughs.
The mythology and intrigue of the My Roanoke Nightmare half of the season is mostly gone in Return to Roanoke: Three Daysin Hell. There was more Piggy Man, animal slaughter, and caught-in-a-sideways-glance ghosts -- was that Lady Gaga's supreme witch standing in the distance when production executive Diana was murdered mid-drive? -- but the focus squarely shifted from mythological brick-laying to found-footage lampoonery, producing something closer to Murphy's Scream Queens than the campiest American Horror Story moments.
American Horror Story can deliver scares, but it can also turn Cheyenne Jackson into a pompous reality-television producer, pair Sarah Paulson and Evan Peters as a horny couple, and recast Kathy Bates' "Agnes," an actress so wrapped up in her My Roanoke Story character The Butcher that she developed a split personality and brandished a cleaver down Hollywood Boulevard in costume, landing her a six-month sanatorium sentence. "There are two great parts in the American canon," Agnes says. "Mary Tyrone in A Long Day's Journey and The Butcher." This is Murphy's brand of #problematic comedy, and you either love it or hate it.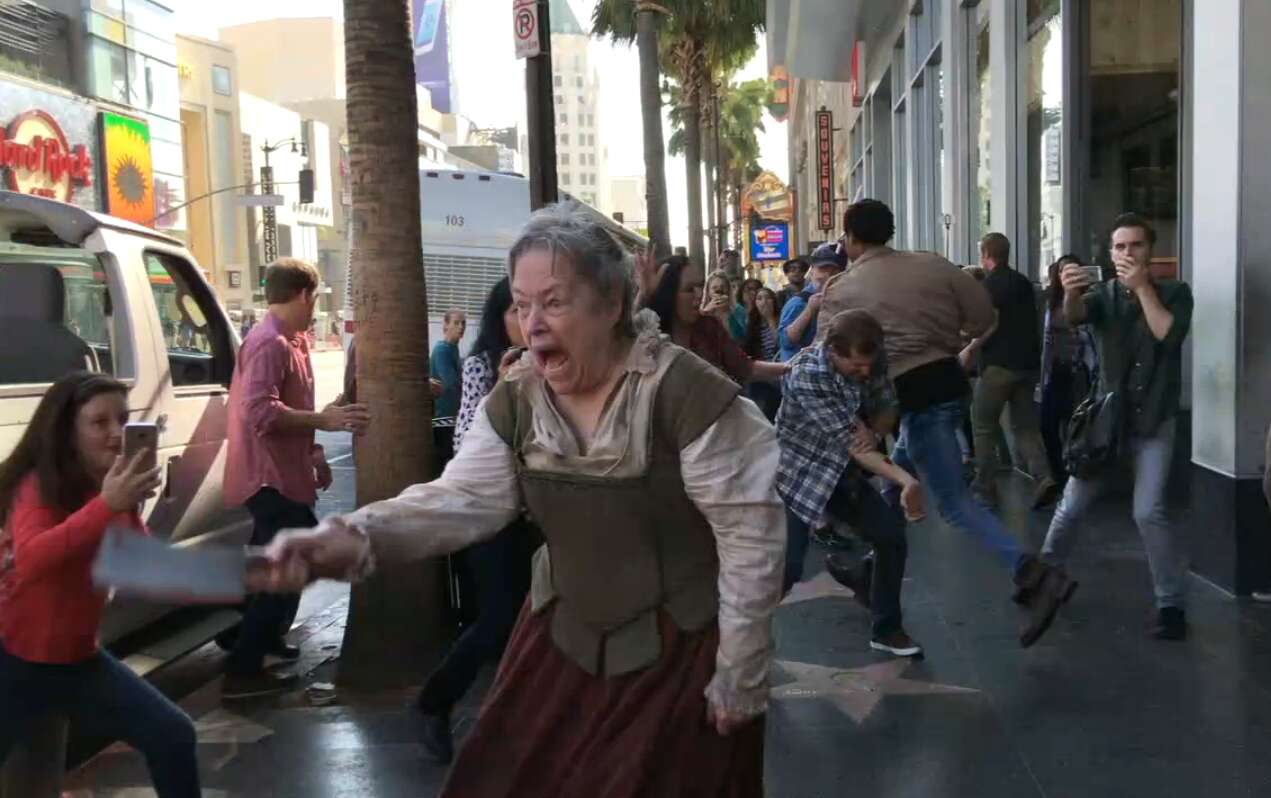 American Horror Story: Roanoke still looks to pay off the mysteries set up in the first half of the season -- the show's just doing it now with a wink and a few behind-the-scenes bloopers (more of that, please). The new premise rounds up the real-life Matt, Shelby, and Lee, all shattered from the success of My Roanoke Nightmare (a data drop said that the My Roanoke Nightmare drew in 23 million viewers, topping The Walking Dead!); the trio is paired with their reenactor counterparts for a Big Brother-inspired reality scarefest called Return to Roanoke: Three Days in Hell.
The baked-in drama: after My Roanoke Story blew up, the real Shelby cheated on the real Matt with the actor who played Matt (Cuba Gooding Jr., whose character's name is Dominic Banks), while Angela Bassett's Monet, the actress who played Lee in the reenactments, picked up her My Roanoke Nightmare character's drinking problem. You can practically hear Murphy giggling with delight as the meta-plot twists into knots.
Fans of Evan Peters must have been shocked when "Chapter Six" shifted back into creepy American Horror Story mode. As promised by a title card, only one member of this ragtag cast will make it out of the house alive. Peters' Rory Monahan doesn't look to be the one who'll survive; after Monahan's powdered wig-wearing character Edward Philippe Mott died in "Chapter Five" at the hands of The Butcher, only to return as Mott's ghost later in the episode, the reenactment actor bit the dust -- or did he? -- at the hands of the two ghost nurses from "Chapter Two," who finally nabbed that "R" they were looking for.
There are seeds of revelations that should vary in ridiculousness. We know Agnes' Butcher is lingering around the compounds, ready to strike in tandem with any paranormal goings-on. We know Lady Gaga's satanic being is out there... somewhere. We know Lee is driven to clear her name and out the true murderer of her ex-husband. We know that everyone who appeared on the undead side of the reenactment should return again... in fresh-faced form. All those original specters were actors (including Denis O'Hare's Dr. Elias Cunningham, who appears briefly in this episode in a new form). So who will take their places in reality? We know we're crossing our fingers for Jessica Lange as The Butcher.
Our burning question, through fits of laughter: Who makes it to the Return to Roanoke: Three Days of Hell finale? Matt, cautious about rekindling the fire with Shelby but aware of the supernatural mechanics of his reality-show home? Any of the remaining cast members who thought the "true" story of the Harvest Moon and the Roanoke house was total bullshit before two nurse ghosts slashed Rory's throat? Shelby? Lee? Cricket, who'll probably just show up out of nowhere? Hard to say, but avid American Horror Story viewers are on the case.
"Chapter Six" put a strong emphasis on redemption for the OG Matt and Shelby, fractured by their encounter in the Roanoke home. They're a little like Kate and Jon Gosselin, a reality relationship car wreck shot in slow motion. I'd think Sidney's sequel series would give them a chance to work things out, extend a romantic metaphor, but as the title card says, only one person lives...
People really want Roanoke to be a sequel to Coven. This reveal would be out of nowhere, which in the AHS universe, doesn't actually disqualify it from being true.
There's been speculation since "Chapter Five" that My Roanoke Story was an elaborate ploy by Matt and Shelby to lead Sidney and his fertile film-everything cohorts to Roanoke for a Harvest Moon slaughtering. OK, OK, Hollywood hotshot blood isn't exactly pure, but it works. This Redditor narrows the theory -- maybe it's just Matt who's in cahoots. He did spend some, ahem, quality time with the Witch of the Woods.
We do see Agatha return to the Roanoke house in "Chapter Six." Or we think we do. The aging actress may be happier succumbing to the colonial ghosts and assuming a position next to the real Butcher. At this point, it's schizophrenic destiny.
Wait, now Shelby is the witch? Only if Lily Rabe brings back Misty Day.
Or maybe American Horror Story gets even creepier, and takes a hard left into the indescribable. In his vague comments about the season, Murphy teased not one, but two major twists to this season. We've seen one -- and it was a riot, complete with E! news interviews, SNL-like audition tapes, and the cheesy wedding video to end all cheesy wedding videos (with Chaz Bono returning to officiate!). We still get one more. At one point, does Ryan Murphy step out from behind camera and become part of this mayhem himself? This season, we'd believe anything.
Sign up here for our daily Thrillist email, and get your fix of the best in food/drink/fun.
Matt Patches is Thrillist's Entertainment editor. He previously wrote for Grantland, Esquire.com, and Vulture. Find him on Twitter @misterpatches.