Everything We Know About 'American Horror Story' Season 10
We finally know what the theme is!
Ryan Murphy's creepy anthology series American Horror Story has taken us to haunted houses, sentenced us to an asylum, checked us into a spooky motel, and so much more—and there's no signs that the FX series will be stopping anytime soon. The nightmarish show was confirmed for a tenth season before its ninth, AHS: 1984, even ended in fall 2019. Half the fun of every new installment of the campy, terrifying series is in the mystery behind it: Murphy recycles his regular cast members, putting them in entirely new, but always spooky, settings. We've already been inducted into an insidious cult, made a trip to the freak show, and watched the world end, so here's what could be up next for Season 10 of American Horror Story.
When will American Horror Story Season 10 premiere?
2020 was a nightmare for obvious reasons—pandemic, election, etc.—but much to the dismay of AHS fans, it was the first year since the series premiered in 2011 that it didn't return. In May 2020, The Hollywood Reporter revealed AHS was officially pushed back to a 2021 release, which was pretty inevitable since coronavirus prevented the show from going into production as scheduled.
Fans can finally rest easy, though, because filming for Season 10 is finally underway after months of delays. In February 2021, US Weekly reported that the show began shooting in earlier in the month, and is scheduled to wrap up in the spring. While no release date has been announced yet, considering the show's current production timeline, a fall premiere seems plausible. That's typically when AHS airs anyway—just in time for spooky season.
How many episodes will AHS Season 10 be?
Ten for 10!
According to EW
, Season 10 is confirmed for ten installments. While it may not be the highest episode count for a season of
AHS
, it's what the show's been averaging in recent years, like with
Apocalypse
and
Roanoke
.
AHS: 1984
came in at only nine episodes, so we'll take what we can get.
Who is in the cast this season?
A new
AHS
season always leads to two big questions: What's the theme, and who's in the cast? As of right now, we know the cast for the
first half of the season
, which Ryan Murphy explained in an Instagram comment on his post revealing this season's theme (more on that below). The showrunner took to Instagram way back in February 2020 to give fans a taste of what they can expect, dropping an eerie teaser that revealed Kathy Bates, Macaulay Culkin, Leslie Grossman, Billie Lourd, Sarah Paulson, Evan Peters, Adina Porter, Lily Rabe, Angelica Ross, and Finn Wittrock are all set to appear.
Plus, more recently, the showrunner
confirmed
that Frances Conroy will be making an appearance again. It's unclear if another cast will take over entirely for the second half of the season (maybe Taissa Farmiga will finally be back!), or if some characters will carry over into the latter part, but, regardless, an exciting handful of fan favorites are returning.

The most interesting addition is definitely former
child star Macaulay Culkin, though. He'll probably fit right in, since as we saw (and rewatched a hundred times) in
Home Alone
, he's already a bit of a scream queen. As with everybody else, who he is playing is under wraps, but Murphy did post a
picture
of him in costume and arm-in-arm with Leslie Grossman, and his role looks pretty wild. The showrunne has also shared some shocking information about his role, telling
E! News
Culkin has a "very, very insane part" that includes having "crazy, erotic sex with Kathy Bates," so for what it's worth, know that's in the pipeline.
Aside from Culkin, the reveal that AHS royalty Paulson and Peters are returning after both being gone for a season is a big deal. Right now, it's hush-hush as usual regarding who these actors will be playing, but we do know that Paulson will be making a grand return, which is something to look forward to, considering how much fans missed her in 1984. The Murphy muse has been known to lead seasons, like she did in Asylum, Cult, and Apocalypse, and take on smaller roles like in Murder House, but in Season 10 she's confirmed to be taking on a main role again. She told The Wrap in January 2020 that she "will be a central character." While details are still scarce, it sounds like she'll veer on the villainous side, as she admitted to Entertainment Weekly in early 2021 that her character "has some issues." All hail the AHS Supreme.
What is the theme of American Horror Story Season 10?
Perhaps even more than his precious cast, Murphy keeps his lips sealed regarding the anthology's theme for as long as possible. This time around, it took awhile—more than two years after the series was renewed—but the showrunner finally shared the theme in March 2021 with a black and white video of crashing waves that announced Season 10 is called American Horror Story: Double Feature.
Fans of the show are used to the title giving a big plot reveal regarding what to expect from the coming season (ie. Asylum, Freak Show, etc), but that's not necessarily what they got this time around. The video Murphy posted did indicate, though, that the new installment will feature "two terrifying stories"—"one by the sea… one by the sand"—which is definitely something different for the series.
It's unclear what those two stories will be about right now, but theories that the season will be about some sort of Creature from the Black Lagoon-inspired monster or ravenous mermaids have been swirling for awhile. Murphy has actually been teasing beach-related "clues" on Instagram since spring 2020, and he's also posted multiple pictures of razor-sharp teeth, including the season's official poster—so something mystical from underwater terrorizing people on shore or aboard a ship seems pretty inevitable.
Cryptids seem especially likely when you consider the hint the show dropped in
AHS: 1984
. Murphy told
TV Guide
about a
Season 10 Easter egg that appeared in Episode 8, "Rest in Pieces," and as
Newsweek
points out, that's when characters had a conversation about urban legends. You may recall a scene in a diner where Angelica Ross' character Donna and Emma Roberts' Brooke run into a crime journalist who mentions that "... back in the '70s, all anyone cared about was Bigfoot, aliens, the Loch Ness Monster—all that Leonard Nimoy
In Search Of
... shit." So, probably get ready for some sort of nautical monster with fangs. (We're crossing our fingers for some siren or mermaid action, though.)
It's also important to note that this season is shooting in Cape Cod, so a Jaws-inspired monster could also be a possibility. Same goes for a theory pointed out by fans on Reddit that Season 10 might explore the Lady on the Dunes, an infamous 1974 cold case about a woman whose body was discovered along the Massachusetts sand dunes but was never identified. The story is its own form of urban legend, certainly hits the markers of what else we know about the upcoming season, and AHS is known to explore famous real-life cases in the past, like the Black Dahlia and the Night Stalker.
Regardless, whatever's coming, it's sure to satisfy fans who've been waiting for quite awhile. Lily Rabe told Collider that this one's for the longtime fans—so get excited, if you're not already.
How will Season 10 be connected to the rest of the AHS universe?
We know that at least one familiar character, or costume, rather, will make an appearance. In April 2020, Murphy teased fans with another look at the upcoming season, posting a photo on Instagram of Season 1 villain Rubber Man with the caption, "Coming soon…" As you may recall, the erotic latex suit was worn by a number of characters in the first season, including Tate Langdon, and later Michael Langdon when he returned to Murder House in Apocalypse, but it was actually originally purchased from an S&M shop by previous Murder House homeowner Chad Warwick. So, it could mean that one of those names will be back, but more likely we'll learn its probably very creepy origin, or somebody new will zip themselves into in. It is just sitting in the Murder House attic!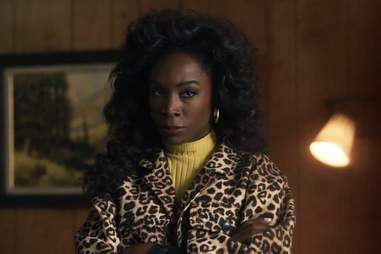 Angelica Ross in 'AHS: 1984'

| FX
Will this be the last season of American Horror Story?
Ten seasons may be a lot of television, but if you're worried that might mean this will be the series' last, don't be. In January 2020,
EW
reported that FX renewed the long-running show for at least up to 13 seasons. It may seem like Miss Robichaux's Academy cast a spell to keep the limited series on air for this long, but in reality it's the network's highest-rated series, so ultimately, it would be a real-life horror story to see it go.
There's a spin-off in the works, too. While each season of American Horror Story is, well, an American horror story, an entirely new thing called American Horror Stories—plural—is on the way. Ryan Murphy announced the upcoming show on Instagram in May 2020, and Deadline went on to confirm it was officially in the works; about a month later, Hulu announced the show was set to air on its FX hub, FX on Hulu. It's said to be a companion to the original AHS, but takes the form of telling one standalone ghost story per episode. Think of it as bite-sized AHS.
No release date for American Horror Stories has been announced yet, but it seems like it could be coming in the near future. Murphy already shared the first official poster for the new series on Instagram in November 2020, and of course, it looks creepy as hell. Along with that tease, he also gave a little more insight into what the show is all about, explaining that it'll be "16 one hour stand alone episodes delving into horror myths, legends, and lore," featuring "many of the AHS stars you know and love." It's not yet confirmed who will be in the cast, but you can probably bet on at least Cody Fern and Dylan McDermott, who both commented on Murphy's post with the showrunner replying to them that he was writing something for them.
There's ultimately very little information on the spin-off, though, and news on the tenth season is nearly just as scarce. However, Murphy told Entertainment Tonight that we haven't seen the last of the beloved witches from Coven and Apocalypse, so another story featuring their black magic should be in the works. (But probably don't expect to see them in Season 10.) Aside from that, all we know about Seasons 11, 12, and 13 is that Paulson is game to appear if Murphy will have her. She told The Wrap, "I did ask Ryan, if the question [of coming back to AHS in the future] was asked to me, could I say that I was coming back, and he said, 'Yes, you can say.' So yes, I will be back on American Horror Story."
AHS may like to remain a mystery for as long as possible, but continue to check back, as we'll keep updating this post as more announcements regarding AHS Season 10 are announced.