'American Horror Story' Season 6 Theme Revealed -- but What Does It Mean?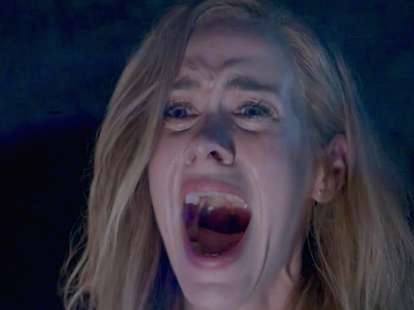 FX
FX
American Horror Story preys on intrigue like vampires prey on virginal ingénues, and this year, creator Ryan Murphy sank his teeth into our necks early. Instead of spelling out Season 6's theme and watching the internet's imaginative gears turn, the TV magnate kept the new anthology installment shrouded in secrecy, dropping a series of disconnected trailers like puzzle pieces on the floor. The Zodiac Killer sent clearer messages, frankly.
Now, with the premiere of the new season, we finally have an answer to the mystery: Season 6 is officially American Horror Story: My Roanoke Nightmare. Which clears up just about nothing. Though the first episode was chock-full of clues, it provided few answers. But as the old adage goes: the devil is in the details.
To recap: My Roanoke Nightmare shifts the format of the entire series. Shelby (Lily Rabe) and Matt (André Holland) are a couple who moved into an 18th-century home in the middle of Creeptown, USA, a.k.a. Roanoke, North Carolina, only to find themselves victims of hillbilly torment, Biblical plague, ghost infestation, and a Blair Witchian craft enthusiast. Run-of-the-mill fodder for American Horror Story, except that Murphy and his collaborator Brad Falchuk compose the story like a lesser version of their American Crime Story series.
The "real" Shelby (Lily Rabe) and Matt (André Holland) recall the events as talking heads, while Sarah Paulson and Cuba Gooding Jr. play actors in a filmed re-enactment of their story (that happens to look a lot like a typical AHS episode). The only thing missing are cheap motion effects and a Robert Stack intro and we'd have an episode of Unsolved Mysteries.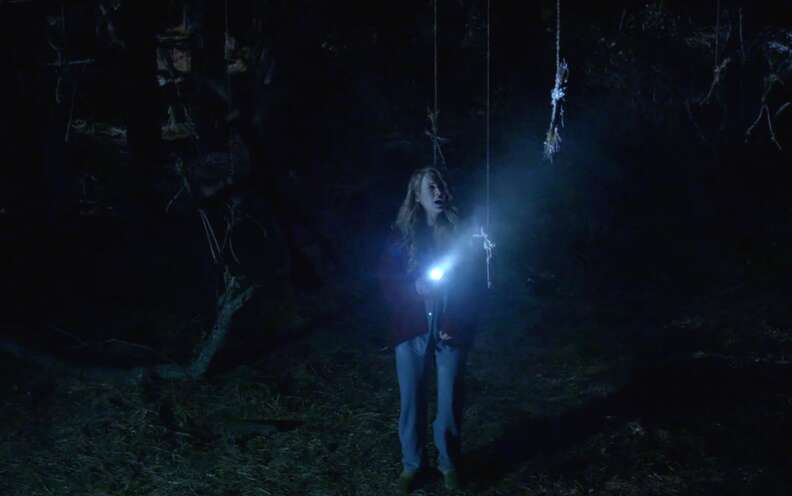 It's unclear how the structure could impact the subsequent 12 episodes. Are Shelby and Matt unreliable narrators? Could the "real" married couple and the "fake" married couple eventually cross paths? Are Shelby and Matt being held against their will in a TV studio, forced to deliver dry talking head interviews? After the previous five seasons of AHS, we'll believe pretty much anything.
Earlier this season, spy photos from the American Horror Story set leaked possible connections to the legendary Roanoke colony disappearance and the 1960s Manson family murders. We checked one of those boxes in the premiere, though indirectly: Kathy Bates briefly appears in period costuming, as the woman who first thrusts TV Shelby's head underwater, then again as the victim of TV Shelby's hit-and-investigate. Does Roanoke exist in a fuzzy dimensional zone where denizens from past and present crisscross through time? That wouldn't explain the Pigman video cassette or the teeth raining from the sky, though, so enter... Charles Manson?
Let me throw this out there: aliens. American Horror Story tangoed with the abduction narrative in Asylum and individual clues embedded in this episode have my yarn board connecting the pushpin dots to extraterrestrial activity. Trailers leading up to the season teased both straight UFO encounters, crop circles, and oblong creatures with glowing eyes. Abduction is one of the kookier Roanoke conspiracy theories that still floats around the Internet 426 years later. The mutilated bodies of animals -- classic UFO trope. And maybe the "Blair Witch" stick figure imagery could be a woodsy play on the markings often left behind after alien activity (or totems of a alien-worshiping cult).
Shelby and Matt's confessionals had me thinking of one of the classic abduction tales: Barney and Betty Hill, an interracial couple who, in 1961, were allegedly lifted up into an alien spacecraft, deposited back on the ground, then found themselves suffering from aural torture and fragmented memories for weeks. It's a bit of a stretch, but Murphy and Falchuk love playing fast and loose with lore to fit the winding road of their American Horror Story narratives.
Whatever road the sixth season decides to wind down, reactions to the first episode were decidedly confused/shocked/loud. If there's one thing you can count on from a new AHS season, it's A-game tweets.
One hour in, My Roanoke Nightmare could go anywhere. Murphy may have kept this reveal secret for months, but even with the pitchforks and torches out of the bag, we're still in the dark. Now the real fun begins. As the credits rolled on the first episode, FX wisely dropped a teaser for what's to come. Short answer: bloody murder.
Sign up here for our daily Thrillist email, and get your fix of the best in food/drink/fun.
Matt Patches is Thrillist's Entertainment Editor. He previously wrote for Grantland, Esquire.com, Vulture, The Hollywood Reporter, and The Guardian. Find him on Twitter @misterpatches.