Things You Missed in the 'American Horror Story: My Roanoke Nightmare' Premiere
The premiere of American Horror Story: My Roanoke Nightmare was preceded by weeks of haze -- what was the sixth season even about? -- and followed by equal amounts of befuddlement. Roanoke introduced us to Matt and Shelby, a couple who fled Los Angeles, central locale for Murder House, Asylum, and Hotel, for North Carolina. What they found encountered in the woods of their 18th century home even more horrifying than showbiz talk, perpetual juice cleanses, and eight-hour commutes on the 405. Viewers weren't really sure what it was, only that it was out for blood.
What's hiding in the shadows of My Roanoke Nightmare? We combed over the episode to find any potential clue to unlocking Ryan Murphy's biggest mystery yet.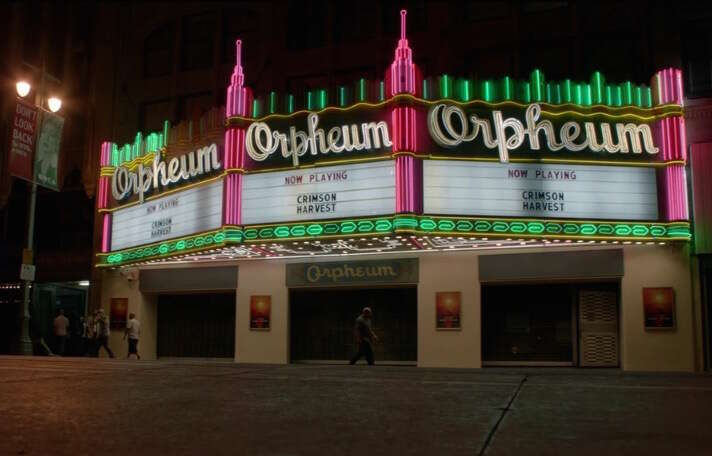 A movie that isn't a movie
The first time we see re-enactment Matt and Shelby is outside this multiplex, which is playing a horror movie called "Crimson Harvest." As far as I can tell, it's a fake title, which I can only take as a major clue from the mischievous Ryan Murphy. Carry on... for now.
Did the "6?" motif carry over to the architecture?
Or did Tim Burton just have his way with this 1792 farmhouse? Based on central locations of the previous AHS installments, Murphy is a fan of high ceilings and spiraling staircases. But there's something about the Roanoke home that clicks with the "6?" design scheme featured in early marketing. This isn't "Murder House" 2.0 or the Hotel Cortez lobby. The attic where Shelby performs her equally curvaceous yoga positions reflects its new inhabitants and, possibly, a wider, hinted theme. Or maybe we just watched the trailers too many times.
That's Chaz Bono as one of the hillbillies
Sony and Cher's son became the first transgender man to appear on a major network TV show when he took Dancing with the Stars by storm in 2011. Now he's on American Horror Story, playing what Cuba Gooding Jr.'s Matt refers to as a "ZZ Top wannabe."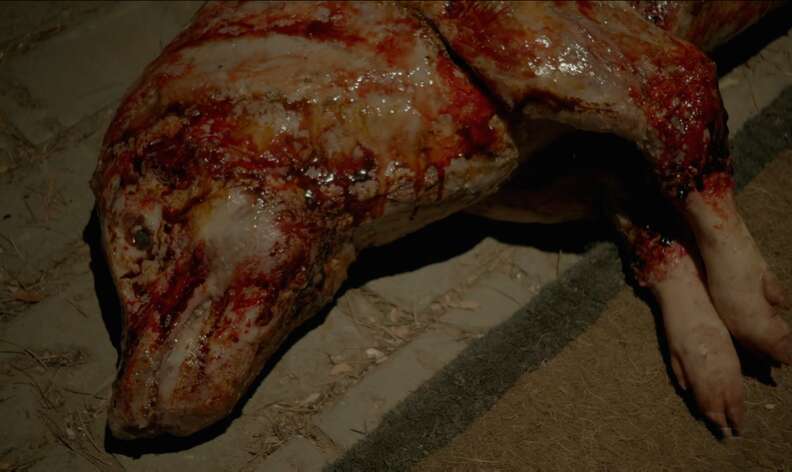 That skinned animal isn't a pig
Looking pink, fleshy, and hooved like a pig, that there critter ain't no pig. Maybe it's a cross-breed monstrosity -- part pig, part dog/dolphin, wholly disgusting -- but after making the terrible mistake of searching "skinned pig head" on Google, I'm 99% sure this the carcass left at Matt and Shelby's doorstep isn't what it appears to be after a quick glance. Wild guess: My Roanoke Nightmare stars looking like the Haunted Woods of Dr. Moreau.
What's with the chimes?
Again, obsessive trailer scrutiny made me raise an eyebrow over this lingering shot of this rusted wind chime. Where had I seen something like that before...
Yes, the 10th trailer for Season 6 not only featured a wind chime, but it incorporated the teeth that would eventually rain down on Shelby, the stick men she'd find in the woods, and a nurse -- just like the ghosts that seem to inhabit the Roanoke house -- chopping the chime to bits. Hey, one of the trailers was actually teasing My Roanoke Nightmare! And it may not be the last.
That's AHS veteran Denis O'Hare in the fuzzy video
After playing Larry on Murder House, Spalding on Coven, Stanley on Freak Show and Liz Taylor on Hotel, O'Hare returns to play a mysterious figure who warns Matt and Shelby through pre-recorded message to get the hell out.
American Horror Story meets American Crime Story
Cuba Gooding Jr.'s inclusion in AHS6 was a shocker, and Murphy made sure to sneak a nod to his other 2016 mini-series in a blink-and-miss-it moment. Earlier this year, Gooding Jr. was O.J., a Bronco-driving murder suspect. This fall, he's the guy watching car chases on Fox News.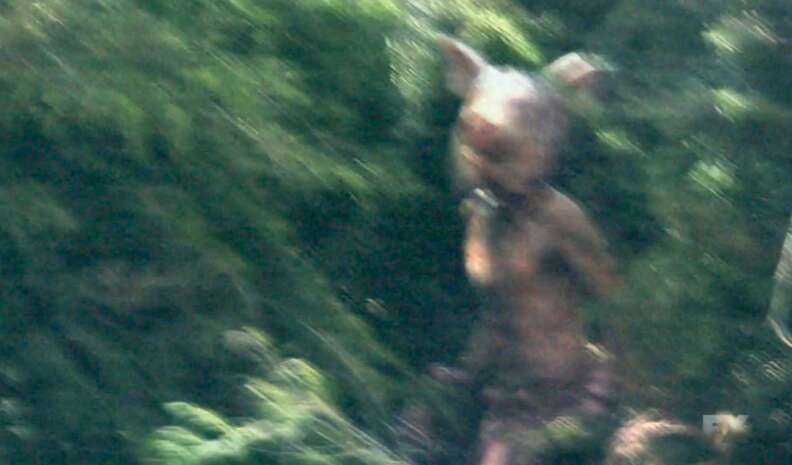 A squealing callback to Season 1?
This walking pigman should play a large part in the blooming narrative of My Roanoke Nightmare, but it's unclear whether there's connective tissue between him and "Piggy Man," the hammy Bloody Mary stand-in conjured by Eric Stonestreet in Murder House. Murphy claims there's connections between all of the seasons -- is the bigger picture coming into focus? Not in this crap video, but maybe in episodes to come. Either way, this is another notch on the Dr. Moreau theory belt.
Hey, Wes Bentley!
There were rumors that the guy who brought us Edward Mordrake of Freak Show and John Lowe of Hotel would return to Murphy's series, but without any formal casting announcements, it was open season for familiar faces. Bentley makes a quick appearance in the final moments of episode 1, looking like a Roanoke colonist who has no idea why Shelby stumbled into his life. Was he displaced from time or is this a freakier version of The Village? We'll know soon.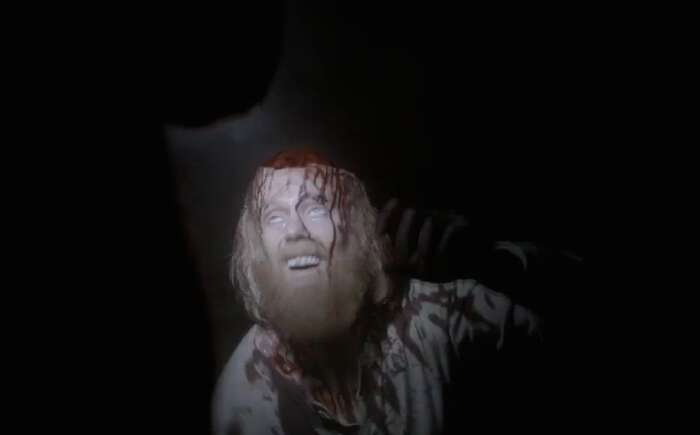 Scalped
I'm high on the aliens-abducted-the-Roanoke-colonist theory, but Shelby's bleeding-out attacker appears to have had his head... sliced... open... Blech. Is it problematic for us to assume that local Native Americans didn't take kindly to this oppressive white man and did him in with a quick chop to the head? If it is, then it's definitely in Murphy's wheelhouse -- sensitivity is not his strong suit.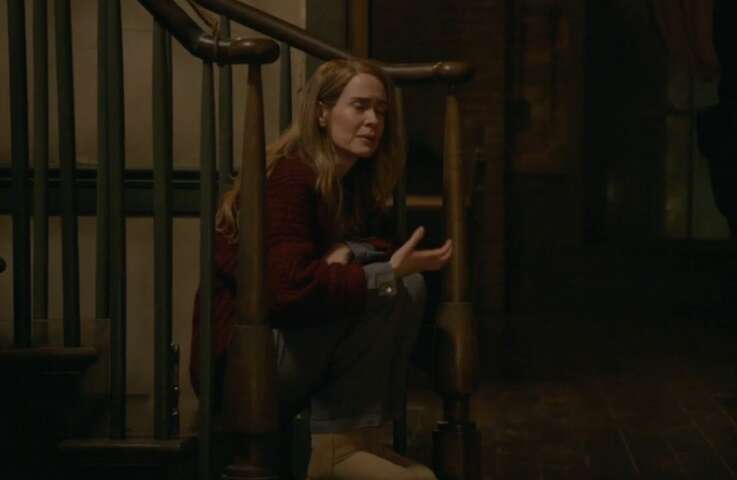 Shelby's Ugg boots
I mean, I know she's a yuppie nightmare, but c'mon, we need to feel a little sympathy for her in these troubled times!
Sign up here for our daily Thrillist email, and get your fix of the best in food/drink/fun.
Matt Patches is a Senior Editor at Thrillist. He previously wrote for Grantland, Esquire.com, and Vulture. He may never eat pork again. Find him on Twitter @misterpatches.