The 'American Horror Story' Trailers Are Screwing With You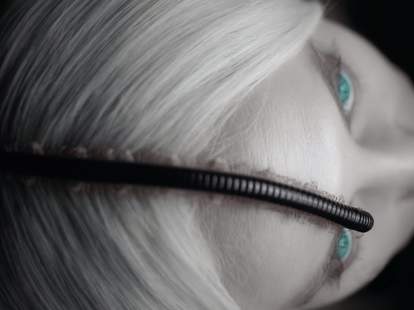 Will the sixth season of American Horror Story tackle the lost colony of Roanoke? Will it delve into the psychotic history of Charles Manson? Both! Or at least that's what we've been led to believe by officially released teasers. Turns out, only one of those things might be true -- or neither.
With those trailers and the other batch of teasers they've released, series creator Ryan Murphy and his cult of diabolical mystery-spinners are just messing with us. Yesterday, FX CEO John Landgraf explained: "There are many more trailers than you've actually seen for hypothetical seasons of American Horror Story -- different genres, different places. One of them is accurate. The others are all misdirects."
Pure evil.
The American Horror Story: Roanoke theory emerged after TMZ snapped set photos of thatched-roof huts and the word "CROATOAN" carved into a tree -- the only clue left behind after the 16th-century British colony in North Carolina mysteriously disappeared. Just as fans settled on those TMZ shots as "conclusive" evidence about the focus of the upcoming season, new photos suggesting the possibility of a Manson-themed season of AHS surfaced, including a pic of a white door stamped with "PIG," the word written in blood the night Sharon Tate was murdered, as well as a selfie of a scruffy-looking Evan Peters that resembled the cult leader. What to believe?
The teaser trailers are more oblique, but as Landgraf suggests, one of them is the real article. So which one is it? Watch the trailers previously released by FX below and speculate along with us.
"Post Op"
Guess: Red herring. We're past the whole Saw kick, no?
"Sunset Stroll"
Guess: Plausible! We're picturing either Invasion of the Body Snatchers in Roanoke or a rustic spin on The Hills Have Eyes.
"What's Cooking?"
Guess: Red herring. The house looks similar to TMZ's spy photos, but the Texas Massacre-esque chainsaw at the end feels a little on the nose, even for Murphy.
"Lullaby"
Guess: Another red herring, although we wouldn't mind seeing Murphy tackle "Rosemary's Baby with an actual demon baby."
"Descent"
Guess: Vague enough to work for any premise, so very plausible. Though with more notes of Evil Dead than The Witch, the teaser contradicts one theorized time period.
"Milli Crossing"
Guess: Even vaguer, and the likeliest bet. Every place and time has bugs! 
The truth: we won't know anything until American Horror Story Season 6 premieres on September 14 at 10 p.m. Stay tuned.
Sign up here for our daily Thrillist email, and get your fix of the best in food/drink/fun.
Matt Patches is Thrillist's Entertainment Editor. He previously wrote for Grantland, Esquire.com, Vulture, The Hollywood Reporter, and The Guardian. Find him on Twitter @misterpatches.