If you thought Ryan Murphy was going to be forthcoming about Season 7 of American Horror Story, we have good news and bad news. The good: Since winter, Murphy and FX President John Landgraf have steadily dropped a trail of breadcrumby clues, including the title, exciting castings, and some creepy-ass opening credits. The bad: There's a lot that remains vague as hell.
Still intrigued? We don't blame you! Here's everything we know about Season 7 so far -- a compendium we'll update as Murphy and his troupe release more info:
Recommended Video
Here's Everything You Missed in the 'Deadpool 2' Trailer
New theme, new marketing approach
While at San Diego Comic-Con, Murphy said the next AHS theme and title would be Cult, with 11 episodes set to drop starting Tuesday, September 5, at 10pm ET. The nature of the reveal was decidedly different from that of last year, which had viewers guessing until the night of Roanoke's premiere.
(Thank you, Ry Guy.)
The big Comic-Con news also came with a fancy website asking fans to join the show's "cult" for an eight-week interactive journey that links to Facebook's Messenger app. "We didn't want to not give people the theme or any information and felt they would be tired of that approach," Joseph Paulding, FX's VP of social media, told The Hollywood Reporter, regarding the website. "There's going to be a new landing page each week with new content available." In other words, many more clues to come -- like character galleries, masks, and trailers.
Sign up here.
The main titles are back and bloody
Roanoke notoriously did away with the show's stylistic opening, but Cult looks poised to bring it back. The edited sequence above showcases:
a spastic cherub
bees
a beekeeper
the dirtiest sink
someone with a buggy skin condition
a funeral procession
the Pennywise fan club
major House of Cards vibes
a poor dog
a butcher knife (cue Roanoke flashbacks)
a carousel that runs on nightmares
gross magic tricks
creepy Hillary Clinton and Donald Trump masks
smoke bombs
bored figurines (one of which might represent a Mott)
a bloody flag
a bloody kiss
just a lot of fake blood everywhere, I guess
and a shackled pinky promise
Cult will be current and Trumpy...
"It's a modern-day story," Murphy told reporters at a winter Television Critics Association press day. During a mid-February Watch What Happens Live visit, he added that "the season that we begin shooting in June is going to be about the election that we just went through." When asked if a Trump character would appear, he said, "Maybe."
Watch What Happens Live with Andy Cohen/YouTube
... but not too Trumpy
Early on, the election set-up had Sarah Paulson expressing interest in playing a certain Trump. She certainly had Evan Peters' support: "Sarah can play anything, so she can definitely nail Trump," he told The Hollywood Reporter in May. "I'd love to see her portray Trump because he has so many external things that she can really [dive into]. If Sarah can play Trump, I will play Ivanka."
Unfortunately, Murphy walked the Trump talk back a few days after WWHL, explaining at a Publicists Guild Awards luncheon in Beverly Hills that the 2016 election would only be addressed loosely. "The themes of American Horror Story have always been allegories," he said. "You will not see [Donald] Trump and [Hillary] Clinton as characters on the show."
More likely, you'll see goons sporting creepy Trump and Clinton masks -- or, since the 2016 election is supposed to be a jumping-off point, you might see the rivals on TVs within your TV -- along with storylines that speak, in a broader sense, to the circus-like, cultish, and paranoid state of modern politics.
Trailers Promos Teasers/YouTube
Early footage promises absurdly scary clowns
Unspooled on the Cult website, the first trailer teases the season's setting (Michigan, 2016) and its major source of drama (apparently Paulson's character suffers from coulrophobia, it's gotten way worse since Donald Trump became president, and it's threatening to tear her family apart). "If you get people scared enough," Peters says in voiceover, "they will set the world on fire."
Many AHS favorites will return
Peters and Paulson are back for "a love story for the ages," playing characters named Kai and Ally, respectively. Roanoke notably had Paulson pulling double duty, stealing much of the spotlight as a tortured homeowner in a haunting reenactment and then as that reenactress' off-screen persona in a real-life return to terror. As far as screen time, Peters was less fortunate, appearing briefly to frighten fans before meeting an unbelievably bloody demise.
Many of the other cast details are still under wraps, but Chaz Bono and Roanoke's MVP, Adina Porter, have signed on for more scares, along with vets Frances Conroy, Cheyenne Jackson (above), Emma Roberts, and Mare Winningham. Don't be surprised if you see more familiar Season 4 faces: "We will be going back to some Freak Show characters, deeper histories, and mythologies," Murphy told EW last year. "So we're sort of still exploring Season 4 in Season 7."
But be ready for new faces...
According to Deadline, screaming extraordinaire Billy Eichner nabbed a big recurring role for Cult. Sources told the trade site the actor-comedian "is playing a close confidant of Paulson's character and mostly will be wearing mysterious tank tops."
... like Billy...
Looking very tank-top-free and oblivious in this poster.
... Alison Pill...
As someone who's terrified of stains.
... Billie Lourd...
Whose character will forget to turn the hallway light off and then rack up an insane electric bill.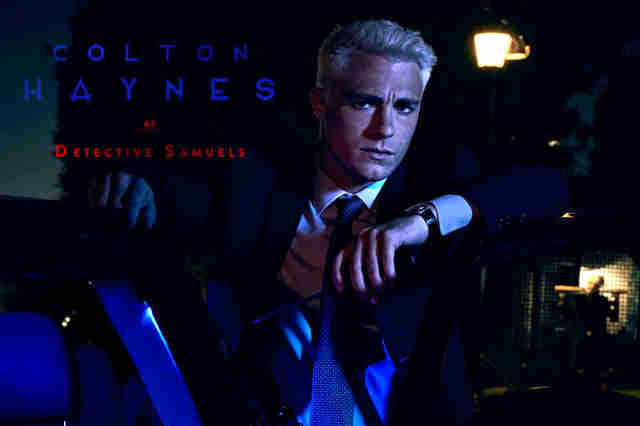 ... Colton Haynes...
As a detective who always looks like he's about to get Punk'd.
... and more
Expect to see these guys alongside other newbies, like Lena Dunham and Leslie Grossman.
Also be ready for this creepy elephant thing...
Babar's evil twin or a Twisty Republican?
... colorful hair...
Paging Steve from Blue's Clues.
... talented ghouls...
[thinking face emoji]
... bees...
Start making your Bee Movie-AHS crossover memes now.
... and heresy?
Murphy Instagrammed this iPhone note at the end of July, listing the nine circles of hell and pairing AHS seasons with their apparent themes. Fans lost their minds, as the upload seemed to confirm, deny, or simply give props to Red Herry's popular Dante's Inferno theory, which angles "each season of American Horror Story as a 21st-century interpretation of a circle of Hell." If the list Murphy shared is legit, it could hold major clues for the crime, punishment, and big bads to come in Cult (see: heresy).
Sweet Dreams
AHS fans and recappers have long wondered if the "Sweet Dreams" vignette above, and an accident involving a large model ship from Season 6, could portend something sea-related. When EW asked Murphy to tease his anthology's next installment last year, he simply called it another "narratively strange idea," one that would shake things up. "I've already started to call people saying, 'Put this on your calendar,'" he said. "It's a good one."
Sign up here for our daily Thrillist email and subscribe here for our YouTube channel to get your fix of the best in food/drink/fun.